Janet Leigh
Filmography | Awards | Bibliography | Downloads | News | Links | Image Credits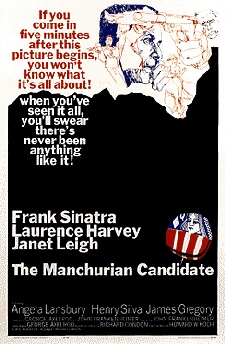 Leigh was at the peak of her career in the late 1950s and early 1960s, in terms of both the performances she gave and the quality roles she was able to land. Though the parts she played in TOUCH OF EVIL (1958) and PSYCHO (1960) were undeniably small, they were nevertheless substantive, and in testament to her performances, it is the characters she created in these films which are memorable, not the fact that Janet Leigh played them. The same is also true for Leigh's role in THE MANCHURIAN CANDIDATE (1962), John Frankenheimer's Cold War thriller about an American soldier brainwashed during the Korean War and programmed to become a political assassin. Starring Frank Sinatra and Laurence Harvey, the film features Leigh in the minor role of a woman who meets a frazzled Sinatra on a train and engages him in a fascinatingly bizarre conversation of non-sequiturs.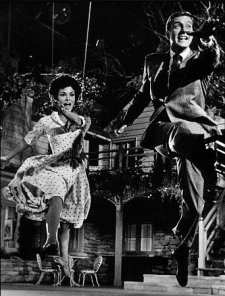 Leigh received top billing alongside Dick Van Dyke (singing "Put on a Happy Face" with Leigh at left) in her return to musical comedy the following year, Columbia's film adaptation of the hit Broadway show BYE BYE BIRDIE (1963). Although Leigh's role of Rosie DeLeon was originally as prominent as her billing, during production, Columbia executives decided to re-weight the focus of the film in favor of its rising teen sex symbol Ann-Margret, at the expense of both Leigh and Van Dyke (who had earned a Tony for his performance in the stage show and was making his feature film debut). To her credit however, Leigh makes the most of the screen time she is given, proving she had retained her flair for comedy after years of noir thrillers.
Multimedia Clips from BYE BYE BIRDIE (1963):
"Put on a Happy Face" with Dick Van Dyke (a .AVI file courtesy Columbia Pictures).
"One Boy" (clip) sung with Ann-Margret (a .MP3 file courtesy RCA).
"Rosie" (clip) sung with Dick Van Dyke (a .MP3 file courtesy RCA).
(For help opening any of the multimedia files, visit the plug-ins page.)
Memorable Quotations:
"You're not going to ask me my intentions, are you?" --as Karen Stephanson in ROGUE COP (1954).
"Sir Gawain is delurious. [sic]" --as Princess Aleta in PRINCE VALIANT (1954).
"Oh, yes sir. I knit and sew. I also embroider -- here and there. I have read the plays of Corneille, Racine, Molière and Voltaire. I did not understand a word of them. I ride a little and fall off a lot. I don't cook very well, but I'm quite good at chess, although I prefer snakes and ladders. I have an acquaintance with geology, geometry, astronomy, philosophy and botany. I'm afraid I gave up algebra when I was twelve." --as Aline de Gavrillac de Bourbon in SCARAMOUCHE (1952).
"Boy meets girl. Boy loses girl. Boy gets mother. Yeck!" --as Rosie DeLeon in BYE BYE BIRDIE (1963).
"Whatever you hear about me, Kim, just tell them, 'She loved not wisely but too well.'" --as Rosie DeLeon in BYE BYE BIRDIE (1963).
"There are three things you have to do when your man walks. We call them the three 'gets'. Get a lawyer, get a job and get laid." --as Gert Meredith in ONE IS A LONELY NUMBER (1972).
"Here's to Milton and margarine -- those notorious home wreckers." --as Gert Meredith in ONE IS A LONELY NUMBER (1972).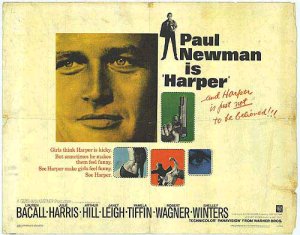 In another small but memorable role, Leigh briefly lights up Paul Newman's HARPER (1966), a very-'60s action mystery full of booze, drugs, murder, dancing teenyboppers, lounge singers, religious eccentrics and the inevitable car chase and smash up. Newman plays a private-eye, and Leigh is his soon-to-be ex-wife to whom, despite her protestations, he continues to turn in his hour of need. After almost 40 years, Leigh's character is the only thing of interest that remains in this film.
Page 1 | Page 2 | Page 3 | Page 4
Filmography | Awards | Bibliography | Downloads | News | Links | Image Credits