Janet Leigh
Filmography | Awards | Bibliography | Downloads | News | Links | Image Credits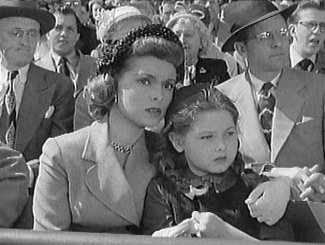 Leigh's onscreen image matured somewhat in the baseball comedy ANGELS IN THE OUTFIELD (1951) in which she plays a reporter for a women's magazine who blames the Pittsburgh Pirates' interminable losing streak on the foul mouth and generally uncouth behavior of the team's manager (Paul Douglas), suggesting the team's fortunes would improve with its manager's behavior.

Featuring cameos from baseball greats Joe DiMaggio and Ty Cobb, the guiding prayers of a young catholic orphan (played by Donna Corcoran, with Leigh above), and a touch of fantasy, ANGELS IN THE OUTFIELD (1951) was well received, and Leigh was complimented for her comic timing.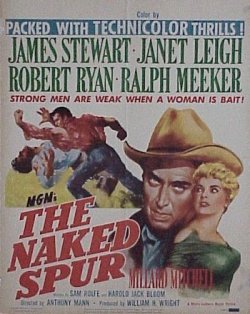 After a series of lackluster films in 1952 which attempted to capitalize on the enormous publicity surrounding Leigh's 1951 marriage to Tony Curtis while, at the same time, utilizing little worthwhile material, Leigh at last landed a noteworthy role in Anthony Mann's intense, psychological western THE NAKED SPUR (1953), co-starring Jimmy Stewart, Robert Ryan, Ralph Meeker and Millard Mitchell. Filmed on location in Colorado, the film features Stewart in an uncharacteristically unpleasant role as a bounty hunter trying to bring in a wanted murderer (Robert Ryan). Leigh plays the daughter of a slain bank robber whom Ryan has taken under his wing and who, over the course of the trip, comes to remind Stewart of the woman who, years ago, broke his heart.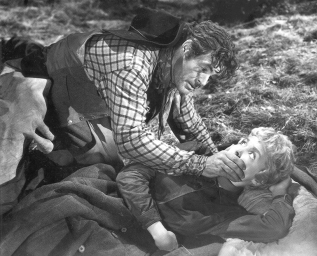 Leigh's character provides the impetus for a series of mind games through which Ryan (with Leigh at left) tries to plant suspicion among Stewart and his partners, but she also becomes a pawn in those same games. Sporting a close-cropped, curly hairdo reminiscent of Ingrid Bergman in FOR WHOM THE BELL TOLLS (1943), Leigh gives a very credible performance in a pivotal role, making a significant contribution to the effectiveness of the film.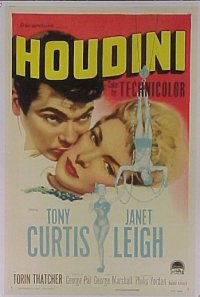 More typical of her films of the mid-1950s however was HOUDINI (1953), one of five films in which Leigh co-starred with her husband Tony Curtis over the course of their eleven-year marriage. This film depiction of the life and times of legendary escape artist Harry Houdini was heavily Hollywoodized, hardly accurate, but nevertheless entertaining, and the appearance of Leigh and Curtis' names together on the marquee guaranteed a respectable box-office showing.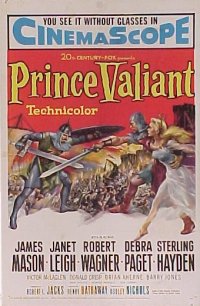 In 1954, Leigh joined a (mostly) capable cast in a dismal (and even laughable) failure of an adventure film, 20th Century-Fox's PRINCE VALIANT (1954), a wide-screen medieval drama about a young prince (ostensibly played by Robert Wagner) trying to save Britain from the Vikings and restore his father to the throne. Wagner is totally out of place, and the competent members of the cast, even when they don't catch his infectious self-importance and overact alongside him, are made to look ridiculous simply by association -- Leigh (his love interest) included. (But give her credit for riding a horse better than he does.) Further hampered by a weak script and second-rate production values, PRINCE VALIANT is an embarrassment, and its sole redeeming feature, Franz Waxman's score, only serves to accentuate the problems with everything else.
Music Clip from PRINCE VALIANT (1954):
"Suite" (clip) by Franz Waxman (a .MP3 file).
(For help opening any of the multimedia files, visit the plug-ins page.)