Janet Leigh
Filmography | Awards | Bibliography | Downloads | News | Links | Image Credits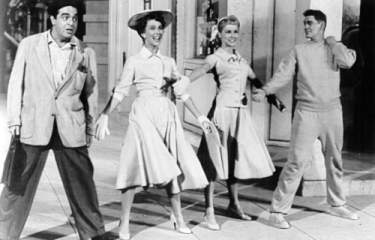 In 1955, Leigh demonstrated her versatility (and the results of her vocal training at MGM) in the musical MY SISTER EILEEN, about two sisters, Leigh and Betty Garrett, who come to New York to find fame and fortune, both of which are a little slow in coming.

Above, Kurt Kasznar, Garrett, Leigh and Dick York (later of "Bewitched" fame) sing "We're Great (But No One Knows It)" in MY SISTER EILEEN, which also starred dancer Bob Fosse who doubled as the film's choreographer.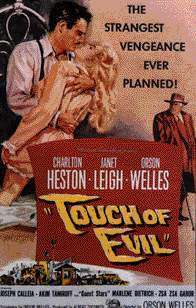 Leigh's career turned a corner when she signed on to appear in Orson Welles' film-noir thriller TOUCH OF EVIL (1958) which replaced her innocuous screen persona with a fiesty, sexually charged character menaced from without. Playing Susan Vargas, the newlywed wife of a Mexican narcotics agent (Charlton Heston) who is terrorized by Mercedes McCambridge and a gang of local thugs when her husband leaves her in their motel room to pursue an investigation, Leigh endures several harrowing ordeals at the hands of her tormenters. Though now considered a film-noir classic, TOUCH OF EVIL was severely re-edited by the studio (Universal) before its original release and proved a commercial failure. A restored and re-edited version of the film, true to Welles' original conception, debuted in 1998 to world-wide critical plaudits. Read an article on "Restoring the Touch of Genius to a Classic".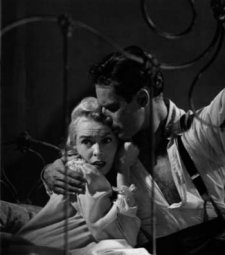 Little known is the fact that Leigh suffered a broken arm on the set of her previous film, a TV movie called "Carriage from Britain", and that with the exception of a few scenes for which her cast had to be temporarily cut off, she filmed all of TOUCH OF EVIL while hiding her broken arm behind costumes and such convenient props as... Charlton Heston (as in the still at left).

"Main Title" (clip) by Henry Mancini (removed from the opening titles of the film in the 1998 re-edited version) (a .AU file courtesy Rhino Records).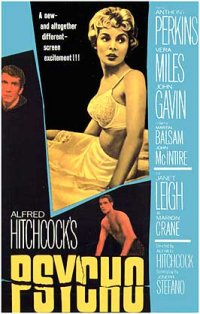 In 1960, Alfred Hitchcock offered Leigh the role that would secure her place in the annals of Hollywood history, that of Marion Crane in the Master of Suspense's low-budget and surprisingly brutal thriller, PSYCHO (1960), co-starring Anthony Perkins. Although audiences today are well aware of Marion's fate before the movie even begins, in 1960 they were shocked to see the film's central character (and a movie star of Leigh's stature) killed off less than a third of the way into the film, and were even more shocked at the method of her demise. A landmark in movie entertainment, PSYCHO was an enormous box-office success and in addition to becoming a fixture of popular American culture, has also become a staple of film studies textbooks. Leigh earned the only Oscar nomination of her career (as Best Supporting Actress) for her performance in PSYCHO, and in 1995, authored a book about the making of the film.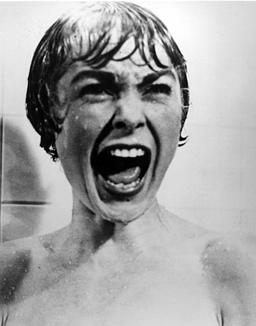 Music Clips from PSYCHO:

"Shower" (clip) by Bernard Herrmann (a .WAV file).

"Psycho Suite" (clip) by Bernard Herrmann (a .MP3 file).

"Fruit Cellar" (clip) by Bernard Herrmann (a .WAV file).
(For help opening any of the multimedia files, visit the plug-ins page.)