Teresa Wright
Biography | Filmography | Awards | Articles | Remembering | Bibliography | Gallery | News | Downloads | Links | Image Credits | THE LITTLE FOXES | MRS. MINIVER | SHADOW OF A DOUBT | THE PRIDE OF THE YANKEES | THE BEST YEARS OF OUR LIVES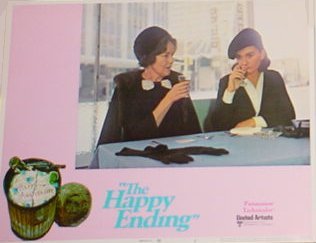 After an absence of over a decade, Wright returned to the big screen in 1969 with appearances in two dramas, HAIL, HERO! and THE HAPPY ENDING, both of which portray the "generational disconnect" between parents and their grown children. And while the issues addressed by these two films were topical in their day, it is a little hard to figure out why Wright chose these roles as her returning vehicles.

In THE HAPPY ENDING (1969), she has little to do but look confused as her grown daughter Jean Simmons (with Wright above) declines into alcoholism and walks out on her fifteen-year marriage.
HAIL, HERO! (1969) features Wright and Arthur Kennedy as parents of Michael Douglas (in his film debut), a well-educated hippie who, though struggling with his feelings about the Vietnam War, comes home to tell his conservative family that he has just enlisted. As his mother, Wright is oblivious to his personal troubles (as is the rest of the family), and though certain facets of her character are interesting as drawn, she again, doesn't really have much to do (except scream at the sight of a mummified baby). HAIL, HERO! suffers from a screenplay that was either half-baked or, conversely, too deeply contemplated. But most disappointing is the fact that in the rare instances when Wright does have something to do, the subtleties of her performance are destroyed by the filmmaker's insistence on actually showing what she is trying to imply.
Still More Memorable Quotations:
"I must remember to fix those..." --as Annie Jones in THE ACTRESS (1953).
"I suppose it's no use asking you because you know all about everything, but for the last time before I turn out this light, would you just, for all our sakes, please consider being normal?" --as Annie Jones in THE ACTRESS (1953).
"Holy! Holy! Holy!" --as Grace Bridges in TRACK OF THE CAT (1954).
"American men expect a certain amount of makeup on their women. We must please a young man first. Afterward we can break him in... It's not dishonest -- just tactical." --as Sister Mary Winifred in Four Star Playhouse's "The Good Sister" (1955 TV).
"What makes you such a pig-headed little jackass? Don't you know I'm a pig-headed big jackass? You don't stand a chance." --as Annie Sullivan in Playhouse 90's "The Miracle Worker" (1957 TV).
"If God didn't mean you to have eyes, I do." --as Annie Sullivan in Playhouse 90's "The Miracle Worker" (1957 TV).
"He was a wonderful, sensitive man, and he played the trumpet beautifully." --as Elizabeth Grant in THE RESTLESS YEARS (1958).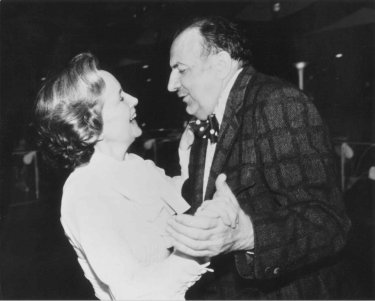 After her brief return to moviemaking in 1969, it would be almost another decade before Wright appeared on the big screen yet again. Produced by Merchant-Ivory, ROSELAND (1977) is a three-part story about New York City's Roseland Ballroom and the nostalgic, aging people who congregate there.

Wright plays "Mirror May," a widow who comes to the ballroom to waltz (with Lou Jacobi above) and reminisce about her late husband Eddie. Though she only appears in the first twenty minutes of the film, of the three, her vignette is by far the most compelling, thanks in no small part to Wright's performance -- desperately painful, but touched with a innocent, childlike quality reminiscent of some of her earliest film roles.
Go to the next page.
Page 1 | Page 2 | Page 3 | Page 4 | Page 5 | Page 6 | Page 7 | Page 8