Jean Simmons
Biography | Filmography | Awards | Article | Bibliography | Downloads | Links | Image Credits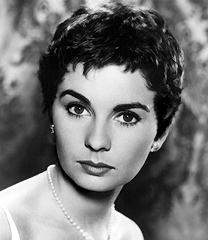 Jean Simmons began her career as a child actress in Britain where she became a favorite among critics and audiences before moving to Hollywood in the early 1950s. Although the quality of her vehicles varied at times, Simmons earned a well-deserved reputation as a strikingly beautiful, but more importantly, reliable leading lady, playing opposite established stars like Brando, Newman, Peck and Douglas. If she had a fault, it was that she consistently turned in excellent performances, inadvertently encouraging the industry to take her exceptional talents for granted. As a result, few of her performances ever really stood out, and her stardom never reached the stature her talents warranted.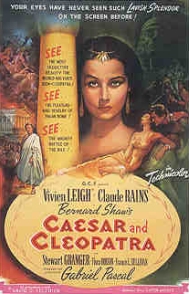 After playing bit parts in several British productions in the early 1940s, Simmons won a seven-year contract with producer J. Arthur Rank after singing "Let Him Go, Let Him Tarry" in THE WAY TO THE STARS (1945). But her first film for Rank, CAESAR AND CLEOPATRA (1946) starring Vivien Leigh, Claude Rains and Stewart Granger, did little to further her career. She played another bit role, this time as a harpist in Cleopatra's court. Incidentally, that is not Simmons featured so prominently on the poster at right, but the star of CAESAR AND CLEOPATRA, Vivien Leigh. Early in her career, before she had made a name for herself in film, Simmons was frequently referred to as a "Vivien Leigh look-alike," and the illustration on this poster shows why.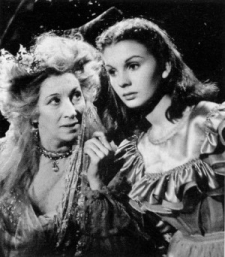 Later in 1946, Simmons' fortunes changed when director David Lean chose her to play the pert, spoiled young Estella in his film adaptation of Charles Dickens' GREAT EXPECTATIONS (1946). Also featuring John Mills, Valerie Hobson, Anthony Wager, Alec Guinness, and Martita Hunt (with Simmons at left), GREAT EXPECTATIONS became a British film classic and launched Simmons, at age 17, on the road to stardom.
In BLACK NARCISSUS (1947), Simmons had a minor and rather unflattering role as Kanchi, a native girl whom Deborah Kerr and her fellow Anglican sisters try to convert from her promiscuous ways as they establish a mission high in the remote Himalayan mountains. An unconventional film, and very dramatic both in plot and scenery, BLACK NARCISSUS won two Oscars for its outstanding art-set direction and Jack Cardiff's Technicolor cinematography. And although it marked another landmark British film on Simmons' résumé, she spoke no lines and had little opportunity to contribute to the intensity of the film.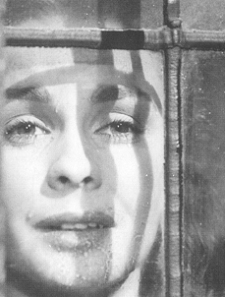 Simmons received star billing for the first time in 1947 for UNCLE SILAS (released in the United States in 1951 as THE INHERITANCE). As Caroline Ruthyn, a young woman whose uncle imprisons and plans to kill her in order to get her inheritance, she received the majority of the film's few accolades. Most critics wrote off UNCLE SILAS as a collection of over-acted melodrama (whose primary culprits were Simmons' co-stars, Katina Paxinou and Derrick de Marney), but it remains notable today for Simmons' compelling dramatic performance and its black-and-white cinematography.
Go to the next page.
Page 1 | Page 2 | Page 3 | Page 4 | Page 5 | Page 6 | Page 7