Teresa Wright
Biography | Filmography | Awards | Articles | Remembering | Bibliography | Gallery | News | Downloads | Links | Image Credits | THE LITTLE FOXES | MRS. MINIVER | SHADOW OF A DOUBT | THE PRIDE OF THE YANKEES | THE BEST YEARS OF OUR LIVES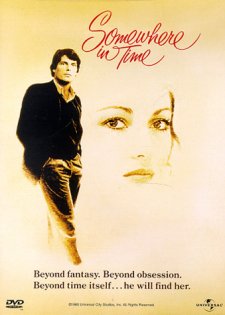 Starring Christopher Reeve and Jane Seymour, SOMEWHERE IN TIME (1980) is an unconventional fantasy romance in which Reeve, a young playwright, falls in love with an old portrait of an actress several decades his senior and wills himself back in time to meet her. Although the setting (on Mackinac Island) and John Barry's music do a good job setting the stage for this kind of story, it borders on overly sentimental tear-jerking. Nevertheless, the movie has an amazingly strong following. Wright's role in the film (as an older woman who helps Reeve sort out the mystery of the portrait) is fairly insignificant however, and doesn't allow room for much of anything in the way of characterization.
Yet More Memorable Quotations:
"I'm terrified of people. When I'm in a room full of them, I'm in a panic." --as Maggie in Sunday Showcase's "The Margaret Bourke-White Story" (1960 TV).
"You know what my greatest fear is? If I walk or stand too near people, I'll knock them down." --as Maggie in Sunday Showcase's "The Margaret Bourke-White Story" (1960 TV).
"How do you play this game?" --as Mary in The Du Pont Show of the Week's "Big Deal in Laredo" (1962 TV).
"A man is what he does, not what he says." --as Marion Brown in The Alfred Hitchcock Hour's "Three Wives Too Many" (1964 TV).
"A wife should have pride in her family, in their accomplishments, but she should also have pride in herself -- as a person, as an individual..." --as Alice Cutler in FLOOD! (1976 TV).
"Slow down. That's what everyone expects me to do -- just slow down like an old clock that hasn't been wound. Well, I'm not ready to sit in one place all the time." --as Jessica Sherman in THE ROCKING CHAIR REBELLION (1979 TV).
"I love you, but the last thing I want is to share my peace and quiet with a twenty-year-old... I am in good health and I like living alone. Now you can visit any time, call any time, but none of you moves in -- none of you!" --as Hannah in "A Century of Women" (1994 TV).
"He's a man of God!" --as Miss Birdie in THE RAINMAKER (1997).
"This is that good processed turkey." --as Miss Birdie in THE RAINMAKER (1997).
After another extended hiatus from filmmaking, in 1988 Wright took on the role of a grandmother who stands up for her grown granddaughter's right to live independently in THE GOOD MOTHER. Based on a novel by Sue Miller, this bittersweet drama is well-acted, but its message is somewhat confused -- at once affirming granddaughter Diane Keaton's ability to have a lover and still be a good mother, but at the same time denying it when her daughter is taken away from her. Playing opposite fellow Hollywood veteran Ralph Bellamy as Keaton's straight-laced grandfather, Wright has some of the best scenes in the film. Though small, the role is important, and her performance is strong. The strength of character she contributes to the film is not enough to overcome its muddled significance however, and THE GOOD MOTHER misses the mark.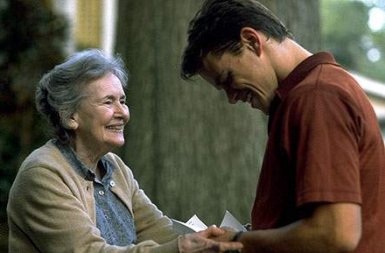 Most recently, Wright played a supporting role in Francis Ford Coppola's THE RAINMAKER (1997), an adaptation of John Grisham's novel about a novice lawyer named Rudy Baylor (Matt Damon, at right) who takes on the big insurance companies.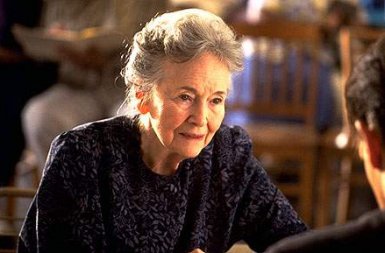 Wright plays Miss Birdie, one of Rudy's clients who is also his landlady, and although she is only a minor supporting character in THE RAINMAKER, Miss Birdie does have a few fun lines which become entertaining and memorable moments under Wright's guidance.
In the scene above, Miss Birdie discusses how she wants to "Cut. Cut. Cut." her children out of her will and give all her money to a televangelist. Overall, THE RAINMAKER is a decent courtroom drama -- entertaining, although nothing terribly remarkable -- but it is worth seeing for Wright's appealing performance in this spunky character role.
(P.S. If you haven't already guessed, Teresa Wright is my favorite actress.

)
Page 1 | Page 2 | Page 3 | Page 4 | Page 5 | Page 6 | Page 7 | Page 8
Biography | Filmography | Awards | Articles | Remembering | Bibliography | Gallery | News | Downloads | Links | Image Credits | THE LITTLE FOXES | MRS. MINIVER | SHADOW OF A DOUBT | THE PRIDE OF THE YANKEES | THE BEST YEARS OF OUR LIVES