Teresa Wright
Biography | Filmography | Awards | Articles | Remembering | Bibliography | Gallery | News | Downloads | Links | Image Credits | THE LITTLE FOXES | MRS. MINIVER | SHADOW OF A DOUBT | THE PRIDE OF THE YANKEES | THE BEST YEARS OF OUR LIVES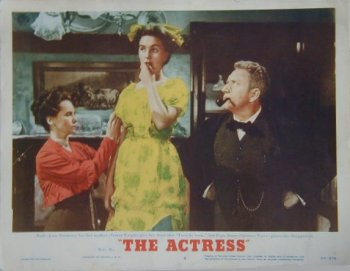 In 1953, Wright applied a little artificial aging and struck gold playing mother to Jean Simmons and wife to Spencer Tracy in MGM's THE ACTRESS, based on an autobiographical play by Ruth Gordon. The story of a stage-struck teen struggling to tell her quirky parents that she wants to become an actress, this little-known comedy is a delight and marks Wright's debut as a "character actress."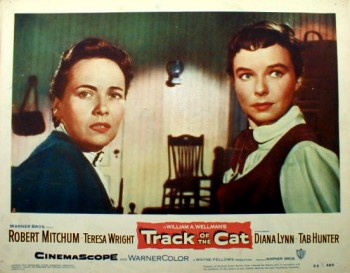 Back to more serious fare, in TRACK OF THE CAT (1954), Wright plays Grace Bridges, Robert Mitchum and Tab Hunter's spinster sister who attempts to intervene on behalf of Hunter's girlfriend, Diana Lynn (with Wright in the lobby card at right), and protect her from the cruel domination of Mitchum and their mother, Beulah Bondi.

Directed by William Wellman with scenes of the painter (panther) hunt filmed in CinemaScope on Mount Ranier, despite the title, TRACK OF THE CAT is more about the conflicting psychologies of the family members than Mitchum's pursuit of the cat, and therefore more a drama than an adventure story. In addition to its intense performances, the film is also interesting visually for its attempt to film a "black-and-white" movie in color.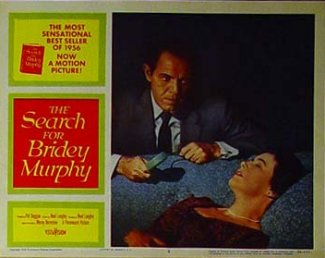 Billed as "The true story of one of the most controversial mysteries of our time," THE SEARCH FOR BRIDEY MURPHY (1956) is the story of a woman who, when under hypnosis, begins to reveal details of a prior life centuries earlier. Wright plays the hypnotized woman in this documentary-styled film based on a best-selling novel by amateur hypnotist Morey Bernstein in which he recounts his experiences hypnotizing a friend's wife.

Although the story sounds a little far-fetched today, the screenplay was based on actual recordings of the real Bridey Murphy hypnosis sessions, and the film maintains a realistic tone despite the stylized dream sequences. Though slow and dated, BRIDEY MURPHY remains an interesting portrayal of a very well-known psychological case of its day and is worth seeing for Wright's engaging performance, most of which is delivered lying on a couch with her eyes closed.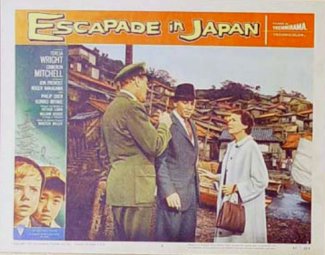 THE ACTRESS (1953) aside, beginning in 1957 Wright returned to predominantly supporting parts and began the string of "mother" roles that would dominate the rest of her film career. In RKO's ESCAPADE IN JAPAN (1957), she plays a woman whose troubled marriage to Cameron Mitchell is further tested when their son (Jon Provost, of "Lassie" fame) goes missing after a plane crash in Japan.

Despite her top billing, Wright's character has relatively little screen time and spends most of it wringing her hands and asking, "Where's my boy?" Overall, the film's most interesting features are its location Technirama photography of the Japanese islands and its attempt to promote a post-war cultural understanding of the Japanese people who had been so viciously stereotyped and vilified in the war films of the 1940s.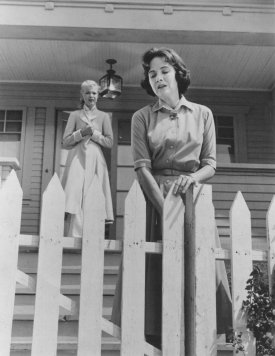 THE RESTLESS YEARS, which Wright made for Universal in 1958, is a PEYTON PLACE-esque story about an over-protective single mother (Wright), her illegitimate daughter (Sandra Dee, with Wright at left) and the gossip and lies that complicate their life in small-town America ... or, to quote the tagline: "The story of a town with a 'dirty' mind! Where evil gossip threatened disgrace to two 'decent' youngsters in love!" Though not as melodramatic as the promotional materials suggest, THE RESTLESS YEARS is still a typical 1950s small-town-revealed narrative, and only a recurring literary reference to Thornton Wilder's "Our Town" (in which Wright had toured in her early theatre days) makes it worthy of note among similar soapers.

Wright took a temporary leave of absence from filmmaking after THE RESTLESS YEARS (1958) and concentrated her attentions on television and stage work for most of the next twelve years.
Go to the next page.
Page 1 | Page 2 | Page 3 | Page 4 | Page 5 | Page 6 | Page 7 | Page 8