Teresa Wright
Biography | Filmography | Awards | Articles | Remembering | Bibliography | Gallery | News | Downloads | Links | Image Credits | THE LITTLE FOXES | MRS. MINIVER | SHADOW OF A DOUBT | THE PRIDE OF THE YANKEES | THE BEST YEARS OF OUR LIVES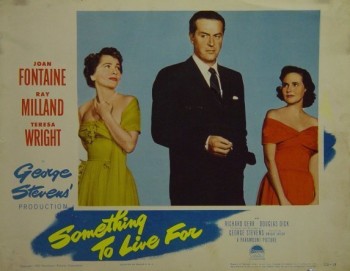 George Stevens' melodrama SOMETHING TO LIVE FOR (1952) stars Joan Fontaine as an alcoholic actress who falls in love with a fellow recovering alcoholic (Ray Milland) sent to help her. However, he soon finds himself sliding off the wagon just as he attempts to pull her on. Wright plays Milland's understanding wife, and though her performance is fine, the part has little character to speak of.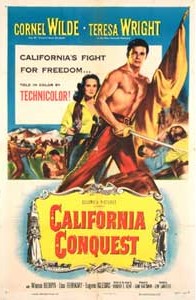 In 1952, Wright donned a pair of breeches and conquered both Cornel Wilde and a band of Mexican bandits in Columbia's Technicolor adventure film CALIFORNIA CONQUEST. In her only real tomboy role, Wright shines in the film's early scenes as an American woman toughing it out in California territory and dodging the romantic advances of revolutionary Wilde. But the film's few fun moments are quickly forgotten amidst a terribly weak script which, when combined with the wooden performances of many of the supporting players, makes for an almost laughably bad movie which is worsened by a thinly veiled attempt to associate Russian influence in mid-19th century California with the perceived communist threat of the early 1950s. Though her character is a fun one, even Wright can't escape unscathed from this dusty Mexican mess of a movie.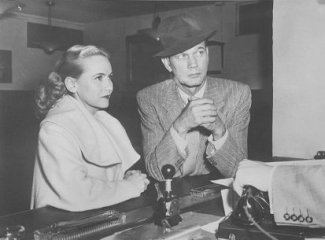 Also in 1952, Wright re-teamed with her SHADOW OF A DOUBT nemesis Joseph Cotten (though this time playing his wife) in 20th Century-Fox's THE STEEL TRAP. A thriller about an everyday family man who plots to rob a bank, the film has its weak spots and script problems but remains both tense and entertaining throughout, thanks in part to Dmitri Tiomkin's energetic score.

Wright's dark tresses had been dyed blonde for a play in which she appeared just prior to filming, and THE STEEL TRAP (1952) is the only film in which she appears thus coiffed. Though unrelated to her character, the striking change in her physical appearance helps establish Laurie Osborne as separate and distinct from SHADOW OF A DOUBT's Young Charlie Newton, making her husband-wife relationship with Joseph Cotten in this film more palatable when set against the memory of their famous uncle-niece relationship a decade earlier. In addition to being entertaining, THE STEEL TRAP is also interesting for the insight it lends into the hidden dissatisfactions of working men leading a seemingly storybook existence in 1950s suburban America. On the other hand, it fails to address similar issues from a woman's point of view, and Wright's character very much represents the suburban wife as bastion of virtue and guardian of the home -- still a strong character, but not as independent as those she played during World War II.
Even More Memorable Quotations:
"You always treat me as if I'm such a delicate little thing. I'm really pretty tough, you know." --as Edna Miller in SOMETHING TO LIVE FOR (1952).
"Pop, you know how I feel about gettin' all dressed up like a cavalry horse." --as Julia Lawrence in CALIFORNIA CONQUEST (1952).
"What do I need a husband for?" --as Julia Lawrence in CALIFORNIA CONQUEST (1952).
"Don't bother to dwell on it." --as Julia Lawrence in CALIFORNIA CONQUEST (1952).
"But don't get any idea that you and I are... What I mean is... Well, you're only to think of me as a man." --as Julia Lawrence in CALIFORNIA CONQUEST (1952).
"I can take care of myself." --as Julia Lawrence in CALIFORNIA CONQUEST (1952).
"My father always said, 'Don't start shooting 'til you've got something to shoot at.'" --as Julia Lawrence in CALIFORNIA CONQUEST (1952).
"My father always said, 'Little one, hitch your wagon to a star.' Fine star." --as Julia Lawrence in CALIFORNIA CONQUEST (1952).
"That's what you get for gettin' to like a man -- you have to do things the way he wants 'em." --as Julia Lawrence in CALIFORNIA CONQUEST (1952).
"Don't you see? A woman who could walk out on her ideals could walk out on her husband if she met another man with a million dollars." --as Laurie Osborne in THE STEEL TRAP (1952).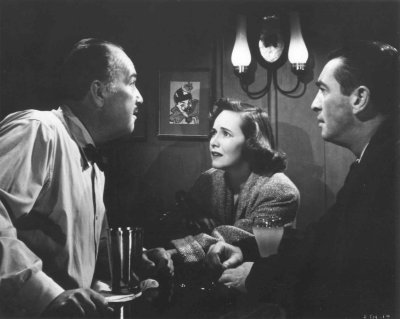 Don Siegel's crime drama COUNT THE HOURS (1953) also reunited Wright with a SHADOW OF A DOUBT co-star -- Macdonald Carey (at right, with Wright and Ralph Dumke) -- and is the story of a defense attorney fighting to clear a migrant worker (John Craven) of a murder charge. Wright plays the pregnant wife of the accused man.

Filmed in nine days for independent producer Benedict Bogeaus, COUNT THE HOURS runs only 75 minutes and its budget constraints show. It is also considerably more violent than any of Wright's prior films, featuring both a double homicide and an attempted rape. Though Wright received top billing, her character disappears for much of the last half-hour of the film as Carey's investigation of the crime comes to dominate the personal drama of the accused. John Alton's low-key cinematography is worthy of note however.
Go to the next page.
Page 1 | Page 2 | Page 3 | Page 4 | Page 5 | Page 6 | Page 7 | Page 8