Teresa Wright
Biography | Filmography | Awards | Articles | Remembering | Bibliography | Gallery | News | Downloads | Links | Image Credits | THE LITTLE FOXES | MRS. MINIVER | SHADOW OF A DOUBT | THE PRIDE OF THE YANKEES | THE BEST YEARS OF OUR LIVES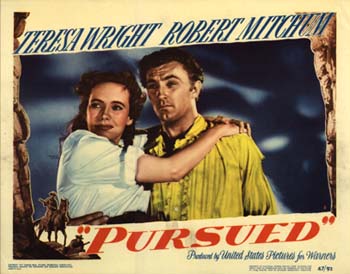 In 1947, Wright was loaned to United States Pictures (a subsidiary of Warner Bros.) to appear opposite Robert Mitchum and alongside Judith Anderson, Dean Jagger and Harry Carey, Jr. in Raoul Walsh's PURSUED (1947), a psychological western filmed on location in New Mexico and written by Wright's then-husband Niven Busch.

This dark story of a young man out to discover the truth about his past, and the woman who grew up as his sister but loves him as a wife, is considered by some to be the first film-noir western, and although it is one of Wright's lesser-known films, it is highly regarded by such modern filmmakers as Martin Scorsese. (*3) But aside from the picture's own merits, it is interesting in the context of Wright's career because the character she plays is a departure from her established screen persona. In PURSUED, she is no longer an ingénue.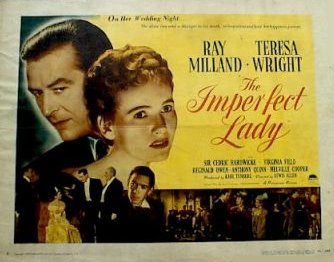 Back in 1945, Wright had been loaned to Paramount Pictures where she made two lackluster films opposite Ray Milland, a historical drama called THE IMPERFECT LADY in which Wright is the only non-English starring player, and a screwball comedy called THE TROUBLE WITH WOMEN (also featuring Brian Donlevy). For some unknown reason however, neither film was released until 1947.

Similar in many ways to MGM's WATERLOO BRIDGE (1940) though set in late-19th century England, THE IMPERFECT LADY (1947) features Wright as a dancer who falls on hard times and in love with an aspiring Member of Parliament (Milland). He is interested in the agility of her mind more than that of her legs, but certain episodes from her actress adventures with Virginia Field (who also played Vivien Leigh's friend in WATERLOO BRIDGE) cause romantic complications. Though she had earned an Oscar playing a young Englishwoman in MRS. MINIVER (1942), Wright does not come off as well in this low-brow role as a shopkeeper's-daughter-turned-actress, and though watchable, the film as a whole is nothing special.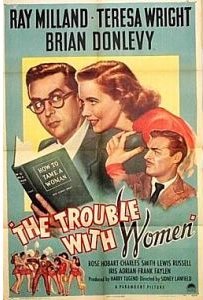 Filmed before THE IMPERFECT LADY though not released until after, THE TROUBLE WITH WOMEN (1947) is a featherweight comedy about a newspaper reporter (Wright) who goes undercover as a co-ed to dig up a story on a college professor making waves for his theories on "The Subjugation of Women." Hampered by a disjointed script and weak direction, THE TROUBLE WITH WOMEN drags badly from the start. Though separately Milland, Wright and Donlevy have their moments, their individual performances can't save their ill-defined characters, and the messy comedy never quite comes together. Wright displays a knack for comic timing and expression in some of the early scenes but (as in CASANOVA BROWN) is at her best in emotional turmoil. Unfortunately, though admirable on its own, her sincerity doesn't help the comic mood of the film.
More Memorable Quotations:
"As long as we're supposed to be fallen women, we may as well go to the dogs comfortably." --as Millicent Hopkins in THE IMPERFECT LADY (1947).
"Most men think they're superior to women. They either want to marry them and keep them at home or take advantage of them." --as Millicent Hopkins in THE IMPERFECT LADY (1947).
"Men and women are different, but if women are good enough to run homes and raise children, then their influence ought to be good for politics." --as Millicent Hopkins in THE IMPERFECT LADY (1947).
"Being a maid, sir, is womanly work. I like being subjugated." --as Kate Farrell in THE TROUBLE WITH WOMEN (1947).
"I use Tippy's Toothpaste for that radiant smile, and Larson's Lotion is terribly kind to my hands." --as Kate Farrell in THE TROUBLE WITH WOMEN (1947).
"I didn't get dressed up to meet a bank robber." --as Kate Farrell in THE TROUBLE WITH WOMEN (1947).
"Mr. Jones, if I ever marry a man of sixteen, I promise it will be you." --as Kate Farrell in THE TROUBLE WITH WOMEN (1947).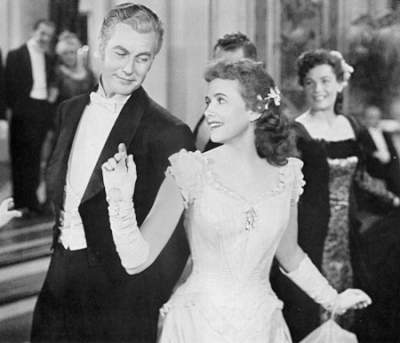 Samuel Goldwyn's 1948 film adaptation of Rumer Godden's novel Take Three Tenses, re-titled ENCHANTMENT, is the story of two parallel romances set a generation apart, yet within the walls of the same London townhouse. Wright is featured in the first generation romance, pursued by David Niven and his brother Philip Friend (at left) as well as Shepperd Strudwick.

Although the story suffers a little in its adaptation to the screen, with too much plot to be covered adequately in 100 minutes, Wright is again favored by the camera. (This time it was Gregg Toland's photography, in what was to be the Oscar-winning cinematographer's final film.) And in terms of her performance, though once again playing an ingénue, she is especially compelling in her moment of rebellion against the meddling of Jayne Meadows.
Footnotes:
Go to the next page.
Page 1 | Page 2 | Page 3 | Page 4 | Page 5 | Page 6 | Page 7 | Page 8