Teresa Wright
Biography | Filmography | Awards | Articles | Remembering | Bibliography | Gallery | News | Downloads | Links | Image Credits | THE LITTLE FOXES | MRS. MINIVER | SHADOW OF A DOUBT | THE PRIDE OF THE YANKEES | THE BEST YEARS OF OUR LIVES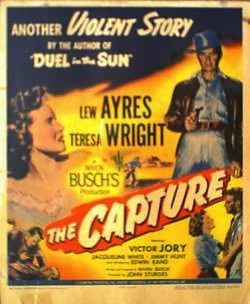 In 1948 Wright was released from her contract with independent producer Samuel Goldwyn and began to free-lance in Hollywood, returning to the western genre for her next film project. Advertised as a "violent story" in the same vein as David O. Selznick's Technicolor epic DUEL IN THE SUN (1946) (also written by Wright's then-husband Niven Busch), THE CAPTURE (1950) is actually a relatively low-budget programmer which, story-wise, is very similar to Wright's first western, PURSUED (1947) -- although not nearly as good. Lew Ayres is the man in mental torment this time, struggling to find out if the man he killed was indeed the payroll thief he suspected him to be.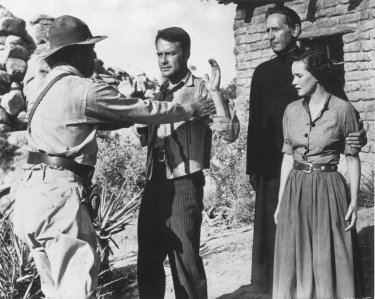 Wright (at right with Ayres and Victor Jory) plays the dead man's widow for whom Ayres now feels responsible. Though the story is not bad, the film suffers from what appear to be budget constraints, most notably sloppy editing and cliché music -- characteristics typical of B-movie studio Republic Pictures, where the film was shot.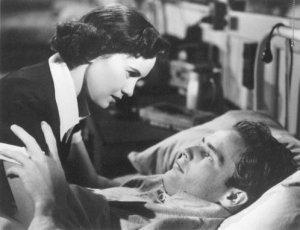 Also in 1950, Wright turned in a stellar performance opposite Marlon Brando in THE MEN (1950), the story of an ex-GI who returns from World War II a paraplegic and must learn to live with his disability. Stanley Kramer produced the film, and director Fred Zinnemann used real paraplegic patients from a California veterans' hospital as supporting characters and extras. The film also marked Brando's screen debut.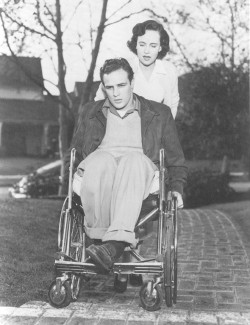 In THE MEN, Wright plays the girl to whom Brando was engaged before he left for the war, and though he has told her off in no uncertain terms, she is determined to show him that his injury has not changed her feelings toward him. She finds out however, that perhaps it has. Released just weeks after the start of the Korean War and therefore not well received by a generation once again anxious about the fate of its sons headed into overseas conflict, despite its financial failure, THE MEN is highly regarded today a precursor to the many post-Vietnam films which so successfully called attention to the problems of returning veterans -- especially those returning with physical disabilities.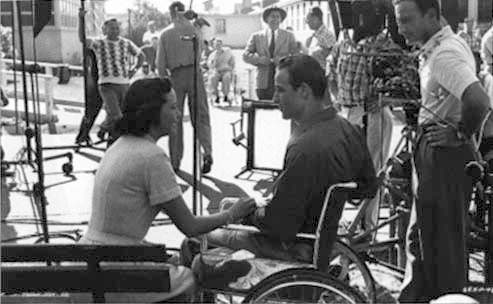 Above, Wright with Brando on the set of THE MEN (1950). "I chose to do The Men with Marlon Brando for only $25,000," she later explained. "From then, that's what my salary was and after that I never got the quality films again. I know that sounds crazy, but that is the way it worked in those days in Hollywood. Your importance was determined by how much money you made. The Men was a flop and I never again achieved the kind of status I had with my first few films." (*4)
Footnotes:
Go to the next page.
Page 1 | Page 2 | Page 3 | Page 4 | Page 5 | Page 6 | Page 7 | Page 8