Deborah Kerr
Filmography | Awards | Downloads | Links | Image Credits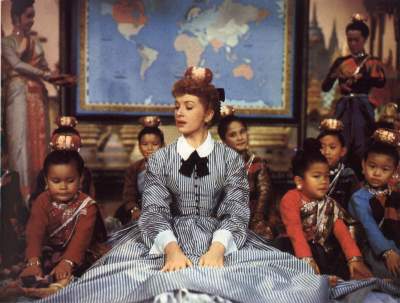 Kerr as Anna teaching the children of the King of Siam (played by Yul Brynner) and singing Rogers & Hammerstein's memorable "Getting to Know You" in THE KING AND I (1956), adapted to the screen from the popular Broadway musical of the same name.

Rodgers and Hammerstein based THE KING AND I on Margaret Landon's 1944 novel about a real-life British woman named Anna Leonowens who traveled to Siam (present-day Thailand) to give the royal court English lessons in the 1860s. 20th Century-Fox had previously made a non-musical adaptation of the story, ANNA AND THE KING OF SIAM (1946), starring, ironically, one of Hollywood's most accomplished movie sopranos of the period, Irene Dunne. In the DeLuxe-color, musicalized version a decade later, Kerr didn't actually do her own singing -- and freely admitted it. Her vocals in THE KING AND I were dubbed by Marni Nixon. Interestingly, Nixon would also sing for Kerr the following year in AN AFFAIR TO REMEMBER (1957), yet another color remake of a popular Irene Dunne film in which Deborah Kerr was chosen to star.
Video Clips from THE KING AND I (1956):
"The Original Theatrical Trailer" (a .MOV file courtesy AMC).
"Shall We Dance" with Yul Brynner (a .MOV file courtesy Time Magazine Online).
(For help opening these files, visit the plug-ins page.)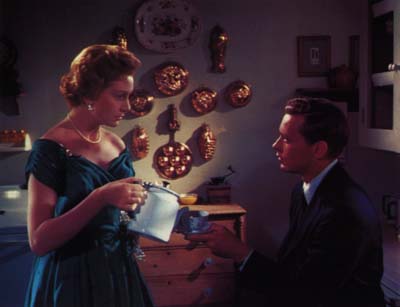 In 1956, Deborah Kerr and co-star John Kerr reprised their Broadway roles in the film version of Robert Anderson's TEA AND SYMPATHY about a prep school boy who becomes unsure of his own sexuality after his friends tease him, suspecting he is homosexual. Deborah Kerr plays the wife of a teacher at the school who takes a special interest in trying to help the boy through his difficult times.

Although its take on homosexuality might be a little dated, both Kerrs (who are unrelated, by the way) give noteworthy and sensitive performances.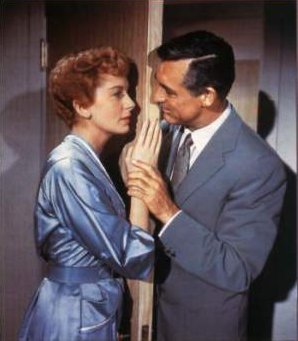 A chaotic but tender moment with Cary Grant in AN AFFAIR TO REMEMBER (1957), a popular middle-age romance that has not only become a holiday classic, but has inspired such remakes as SLEEPLESS IN SEATTLE (1993) and LOVE AFFAIR (1995). AN AFFAIR TO REMEMBER was itself a remake however, of a Leo McCarey romance called LOVE AFFAIR (1939) starring Irene Dunne and Charles Boyer. Though the plotline was updated somewhat from the original, much of the dialog, and even some of the shot selection in AN AFFAIR TO REMEMBER, remain the same.
Music Clips from Hugo Friedhofer's Oscar-nominated score to AN AFFAIR TO REMEMBER (1957):
"An Affair to Remember" (clip) sung by Vic Damone (a .MP3 file courtesy Sony Music Entertainment).
"Pink Champagne" (clip) by Hugo Friedhofer (a .MP3 file courtesy Sony Music Entertainment).
(For help opening these files, visit the plug-ins page.)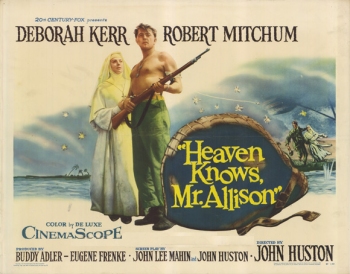 In the first of what would eventually become three feature films made with Robert Mitchum, Kerr once again donned a nun's habit for HEAVEN KNOWS, MR. ALLISON (1957)

, an intimate drama about a nun and a marine stranded together on an island in the Pacific during World War II. Directed by John Huston and filmed on location in Trinidad and Tobago, the film benefits from its lush exteriors, charming screenplay and the obvious chemistry between its two seemingly-disparate stars, who, incidentally, are the only two English speaking actors in the film.