Deborah Kerr
Filmography | Awards | Downloads | Links | Image Credits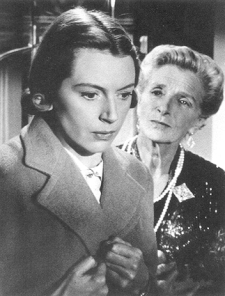 Kerr with Gladys Cooper in SEPARATE TABLES (1958), a screen adaptation of Terence Rattigan's two one-act romantic playlets set at an English seaside resort. Kerr earned her fifth Oscar nomination for her portrayal of a lonely spinster further alienated by her domineering mother (Cooper), but her reserved, understated performance lost in the Best Actress category to Susan Hayward's desperate struggled against the death penalty in I WANT TO LIVE!
Memorable Quotations:
"There's nothin' belligerent about it. It's entirely a question of which side I'm neutral on." --as Bridie Quilty in THE ADVENTURESS (1946).
"Years from now, when you talk about this, and you will, be kind." --as Laura Reynolds in TEA AND SYMPATHY (1956) (a .WAV file).
"I am not a promiscuous trollop! It never happened before." --as Hilary Rhyall in THE GRASS IS GREENER (1960).
"I should think as one grows older, dying would seem more natural." --as Miss Madrigal in THE CHALK GARDEN (1964).
"Love is the most important word in any language. From love comes happiness." --as Miss Madrigal in THE CHALK GARDEN (1964).
"At our last meeting, I died. It alters the appearance." --as Miss Madrigal in THE CHALK GARDEN (1964).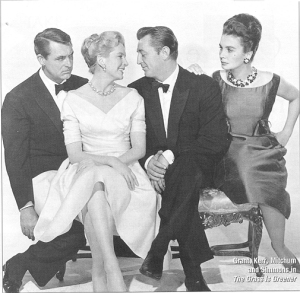 Taking time off from dramas, Kerr scored a comic triumph when she teamed with Cary Grant, Robert Mitchum and Jean Simmons in the drawing room comedy THE GRASS IS GREENER (1960) about an American tourist (Mitchum) who threatens to break up the marriage of an aristocratic English couple (Grant & Kerr) when he takes a guided tour of their castle.

"The Original Theatrical Trailer" from THE GRASS IS GREENER (1960) (a .MOV file courtesy AMC).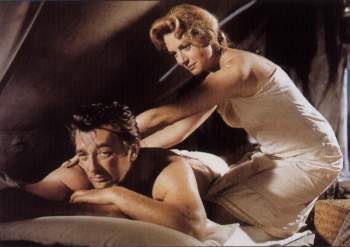 Kerr with Robert Mitchum in Fred Zinnemann's THE SUNDOWNERS (1960), the Best Picture-nominated film adaptation of Jon Cleary's novel about an Australian sheep-herding couple who are torn between the excitement of their wandering lifestyle and a desire to settle down for the sake of their son. While the storyline doesn't sound like much, the characterization and performances in this film make it first-rate. Peter Ustinov and Glynis Johns also make memorable contributions in supporting roles. Kerr earned her sixth and final Academy Award nomination for her makeup-less performance in this heart-felt and often underrated family drama.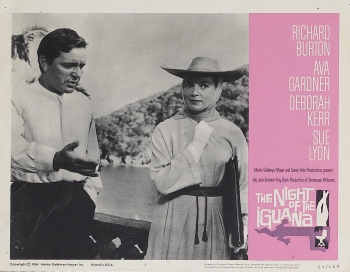 In one of her last great film appearances, Kerr plays an itinerate quick-sketch artist caring for her aging grandfather at a secluded Mexican hotel in John Huston's 1964 adaptation of Tennessee Williams' THE NIGHT OF THE IGUANA. Seemingly wise beyond her spinsterish experiences, Kerr also offers consolation and understanding to Richard Burton, a defrocked priest accused of seducing a teenager (Sue Lyon) on his tour bus and skirting the edges of sanity as the knowledge of his past sins continually torment him. In an interesting reprisal of their dynamic on either side of Clark Gable in THE HUCKSTERS (1947) (Kerr's American film debut), Ava Gardner, playing the worldly hotel proprietress, offers Burton a different form of comfort. Though definitely dramatic, and often disturbing (as Tennessee Williams often is), THE NIGHT OF THE IGUANA showcases some mesmerizing performances, not the least of which is Kerr's.
Further Reading:
Deborah Kerr by Eric Braun (New York: St. Martin's Press, 1978).
Page 1 | Page 2 | Page 3
Filmography | Awards | Downloads | Links | Image Credits