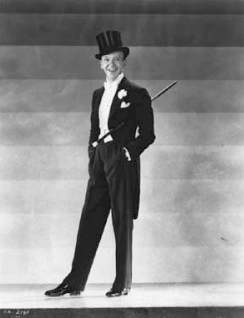 Though on screen Fred was most often associated with a top hat, white tie and tails, in real life he detested formal dress and looked on his signature costume as work clothes.
FREDERICK AUSTERLITZ was born on May 10, 1899 in Omaha, Nebraska to Frederic E. Austerlitz, an Austrian immigrant and traveling salesman, and his wife Ann Geilus Austerlitz. His sister Adele, older by eighteen months, showed a talent for dancing at an early age, and although only four years old, young Fred accompanied his sister to ballet school. In 1904, Mrs. Austerlitz moved with the children to New York where they were enrolled in a performing arts school run by Ned Wayburn, one of the pioneers of modern tap dancing. The following year Fred and Adele made their vaudeville debut on a stage in New Jersey as a miniature bride and groom, and began touring on the Orpheum circuit in an act called "Juvenile Artists Presenting an Electric Musical Toe-Dancing Novelty." Though Fred sporadically attended public school in New Jersey, most of his schooling came on the road under his mother's tutelage.
With the advent of World War I, the Austerlitz's anglicized their name to "Astaire" and the teenage brother-sister hoofers began to make the new name famous. In 1917 the pair made their Broadway debut in a musical revue called "Over the Top," and although the show itself didn't fare well, the Astaires received very positive notices. Though they seldom had any lines, Fred and Adele danced their way through a number of musical revues until in 1922 they were cast in "For Goodness' Sake" with songs by George and Ira Gershwin. Although they had sixth billing, they stole the show.
Throughout the 1920s, the Astaires danced their way to stardom by way of such triumphs as "Funny Face," "Lady, Be Good!" and "The Band Wagon." However in 1932, Adele retired from show business to marry Lord Charles Cavendish, and Fred was left to fend for himself. Because his sister was usually regarded as the better dancer of the two, and the plots of most of their shows together accommodated the fact that they were siblings in real life, Fred was not regarded as a much of a romantic leading man. In 1932 however, he struck out on his own with a new partner, Claire Luce, starring in Cole Porter's comedy musical "The Gay Divorce" in which he introduced the song "Night and Day." "The Gay Divorce" would be Fred's last stage musical.
That same year, anxious to escape his reputation as Adele's brother, Fred made a screen test for RKO and was signed by studio head David O. Selznick despite doubts about his physical appearance and acting ability. Because RKO had no projects ready for him, Fred made his film debut on loan-out to MGM in DANCING LADY (1933) with Joan Crawford and Clark Gable. He had one number. Still without work at RKO, Fred went to London to tour with "The Gay Divorce." When he returned, he was cast as an accordion player in a musical love-triangle story starring Gene Raymond, Dolores Del Rio and Raul Roulien called FLYING DOWN TO RIO (1933). His female counterpart in the film was an up-and-coming RKO contract player named Ginger Rogers, and after their one dance number together stole the picture from the three stars, Fred and Ginger became the silver screen's most popular dancing duo.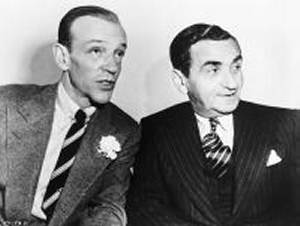 Astaire with composer Irving Berlin who contributed songs to six of Fred's films including TOP HAT (1935) and EASTER PARADE (1948).
Astaire and Rogers made a total of nine musicals together at RKO between 1933 and 1939, and though Ginger made several other comedies and solo musicals between her films with Fred, Astaire made only one film without Rogers -- DAMSEL IN DISTRESS (1937) with Joan Fontaine. It was the only film of his career to lose money at the box-office. More than just a dancer in his films with Rogers, Astaire proved himself an accomplished choreographer. With the help of RKO dance director Hermes Pan, he spent months experimenting with new moves and developing fresh routines for the films. The easygoing air that became his trademark both in his tap solos and tap/ballroom numbers with Rogers resulted from hours of painstaking work. Astaire was frequently described as a perfectionist, and Adele had even nick-named him "Moaning Minnie" for his workaholic ways.
The results spoke for themselves however, and Fred and Ginger's musicals were some of the biggest money-makers of the Great Depression. As their first starring vehicle, RKO adapted "The Gay Divorce" (retitled THE GAY DIVORCEE (1934)) which proved a huge success. And though the pair was second-billed behind Irene Dunne in ROBERTA (1935), for TOP HAT (1935) and subsequent films including FOLLOW THE FLEET (1935), SWING TIME (1936) and SHALL WE DANCE (1937), they appeared above the title. By the time THE STORY OF VERNON AND IRENE CASTLE was released in 1939, Fred and Ginger's popularity had waned and both decided to go their separate ways. Fred was wary of the possible repercussions of being again known only as part of a pair, and Ginger was anxious to try her hand at more serious dramatic acting.
His contract at RKO having run out, Fred spent the next several years free-lancing at various studios, dancing with a variety of new partners. Though BROADWAY MELODY OF 1940 with Eleanor Powell received mixed reviews, YOU'LL NEVER GET RICH (1941) and YOU WERE NEVER LOVELIER (1942) helped rocket Columbia starlet Rita Hayworth to stardom. However, after the lackluster box-office performance of YOLANDA AND THE THIEF (1945) with Lucille Bremer and BLUE SKIES (1946) with Bing Crosby, Fred announced his retirement from motion pictures and began to concentrate on opening a chain of Fred Astaire Dance Studios around the country.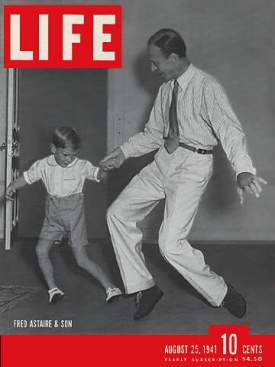 Astaire and son Fred Jr. on the cover of the August 25, 1941 issue of LIFE Magazine.
Fred's retirement was short-lived however. When Gene Kelly broke an ankle playing touch football and was unable to make EASTER PARADE (1948) with Judy Garland and Ann Miller, MGM asked Fred to fill in. He did, and the film's success lead to a contract with Arthur Freed's musical unit at MGM and a decade more of Astaire films. The following year he was reunited with Ginger Rogers for their tenth and final musical, THE BARKLEYS OF BROADWAY (1949). During this second phase of Astaire's film career, though the quality of plots and songs varied, Fred continued to develop inventive dance routines. In ROYAL WEDDING (1951)

with Jane Powell, he danced one number with a coat-rack and a second on the walls and ceiling of a hotel room. Other notable partners from this period included Cyd Charisse (THE BAND WAGON (1953) and SILK STOCKINGS (1957)), Vera-Ellen (THREE LITTLE WORDS (1950)

and THE BELLE OF NEW YORK (1952)), and Audrey Hepburn (FUNNY FACE (1957)).
In March 1950, Ginger Rogers presented Fred with an honorary Oscar on behalf of the Academy of Motion Picture Arts and Sciences for "his unique artistry and his contributions to the technique of musical pictures." In 1959, Fred made his dramatic film debut in ON THE BEACH, and though he made one more musical, the unsuccessful FINIAN'S RAINBOW (1968) with Petula Clark, the remainder of his films showcased Fred as an actor. Most notable among these later pictures were THE PLEASURE OF HIS COMPANY (1961) with Debbie Reynolds and THE TOWERING INFERNO (1974) for which he received a Best Supporting Actor nomination. Fred also kept busy in television, appearing in his own special, "An Evening with Fred Astaire" which earned nine Emmy awards, and in 1959 he published an autobiography entitled Steps in Time.
Astaire stopped dancing professionally about 1970 when he was already over 70 years old, explaining that his age restricted his ability to perform at a level acceptable to him. He continued to make appearances however, and in 1976 teamed with Gene Kelly to host THAT'S ENTERTAINMENT! II, a sequel compilation of film clips from the great MGM musicals. In 1973, Fred was honored by the Film Society of Lincoln Center in a two-and-a-half hour gala featuring 40 dance excerpts from his films which he picked himself. In 1981, the American Film Institute presented him with its ninth Life Achievement Award.
Married to Phyllis Livingston Potter (who had a son, Peter, from a previous marriage) in 1933, Astaire had two children: Fred Jr., born in 1936, and daughter Ava, born in 1942. Phyllis Astaire died of cancer in 1955, and in 1980 at age 81, Fred remarried. His second wife, Robyn Smith, then age 35 and a former jockey, shared with Fred a life-long interest in horses. Fred had been a stable owner and avid horse-racing fan for over 30 years. Astaire made his final film appearance in GHOST STORY (1981) and died of pneumonia in Los Angeles, California on June 22, 1987 at the age of 88.