Robert Wise
Filmography | Awards | Downloads | Links | Image Credits | THE SOUND OF MUSIC | WEST SIDE STORY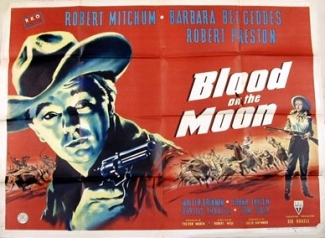 In 1942, Wise was assigned to edit producer Val Lewton's horror film THE CURSE OF THE CAT PEOPLE when Lewton fired first-time director Gunther Fritsch three weeks into filming and asked Wise to complete the production. Though inexperienced working with actors, Wise was anxious for the opportunity to direct, and the film's eventual success established Wise as a member of RKO's stable of in-house directors. Most of his films for RKO were relatively low-budget, at first because he was a fledgling director, but later because RKO fell on hard times in the post-war years, and even its A-level productions were B-movies by the standards of many of the other big studios.
With little regard for prestige, Wise selected projects whose stories interested him and often took an atypical approach to filming them. BLOOD ON THE MOON (1948) for example, is a western which, interestingly, takes place primarily at night, providing Wise with the opportunity to use shadowy film-noir lighting and photography not usually seen in outdoor stories.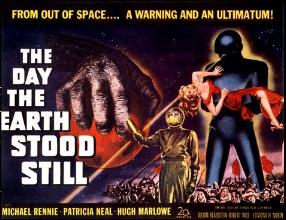 Never a fan of "message" films, as his career progressed, Wise nevertheless began making movies whose stories harbored a broader significance. Besides being an entertaining sci-fi film about an alien named Klaatu who demonstrates the power of beings from beyond Earth by neutralizing electricity all over the world, halting the planet and all its activity, THE DAY THE EARTH STOOD STILL (1951) also contains a warning about the enormous destructive power of nuclear power and atomic energy.
Music Clip THE DAY THE EARTH STOOD STILL:
"Prelude - Outerspace" (clip) by Bernard Herrmann (a .MP3 file).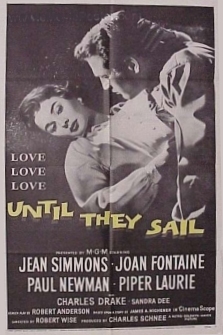 Featuring a host of big-name stars, including Jean Simmons, Paul Newman, Joan Fontaine, Piper Laurie and Sanda Dee as well as an Oscar-nominated screenplay by Robert Anderson, UNTIL THEY SAIL (1957) explores the evolving war-time morality of four sisters living alone in New Zealand and struggling to maintain normalcy while all the men in their lives are away fighting World War II. Wise's unobtrusive direction of UNTIL THEY SAIL allows the very character-driven story and the actresses' performances to take center stage without becoming melodramatic or overbearing, and in many ways demonstrates his increasing level of comfort dealing with the personal, rather than technical, side of movie storytelling.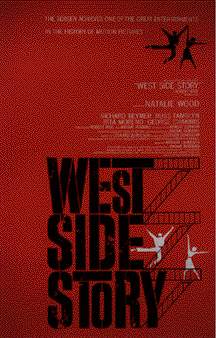 Wise was finally vaulted into the strata of major Hollywood filmmakers with the success of WEST SIDE STORY (1961), a groundbreaking movie musical adapted from Leonard Bernstein and Stephen Sondheim's popular Broadway stage show which won a record ten Academy Awards including two for Wise, Best Director and Best Picture of the year. Having recently tried his hand at producing his own films, WEST SIDE STORY was Wise's first musical assignment since becoming a director and a project he actually co-directed with the stage show's choreographer Jerome Robbins. As had been the case in his editing days, Wise was brought in on the project by friend and executive producer Walter Mirisch who felt movie novice Robbins needed an experienced filmmaker by his side who would guide him without stifling the innovative style Robbins had demonstrated in the stage production. Starring two non-musical screen actors, Richard Beymer and Natalie Wood as the story's modern-day Romeo and Juliet, WEST SIDE STORY brought the movie musical on location to an extent never before seen in Hollywood, with gritty, realistic sets and scenes filmed on location in New York City. The critical and commercial success of WEST SIDE STORY gave Wise the opportunity to choose his own projects from among many promising scripts attached to ample budgets at major studios throughout Hollywood.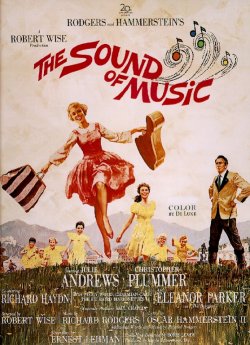 Though not a film Wise originally intended to make, THE SOUND OF MUSIC (1965) was in many ways the crowing achievement of Wise's directorial career, earning him two more Academy Awards, the Irving Thalberg Award for lifetime achievement in film production, and the distinction of having directed one of the most popular movies ever made. The story of a rebellious nun who shakes up the household of a retired sea captain when she arrives to look after his seven children, THE SOUND OF MUSIC was, like WEST SIDE STORY, adapted from a popular Broadway musical, but story-wise, it was everything WEST SIDE STORY was not -- clean and sunny instead of dark and gritty, fanciful rather than soberly realistic, optimistic instead of tragic. In fact, Wise's challenge in making THE SOUND OF MUSIC was primarily to keep the story grounded and its characters credible, lest the stair-stepped singing children, kindly nuns and lush Austrian locales douse the story too heavily in cloying sentiment. Aided by a number of important script changes made by screenwriter Ernest Lehman and an earnest leading performance by Julie Andrews, Wise succeeded in creating a dramatic and heart-warming feel-good movie that charmed American audiences during the social upheaval of the mid-1960s and has since enchanted audiences world-wide in every succeeding generation.
Further Reading:
Robert Wise: a bio-bibliography by Frank Thompson (Westport, CT: Greenwood Press, 1995).
Robert Wise on his films: from editing room to director's chair by Sergio Leemann (Los Angeles, CA: Silman-James Press, c1995).
Page 1 | Page 2
Filmography | Awards | Downloads | Links | Image Credits | THE SOUND OF MUSIC | WEST SIDE STORY