West Side Story (1961)
Cast | Crew | Awards | Lyrics | Downloads | Links | Image Credits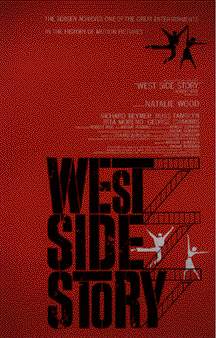 The most lauded movie musical ever made, WEST SIDE STORY (1961) didn't reinvent the genre or even rescue it from its impending decline, but this film's unprecedented integration of song, dance and narrative ushered the movie musical into the modern era. The artistry with which WEST SIDE STORY combined elements of drama, opera and ballet -- not just to stylize William Shakespeare's "Romeo and Juliet," but more importantly, to evoke the mood of the classic tragedy in a modern setting -- raised the standards by which musicals are judged. Its success doesn't rest with the talent of its performers (though they are talented), but rather, emanates from the holistic construction of the film -- its use of sights, sounds, songs, steps, settings and the relentless energy of its ensemble cast to drive the plot forward through its emotional highs and lows without forgetting to pause for those character-specific moments which make the story at once unique and universal.

Just how lauded was it? Nominated for an incredible eleven Academy Awards in 1961, WEST SIDE STORY took home ten Oscars including Best Picture, Best Supporting Actor (George Chakaris), Best Supporting Actress (Rita Moreno), and Best Direction (Robert Wise and Jerome Robbins). Only two other films, BEN-HUR (1959) and TITANIC (1997) have earned more Academy Awards.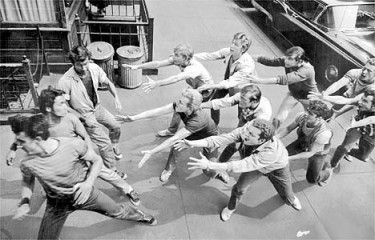 Setting the stage for the street gang rivalry at the heart of the film is the opening prologue, an innovative dance sequence filmed primarily on location in New York which introduces the various members of the film's modern-day Capulets and Montagues -- the Jets and the Sharks.

Riff (Russ Tamblyn) and the Jets are an all-white street gang at war with Bernardo (George Chakiris) and his Puerto Rican friends, the Sharks, over control of territory in their mutual neighborhood. But the real trouble starts when Bernardo's younger sister Maria (Natalie Wood) falls in love with Riff's best friend Tony (Richard Beymer) -- as star-cross'd as any lovers of Verona.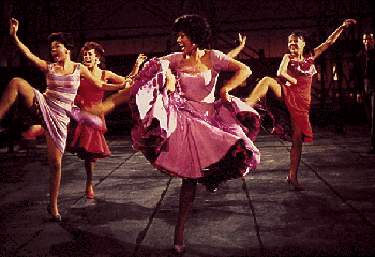 Bernardo's girlfriend Anita (Rita Moreno) and her friends sing the praises of life in "America." Like most of the film's other principals however, Moreno danced and acted but didn't do all her own singing. Her vocals for "A Boy Like That" were dubbed in post-production by Betty Wand because the song was too low for Moreno's range.

That minor vocal shortcoming didn't stop her from winning an Oscar as the year's Best Supporting Actress however. And though Moreno's Academy Award marked her only nomination to date, it was followed by a Grammy, a Tony and two Emmy Awards over the next two decades, making her the one of the first performers to win all four major prizes for film, stage, television and recording arts. (The first was Helen Hayes, though her Grammy was for narration, not music.)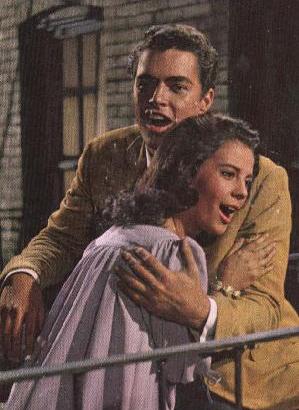 Co-starring as the ill-fated lovers, Natalie Wood and Richard Beymer sing "Tonight" on her balcony -- though their vocals were also dubbed in post-production. Wood's voice was supplied by veteran Hollywood vocalist Marni Nixon, while Jimmy Bryant did the singing for Beymer. Also silenced with another voice was Russ Tamblyn whose lyrics in "The Jets Song" were supplied by Tucker Smith. Of the five principal cast members, only George Chakiris did all his own singing.
In contrast to the romantic duet comes "The Rumble":
The Jets/Sharks are gonna have their way...
The Jets/Sharks are gonna have their day...
We're gonna rock it tonight ---
Tonight!
Multimedia Clips:
"The Jet Song" (clip) sung by Russ Tamblyn (a .MP3 file courtesy Sony).
"Maria" (clip) sung by Jimmy Bryant (a .MP3 file courtesy Sony).
"Tonight" (clip) sung by Marni Nixon and Jimmy Bryant (a .MP3 file courtesy Sony).
"Somewhere" (clip) sung by Marni Nixon and Jimmy Bryant (a .MP3 file courtesy Sony).
"The Rumble" with George Chakiris, Russ Tamblyn and Richard Beymer (a .MOV file courtesy AFI Online).
(For help opening the above files, visit the plug-ins page.)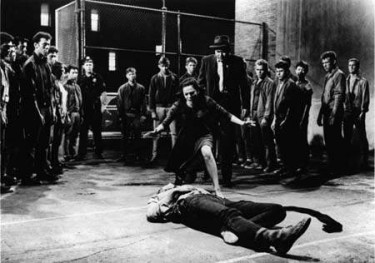 Though a veteran of some thirty films before WEST SIDE STORY, Natalie Wood had never performed musically in a movie until this film. She was cast as Maria primarily for her established abilities as a dramatic actress which she put to good use in the scene at right -- "Not with bullets or guns, with hate..."

Interestingly however, despite the fact that her singing voice was dubbed, Wood's success in WEST SIDE STORY led to a number of other starring roles in movie musicals, including GYPSY (1962), THE GREAT RACE (1965) and INSIDE DAISY CLOVER (1965). Paradoxically, for Oscar-winners Rita Moreno (SINGIN' IN THE RAIN (1952) and THE KING AND I (1956)) and George Chakiris (WHITE CHRISTMAS and THERE'S NO BUSINESS LIKE SHOW BUSINESS (both 1954)) who were veteran movie musical performers before WEST SIDE STORY, the film marked a transition out of musicals and into predominately straight acting roles.
Cast | Crew | Awards | Lyrics | Downloads | Links | Image Credits