Greer Garson
Biography | Filmography | Awards | Article | Bibliography | Downloads | Links | Image Credits | MRS. MINIVER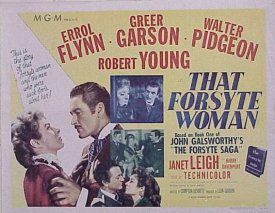 THAT FORSYTE WOMAN (1949), adapted from John Galsworthy's epic three-volume novel The Forsyte Saga, was an expensive MGM Technicolor period picture featuring Garson alongside three prominent male stars, Errol Flynn, Robert Young and Walter Pidgeon (in the seventh of their nine films together, and the only one of their eight co-starring vehicles in which they do not play husband and wife).

Despite all the effort that went into the costumes, sets, and Joseph Ruttenberg's impressive cinematography however, the story is essentially one of cheap romantic intrigue, and only the fact that it deals with a wealthy family in the 19th century gives the tale class. This difficulty, in addition to some fundamental script problems and casting peculiarities, makes for an uninteresting mess of a picture. Garson does her best with her character, Irene Forsyte, as she is written, but couldn't rescue this one, and it became her second post-war film to lose money at the box-office. (The first was DESIRE ME.)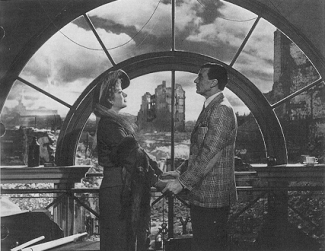 In 1950, a project for which Garson had lobbied the MGM writing department, THE MINIVER STORY, was finally realized. A sequel to Garson's 1942 Oscar- winning blockbuster MRS. MINIVER, the film followed the members of the Miniver family as they came together again at the end of the war and readjusted. Among those reprising their roles from the original were Walter Pidgeon (at right), Henry Wilcoxon, and Reginald Owen.

Directed by H.C. Potter (instead of William Wyler), THE MINIVER STORY is a more complex film than its predecessor and provides some excellent dramatic moments of which Garson and Pidgeon especially take full advantage. In fact, I would argue that this is Garson's finest dramatic performance of all her films. Narrated throughout by Clem Miniver, it suffered from a weak narrative structure and a few inconsistencies with the original. (For example, no reference whatever is made to the Miniver's son Vin, who joined the RAF in the first film.) But the primary reason it failed miserably at the box-office was that post-war audiences seemed to prefer their pleasant memories of Mrs. Miniver sticking it out in wartime to seeing her suffer even more hardship and tragedy once peace had arrived.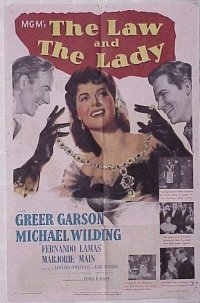 Following the MINIVER STORY disappointment, Garson returned to comedy in THE LAW AND THE LADY (1951), a crime caper film in which she and English co-star Michael Wilding star as jewel thieves in San Francisco. Also featuring Rhys Williams, Fernando Lamas and Marjorie Main, the film was actually a remake of two earlier MGM films entitled THE LAST OF MRS. CHEYNEY (1929 and 1937) but suffered from a weak script and the fact that Garson (in a black wig for the first time since MRS. PARKINGTON) seemed miscast in her role as a working-class maid posing as an aristocrat. It became her third box-office failure in a row.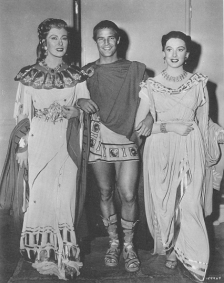 In 1953, Garson was re-teamed with Walter Pidgeon for their ninth and final film, SCANDAL AT SCOURIE, about a Protestant couple who adopt a Catholic child, but it too failed to strike a chord with audiences and lost money. Shortly thereafter, she lobbied MGM to play the relatively minor role of Calpurnia in the studio's prestige production of Shakespeare's JULIUS CAESAR (1953), directed by Joseph Mankiewicz and featuring the talents of Marlon Brando (center), James Mason, John Gielgud, and Deborah Kerr (right). The film was a surprising commercial and critical success, and Garson shared in the good reviews.
Go to the next page.
Page 1 | Page 2 | Page 3 | Page 4 | Page 5 | Page 6