Greer Garson
Biography | Filmography | Awards | Article | Bibliography | Downloads | Links | Image Credits | MRS. MINIVER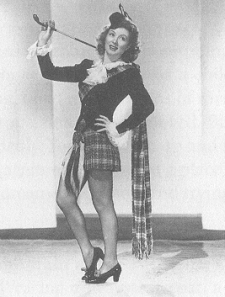 Another hugely successful film among Garson's string of hits in the 1940s was Mervyn LeRoy's RANDOM HARVEST (1942), a romance about an amnesiatic World War I veteran (Ronald Colman) who is rescued from life in a mental institution by a warm-hearted dance hall entertainer. The film is an especially delightful showcase of Garson's range of talents, as she is permitted a raucous musical comedy number early in the film ("She's Ma Daisy" at left) as part of her character's dance hall life.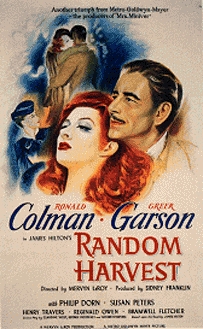 Adapted from the novel by James Hilton (who also wrote Goodbye, Mr. Chips), RANDOM HARVEST also provides Garson with ample opportunity to display her talent for sincere romantic and dramatic expression when Colman's memory comes back and he returns to his previous life with no memory of his dance hall benefactress. Everything about RANDOM HARVEST is A-class MGM -- from the story and script, through the performances, to Joseph Ruttenberg's luminous photography of Garson (who needs little help looking beautiful in any film) -- and it remains one of the best-loved of all Garson's movies.
Read and hear the Anglican hymn "O perfect love" used at the two wedding scenes in RANDOM HARVEST (courtesy EpiscopalNet; requires the Scorch plug-in).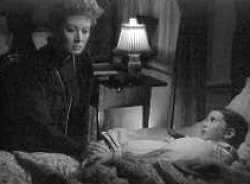 Garson with Margaret O'Brien in MADAME CURIE (1943), her second biographical performance, this time as the lauded French scientist Marie Curie who, with her husband Pierre (Walter Pidgeon), isolated Radium. Billed as "The Love Story of the Most Exciting Woman of her Day," MADAME CURIE takes a certain license with the details of its subject's life, but in the process creates an engaging and very personal story which doesn't sag under the weight of its scientific subject matter.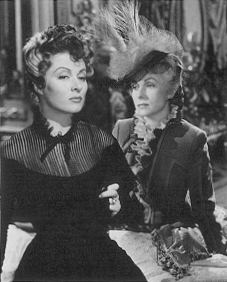 Garson with Agnes Moorehead in MRS. PARKINGTON (1944), MGM's adaptation of Louis Bromfield's novel about the transformation of a young mining town girl who marries the mine owner and becomes a member of 19th century New York's high society, yet retains her small-town values through the ups and downs of her later married and family life. Her fifth film with Walter Pidgeon, MRS. PARKINGTON suffers from a disjointed storyline told through a series of flashbacks, but Garson again overcomes the flaws, this time following her character across almost seventy years of life -- from her early twenties to her late eighties -- and earning a fifth Oscar nomination in the process.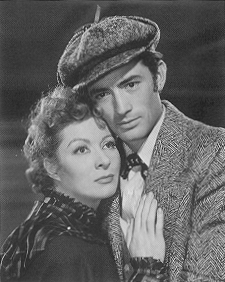 In 1945, MGM adapted Marcia Davenport's epic novel THE VALLEY OF DECISION to the screen for Garson and created a film tailor-made to showcase her talent for characterization. Mary Rafferty is a young Irish housemaid who goes to work for the owners of Pittsburgh's dominant steel mill, the Scotts, and falls in love with their oldest son Paul (played by Gregory Peck, at left). It is a romance with rather a different take on the usual class conflicts one would expect, and was very well received by audiences of the day, grossing over $8 million in its initial release. Critics, too, loudly applauded Garson's performance, and she earned yet another Oscar nomination for this role.

Although the novel follows Mary from her late teens, through four generations of Scotts, to her eighties, the film covers only the first third of the book. The script by Sonya Levien and John Meehan is very well written however, and Garson takes full advantage of the opportunities provided her to display hints of her natural Irish good-nature, especially in the early scenes when she puts the spoiled Scott children in their place, just as they are trying to teach her hers. Mary Rafferty really comes to life on the screen, thanks to Garson's guidance, and this could be my favorite of all her films. The film is also bolstered by a stellar supporting cast, including Gladys Cooper, Donald Crisp, Lionel Barrymore, Marsha Hunt, Dan Duryea and Jessica Tandy. With so much talent in one film, it's hard to miss.
Go to the next page.
Page 1 | Page 2 | Page 3 | Page 4 | Page 5 | Page 6