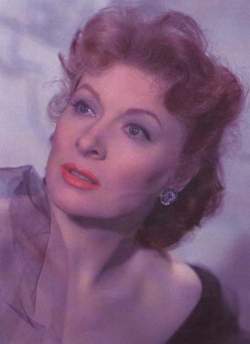 Although five of Garson's seven Best Actress nominations came for films in which she appeared in black and white, she was nonetheless famous for her red hair, blue-green eyes and alabaster complexion.
Though EILEEN EVELYN GARSON claimed all her life to have been born to George and Nina Sophia Garson in County Down, North Ireland on September 29, 1908, her birth certificate (discovered shortly before her death) revealed she had been fooling the world for decades. Actually, her birth took place four years earlier, in 1904, and in a small house in London. Her father died when she was only four months old however, and little Eileen remained with her mother in London where money was tight and she was frequently sick with chronic bronchitis. As a youngster, she proved a very capable student and eventually received a scholarship from the University of London where she earned a B.A. degree with honors in French and 18th century literature. Young Greer (a name derived from her mother's Scottish clan's name, MacGregor) was expected to go into teaching, yet had caught the acting bug at an early age and began to attend amateur dramatic society meetings in the evening while she worked day-time jobs for Encyclopedia Britannica and a market research firm.
After finally joining the Birmingham Repertory Theatre full-time, in 1932 Greer made her stage debut in "Street Scene" and was acclaimed by the critics as a promising newcomer. Two years later she made her London debut at the Open Air Theatre in Regent's Park and in 1935 made her first West End appearance in "Golden Arrow" opposite Laurence Olivier. The play was a flop, but both Garson and Olivier received good reviews and her career continued to look promising. In 1937, after a performance of "Old Music," MGM head Louis B. Mayer visited her and eventually talked her into signing a one year contract with the studio for $500/week. She returned to Hollywood with Mayer, but sat idly by for the better part of a year because the studio couldn't decide what to do with her.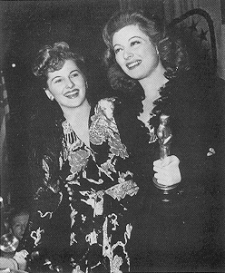 Garson receiving the 1942 Best Actress Oscar from the previous year's winner, Joan Fontaine.
Eventually she returned to England where MGM's Sam Wood was to film GOODBYE, MR. CHIPS (1939) with Robert Donat, and Garson made her film debut as his inspirational young wife who dies in child birth, earning an Oscar nomination for her performance. Suddenly MGM seemed to have found Garson's niche, and she became one of Hollywood's biggest stars of the 1940s earning five Best Actress nominations in a row for such prestige films as BLOSSOMS IN THE DUST (1941), MADAME CURIE (1943) and MRS. PARKINGTON (1944) (all opposite Walter Pidgeon) as well as THE VALLEY OF DECISION (1945) with Gregory Peck. She won her only Oscar as the title character in the patriotic home-front drama and Best Picture of 1942, William Wyler's MRS MINIVER, which became her most famous role and guaranteed her future typecasting as women of noble, intelligent fortitude. Her Best Actress Oscar acceptance speech is now famous as being the longest in the history of the Academy Awards. Though it is often reported as having been over an hour, historians now record it as only having been about five and a half minutes long -- it just seemed longer because it was at the end of a very long evening, and Garson decided not only to thank everyone, but also to bring a few issues of her own to the Academy's attention.
Garson had been married to British civil servant Edward Alec Abbot Snelson in 1933, and though the marriage only lasted a few months, it was not formally dissolved until the early 1940s. Following the filming of MRS. MINIVER, Garson married actor Richard Ney (almost fifteen years her junior) who had played her son in the film, but they were divorced in 1947.
Her screen career declined after World War II, and efforts to broaden her range of characters such as ADVENTURE (1945) with Clark Gable and JULIA MISBEHAVES (1948), although profitable, were not particularly well-received. Between 1949 and 1953, Garson suffered through a string of lackluster box-office disappointments including THAT FORSYTE WOMAN (1949), THE MINIVER STORY (1950), and SCANDAL AT SCOURIE (1953), all of which co-stared Walter Pidgeon with whom Garson had made four of her most successful films in the early 1940s. The commercial failure of THE MINIVER STORY, the sequel to Garson's Oscar-winning blockbuster MRS. MINVER (1942), was also a personal disappointment to Garson who had contributed ideas to the screenplay and in which she had given one of the best performances of her career. Following a small role in JULIUS CAESAR (1953) and a flat comedy entitled HER TWELVE MEN (1954), Garson asked to be released from her MGM contract.
In 1949 Garson had married Texas cattle rancher and oil man Elijah E. "Buddy" Fogelson and the couple maintained residences in Dallas, Los Angeles, and New Mexico, where Garson became involved in farming and breeding race horses. Garson did not stop acting altogether after her 1954 departure from MGM however. In 1958 she took over the title character from Rosiland Russell in Broadway's "Auntie Mame," and in 1960 made an Oscar-nominated comeback film performance as Eleanor Roosevelt in SUNRISE AT CAMPOBELLO (1960). Her seven total Best Actress Ocsar nominations have only been bettered by three other actresses-- Katharine Hepburn (12), Bette Davis and Meryl Streep (10 each).
Garson continued to make occasional appearances in film and on television in the '60s and '70s, though her last roles were in Disney's THE HAPPIEST MILLIONAIRE (1967) opposite Fred MacMurray and in a mini-series version of "Little Women" for NBC in 1978. Garson became a naturalized U.S. citizen in 1951 and in 1977 was awarded an honorary doctorate by the University of Ulster. Later she turned her attention mostly to philanthropic causes related to the performing arts, being especially supportive of the theatre division of the Meadows School of Arts at Southern Methodist University where in 1990 she gave $10 million toward the construction of the school's Greer Garson Theatre. In 1980 she suffered a heart attack, and a year after her husband died, underwent quadruple-bypass surgery in 1988. The British government named Garson an honorary Commander of the British Empire in 1993. She died of heart failure on April 6, 1996 at the age of 91 and is buried in Texas. To the end of her life, her motto was always, "Keep your horizons wide and your waistline slim."