The Best Years of Our Lives (1946)
Cast | Crew | Awards | Articles | Lyrics | Set Detail | Gallery | Bibliography | Downloads | Links | Image Credits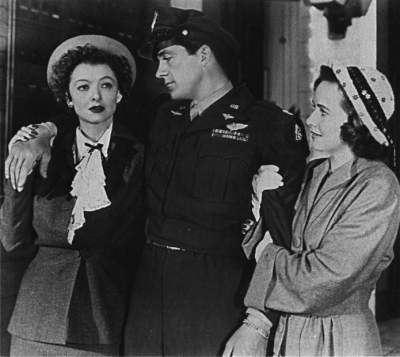 Finally the troop calls it quits and heads home. Butch drops off Homer, and the Stephensons volunteer to take care of Fred. He can't get into his wife's apartment building however, and is too drunk to consider any alternatives, so the Stephensons take him home with them and he bunks in Peggy's room while she takes the living room couch.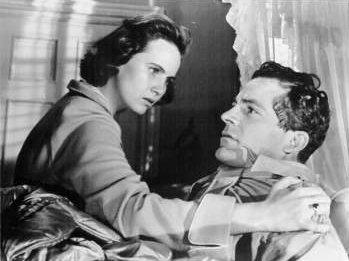 Fred doesn't sleep restfully however, and in the middle of the night, Peggy is awakened by Fred shouting in his sleep. In this powerful scene (and one of the film's most memorable), Peggy comforts Fred after a nightmare about the fiery crash of a fellow flyer.

"The Nightmare" (clip) by Hugo Friedhofer (a .MP3 file courtesy Fifth Continent).
The next morning, Peggy makes Fred breakfast as if nothing happened and, after reintroducing herself (since he doesn't remember much from the previous evening), drops him off at his wife's apartment on her way to work. Dana Andrews gives one of the best performances of his career as Fred Derry, the former Air Force flyer and playboy who returns from the war to discover he is "just another soda jerk out of a job." Teresa Wright also has several memorable moments as the daughter of a fellow serviceman who is determined to help Fred find a new outlook on life.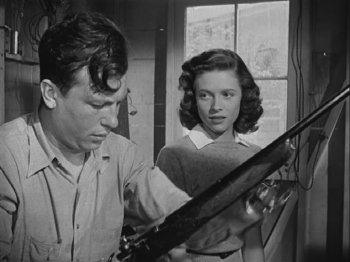 In the meantime, Homer is having troubles of his own. He says he just wants to be treated like everybody else, but at the same time, he is unable to believe that Wilma could possibly feel the same way about him as she did before he lost his hands. He wants others to accept his handicap, but in many ways hasn't accepted it himself, seeing himself as a freak and a weakling.

Both Harold Russell and Cathy O'Donnell made their screen debuts in THE BEST YEARS OF OUR LIVES, and though their performances are not as polished as those of the veteran Hollywood actors in the cast, because their characters are young, awkward and inexperienced in dealing with the adult issues they are facing, Russell and O'Donnell's performances serve both their characters and the film very well.
More Music Clips:
"Wilma and Homer" (clip) by Hugo Friedhofer (a .MP3 file courtesy Fifth Continent Music Corporation).
"Homer Goes Upstairs" (clip) by Hugo Friedhofer (a .MP3 file courtesy Fifth Continent Music Corporation).
(For help opening any of the multimedia files, visit the plug-ins page.)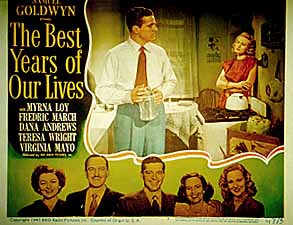 Fred and his wife Marie (Virginia Mayo) have a high time getting reacquainted upon his return, frequenting local night spots until they've spend all their savings. Fred hasn't found the "good job" he's looking for yet, and when the time comes for them to eat at home, Marie is worthless as a housewife, so Fred makes her "a nice dinner, just like I used to behind the fountain." Eventually, he gives up the job search and goes back to the drugstore where he worked before the war.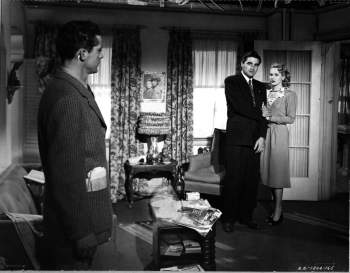 Marie's interest in Fred wanes quickly however, once he's back in civilian clothes and working as "a drugstore cowboy" for $32.50 a week. One day he comes home early to discover her with Cliff (Steve Cochran), a fellow ex-serviceman who hasn't had any trouble readjusting.
(View the incredible details of Julia Heron's sets in a larger version of this picture.)
Up until Samuel Goldwyn cast her as Marie in BEST YEARS, Virginia Mayo had been one of his contract "Goldwyn Girls," best known for her leggy show-girl roles opposite comedians like Bob Hope and Danny Kaye. Her winning performance in BEST YEARS helped establish her as a straight dramatic actress however, and she often took credit for director William Wyler's Oscar, saying he won it because no one in Hollywood believed Virginia Mayo could play a dramatic role.