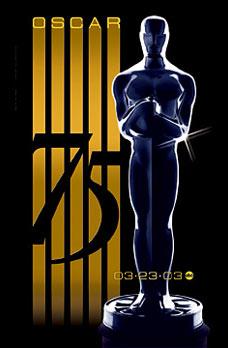 © Academy of Motion Picture Arts and Sciences.
In March 2003, I spent five days working as a member of the production staff for the 75th Annual Academy Awards. Specifically, I was involved in the preparation and execution of the telecast's "Previous Oscar Winners Reunion" segment (seen below). Though it was hard work, I did get the opportunity to meet and even chat with several of the classic movie stars who took part in the festivities, among them Julie Andrews, Ernest Borgnine, Red Buttons, George Chakiris, Olivia de Havilland, Kirk Douglas, Celeste Holm, Claude Jarman Jr., Jennifer Jones, Shirley Jones, George Kennedy, Martin Landau, Karl Malden, Hayley Mills, Rita Moreno, Patricia Neal, Margaret O'Brien, Jack Palance, Luise Rainer, Mickey Rooney, Eva Marie Saint, Maximillian Schell and Teresa Wright.
There is a certain level of discretion required of Oscar staff members which prevents me from telling any specific stories about anyone. However, I can say that the classic movie stars with whom I worked were all very cooperative and easy to get along with. Not one of them disappointed me, and overall, it was a fantastic experience.
I am frequently asked how I got my job at the Oscars, and the answer is that the Academy came to me. The producers needed someone with certain classic movie-related qualifications to do a specific job, and a member of the staff who was familiar with Reel Classics suggested me. Thus, I'm afraid I don't have any great insider information for anyone looking for Oscars-related employment. Mine was not a job for which the Academy took applications.
Below are three different versions of a photo taken of the "Previous Oscar Winners Reunion." All are large files and may require some extra time to download. Click on the buttons below the photos to see the full-sized version.
NOTE: The images on this page are the copyrighted property of the Academy of Motion Picture Arts and Sciences.