Olivia de Havilland
Biography | Filmography | Awards | Article | Bibliography | Links | Downloads | News | Image Credits | GONE WITH THE WIND | Screen Teams: Errol Flynn & Olivia de Havilland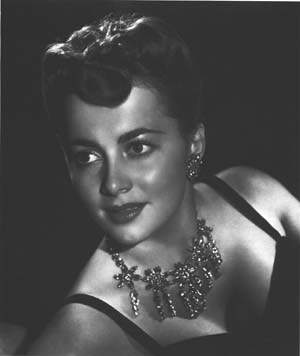 Originally just a pretty face opposite gallant heroes in many-a Hollywood adventure film, Olivia de Havilland later proved herself to be a very capable dramatic actress, earning five Academy Award nominations and two Best Actress Oscars over the course of her career.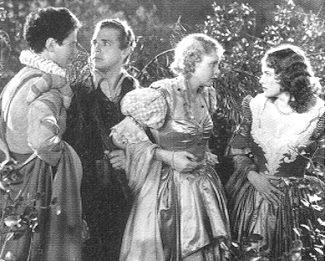 De Havilland (on the far right in this still, along with Ross Alexander, Dick Powell, and Jean Muir) began her film career in 1935, playing Hermia in Warner Bros.' A MIDSUMMER NIGHT'S DREAM, after a talent scout for director Max Reinhardt saw her in a local stage production of Shakespeare's legendary play. The film was her first under a seven-year studio contract with Warner Bros.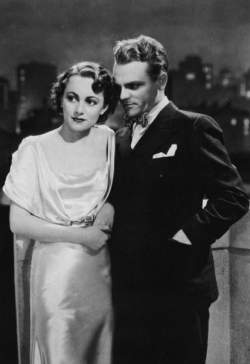 De Havilland in another of her earliest roles under contract to Warner Bros. -- as Lucille Jackson opposite James Cagney in THE IRISH IN US (1935), a comedy about policemen and prizefighters. Though not filmed until after A MIDSUMMER NIGHT'S DREAM, THE IRISH IN US and another Warners comedy, ALIBI IKE (1935) co-starring Joe E. Brown, were released in theatres before the Shakespearean film adaptation. As a result, despite her desire to be known as more than a beauty mark in films, these two low-budget comedies became de Havilland's debut movies. It is important to note however, that despite the quality of these vehicles, de Havilland did receive star billing in these films -- quite a prestigious beginning for a novice film actress.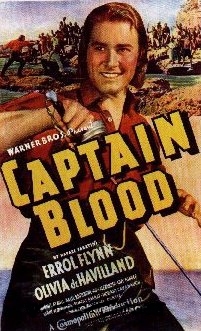 Also in 1935, de Havilland was paired alongside another new Warners contract player, Errol Flynn, in CAPTAIN BLOOD, the first of what was to become a string of nine romantic adventure films teaming the two. Although Flynn's swashbuckling rebel hero is definitely the star of the film, de Havilland (as the daughter of a plantation owner who buys Flynn at a slave auction) is positively luminous in her scenes. The chemistry between the two is also apparent right from the start. CAPTAIN BLOOD is a better swashbuckler than a romance, but nevertheless, after seeing this film, there is no question what motivated Warner Bros. to re-team Flynn and de Havilland so frequently in the years to come.

"Overture" from CAPTAIN BLOOD (clip) by Erich Wolfgang Korngold (a .MP3 file courtesy RCA Victor).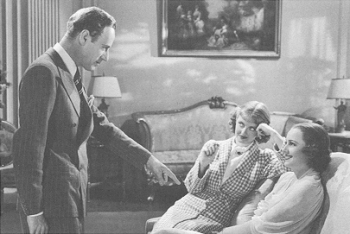 In 1937, de Havilland played second fiddle to Leslie Howard and Warner Bros.' rising diva Bette Davis in IT'S LOVE I'M AFTER, a fun, fierce comedy about two egotistical and romantically involved stage stars whose volatile relationship is further aggravated by the persistent attentions of a young admirer (de Havilland).
Go to the next page.
Page 1 | Page 2 | Page 3 | Page 4 | Page 5