Jane Wyman
Filmography | Awards | News | Downloads | Links | Image Credits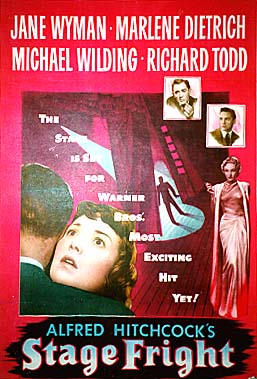 As had been the case with Bette Davis and Olivia de Havilland's careers before her, Wyman's Academy Award did not guarantee her better roles at Warner Bros., and she continued to make lackluster comedies at her home studio between more illustrious loan-out projects at other studios. However, in 1950 Warners cast Wyman in Alfred Hitchcock's thriller about love and murder gone awry in the British theatre, STAGE FRIGHT (1950). Though not one of the director's best, the film still represented better-than-average fare for Wyman at Warners, and she headlined a distinguished cast which included Marlene Dietrich, Michael Wilding, Richard Todd and Alastair Sim.
In addition to her dramas and comedies, Wyman also returned to musicals in the early 1950s, co-starring opposite Bing Crosby in two films for Paramount, beginning with HERE COMES THE GROOM (1951). Though it marked the first time Wyman was paired with the legendary crooner onscreen, it wasn't their first film together. Back in 1936, Wyman had played a bit part in Crosby's musical ANYTHING GOES.

"In the Cool Cool Cool of the Evening" (clip) sung with Bing Crosby (a .MP3 file).
(For help opening any of the multimedia files, visit the plug-ins page.)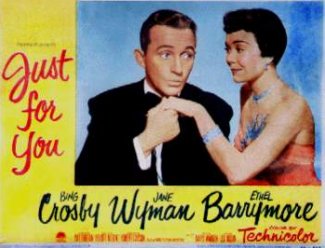 In 1952 Wyman and Crosby made a second musical, JUST FOR YOU, which also featured Ethel Barrymore and a teen-aged Natalie Wood. It even received an Oscar nomination for the Harry Warren-Leo Robin's song "Zing a Little Zong."

"Zing a Little Zong" (clip) sung with Bing Crosby (a .MP3 file).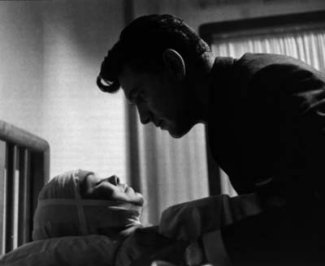 Back to much more serious fare, Wyman played with Rock Hudson in two very melodramatic Douglas Sirk romances for Universal, MAGNIFICENT OBSESSION (1954) and ALL THAT HEAVEN ALLOWS (1955). In MAGNIFICENT OBSESSION (at right), Wyman recovers from surgery to restore her eyesight, performed by her lover and tormenter Hudson. She earned her fourth Best Actress nomination for this performance.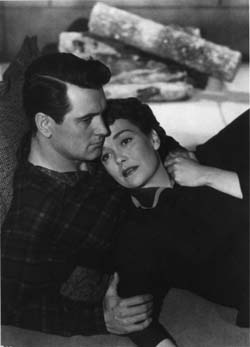 Her second film with Hudson, ALL THAT HEAVEN ALLOWS (1955), is the story of a middle-aged widow who falls in love with her yard man yet cannot make her social circle or her children accept him. Another soapy romance, ALL THAT HEAVEN ALLOWS also features Agnes Moorehead playing Wyman's best friend (just as she had the previous year in MAGNIFICENT OBSESSION). One of Wyman's most frequent co-stars, Moorehead appeared with Wyman in five films over the course of their careers, beginning with JOHNNY BELINDA (1948).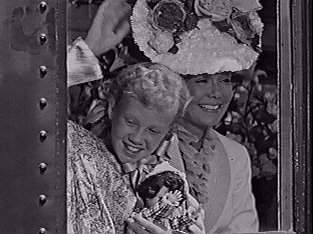 Wyman turned hard-hearted for her role as Aunt Polly in Disney's all-star adaptation of Eleanor Porter's POLLYANNA (1960). Featuring Hayley Mills in the title role opposite Wyman, as well as Hollywood veterans Donald Crisp, Nancy Olson, Karl Malden, Adolphe Menjou and Agnes Moorehead, POLLYANNA is a charming, heart-warming film, exceptionally well-acted and all-around pleasant to watch.
Video Clip from POLLYANNA (1960):
"What it means to be a Harrington" with Hayley Mills (a .MOV file courtesy The Walt Disney Company).
(For help opening any of the multimedia files, visit the plug-ins page.)
Further Reading:
Jane Wyman: A Biography by Joe Morella, Edward Epstein (New York: Delacorte Press, 1985).
Jane Wyman, The Actress and the Woman: an illustrated biography by Lawrence Quirk (New York: Dembner Books, 1986).
The Women of Warner Brothers: The Lives and Careers of 15 Leading Ladies by Daniel Bubbeo (Jefferson, NC: McFarland & Co., 2002).
Page 1 | Page 2
Filmography | Awards | News | Downloads | Links | Image Credits