MARY FRANCES REYNOLDS was born on April 1, 1932 in El Paso, Texas to Raymond Francis Reynolds, a railroad mechanic and carpenter, and his wife Maxene Harman Reynolds. The family had little money, and when her father lost his job at the height of the Great Depression, little Mary Frances, her parents and her older brother William moved in with Maxene's parents and their four boys. Living hand-to-mouth while her parents and grandparents struggled to provide, "Sis" (as she was called) enjoyed a tomboyish childhood, tagging along after her older brother and uncles. In 1939, Raymond Reynolds moved to southern California to take a job with the Southern Pacific Railroad, and in December of that year, his wife and children followed, setting up house in Glendale before building a house in Burbank about a year later.
Growing up in Burbank in the 1940s, Mary Frances attended public school, participated in athletics and the school band, was an ardent member of the Girl Scouts, and, despite her mother's Nazarene upbringing, even went to the movies on occasion where she developed an admiration for the ebullient comic style of Paramount star Betty Hutton. Somewhat of a class clown and a comic cut-up in her own family, Mary Frances developed a talent for lip-syncing and imitating radio comedians which she frequently used to entertain her friends and family. When, on a whim in 1948, she entered and won the local "Miss Burbank" beauty pageant (for which she fulfilled the "talent" requirement by lip-syncing to a record of Betty Hutton singing "I'm a Square in the Social Circle"), talent scouts for both Warner Bros. and MGM recognized her film potential. Reportedly on the toss of a coin, the Warners scout won the right to give Mary Frances a screen test, and shortly thereafter, at the age of 16, she was put under contract to the studio at a salary of $65 per week. To her dismay, studio head Jack Warner changed her name to Debbie, and she was required to attend school for three hours a day on the Warners lot. As time wore on however, and it became apparent that Debbie's hours on the lot were not particularly fruitful, her mother arranged for her to attend John Burroughs High School in Burbank when she was not needed at the studio.
Debbie's career at Warners got off to a slow start. As studio executives struggled to find a showcase for her unique personality, Debbie took dance and drama lessons and wandered around the lot. Finally in the fall of 1948, Debbie was cast as a teenage extra in the Bette Davis - Robert Montgomery vehicle JUNE BRIDE (1948), after which the studio exercised its option to put her contract on hiatus. Early in 1949, Debbie was given a speaking part in THE DAUGHTER OF ROSIE O'GRADY (1950), playing June Haver's younger sister. Despite her complementary comic turn in the picture, Warners decided they had little use for an ingénue of Debbie's age and inexperience, so when MGM expressed an interest in her, Warner Bros. declined to pick up their next six-month option on Debbie's contract. Under a one-picture deal with MGM, Debbie finished out the year appearing as Helen Kane in the studio's musical biopic THREE LITTLE WORDS (1950) starring Fred Astaire and Red Skelton, after which MGM picked up their option to sign Debbie to a standard seven-year studio contract, starting at $300 per week.
At MGM, Debbie was no longer the youngest ingénue on the lot, and the studio kept her busy with acting, singing, dancing and deportment lessons, until the spring of 1950 when she was cast as Jane Powell's spirited younger sister in TWO WEEKS WITH LOVE (1950). Debbie's undaunted energy and wide-eyed delivery of such light-hearted songs as "Aba Daba Honeymoon" and "Row, Row, Row" (both with Carleton Carpenter), breathed noticeable life into the turn-of-the-century musical romance, and she essentially came away as, if not the star of the picture, at least its brightest spot. Shortly after completing the film, Debbie graduated with her class from John Burroughs High School, and then spend much of the summer with the USO, entertaining troops at military bases in California and Korea.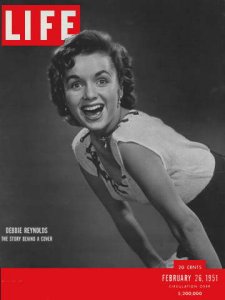 "Debbie Reynolds: The Story Behind a Cover" on the cover of the February 26, 1951 issue of LIFE Magazine.
Still learning the ropes, Debbie appeared as Marjorie Main's niece in MR. IMPERIUM (1951) starring Lana Turner and Ezio Pinza. Then in the spring of 1951, studio head Louis B. Mayer cast her alongside Gene Kelly and Donald O'Connor in what was to become her most famous film, SINGIN' IN THE RAIN (1952), an A-class MGM musical produced by Arthur Freed and co-directed by Kelly and Stanley Donen. Though at an obvious disadvantage compared to her more experienced co-stars, Debbie's enthusiasm and energy helped carry her performance, and she even managed to keep pace with Kelly and O'Connor in a few of their intricate dance numbers (most notably "Good Mornin'"), though during some of the most challenging combinations, Debbie essentially stood by and smiled while Kelly and O'Connor danced around her. (She also seemed somewhat uncomfortable in the clinches.) Despite its legendary reputation today, SINGIN' IN THE RAIN, though a commercial success, did not charm critics upon its initial release, many of whom compared it to Kelly's Oscar-winning triumph of the previous year, AN AMERICAN IN PARIS (1951), and found SINGIN' IN THE RAIN wanting. Nevertheless, Debbie was praised as a promising newcomer, and her successful appearance in the film gave the studio confidence that, more than a just a comic sidelight, she could also handle leading roles.
After playing a brief cameo in SKIRTS AHOY (1952), Debbie spent most of the next three years co-starring in a series of second-string MGM musicals and light comedies. Varying in the quality of their scripts and musical attributes, but with the weight of MGM behind them, films such as GIVE A GIRL A BREAK (1953) and HIT THE DECK (1955) demonstrated that even without the dancing talent of Ann Miller or Marge Champion, or a lilting soprano like that of Jane Powell, Debbie, by virtue of her energy, could infect a waning picture with the sheer force of her personality and invite the audience to enjoy the film, whatever its other shortcomings. As a result, her resume of films from this period are flawed but pleasantly appealing. And reigning supreme among her comedies, THE TENDER TRAP (1955) showcased just how engaging a character Debbie could create when provided with quality source material, good direction and a talented supporting cast.
In 1956, Debbie's stellar performance in Richard Brooks' domestic drama THE CATERED AFFAIR proved that, given these same resources, Debbie could also handle dramatic material. In direct opposition to the energy and vitality she brought to her musical and comedic roles, Debbie's toned-down, genuine and thoughtful performance in THE CATERED AFFAIR gave indications of a broader acting talent waiting to be tapped. Unfortunately for Debbie, her musical comedy skills were of greater commercial value to MGM than her dramatic potential, and the studio returned her to more familiar ground.
By the mid-1950s, Debbie had become one of Hollywood's most popular female stars, so when she began a romance with teen television idol and pop singing sensation Eddie Fisher, the relationship became favored fodder of the fan magazines and Hollywood gossip columns. After months of speculation, the two finally married in the fall of 1955, and "America's Sweethearts" set up house in Hollywood where Fisher hoped to begin a film career. About that same time however, the studio system began to disintegrate. Without their theatre chains to guarantee a market for their pictures, the Hollywood studios (including MGM) were finding filmmaking a much more economically risky business, and they could no longer afford to keep their large stables of on and off-screen talent under long-term contract. But somewhat of a late-comer to the system, Debbie's contract with MGM still had several years left to run, and when the studio found itself short of material for her, it maintained her popularity and kept her in the public eye by loaning her out to other studios. Thus, Debbie appeared opposite husband Eddie Fisher in his screen debut, BUNDLE OF JOY (1956) for RKO, and after giving birth to a daughter, Carrie, on October 21, 1956, was loaned to Universal to appear in TAMMY AND THE BACHELOR (1957). Both films proved enormous commercial successes, and Debbie even found herself with a hit single when "Tammy," the wistful love song from TAMMY AND THE BACHELOR, spent five weeks at number one on the Billboard Chart. (*1)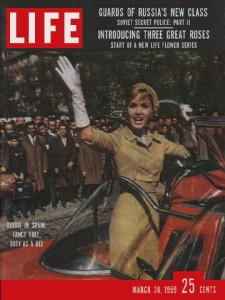 "Debbie in Spain: Fancy Free, Busy as a Bee" on the cover of the March 30, 1959 issue of LIFE Magazine.
In 1958, shortly after Debbie gave birth to her son, Todd Emmanuel, on February 24, movie producer Mike Todd, Fisher's best friend and husband of Debbie's fellow MGM contract star Elizabeth Taylor, was killed in an airplane crash. Fisher's efforts to console Todd's grieving widow lead to a very public affair, and by the fall of 1958, the Reynolds-Fisher-Taylor love triangle had become one of the most publicized romantic scandals in Hollywood history. Debbie continued to work throughout the ordeal, appearing in THE MATING GAME (1959), as well as two romantic comedies with Glenn Ford, THE GAZEBO (1959) and IT STARTED WITH A KISS (1959) (which she filmed in Spain), all for MGM. After filing for divorce from Fisher, Debbie negotiated a release from her contract with MGM, in hopes that working as a freelance artist would prove more profitable to her personally and help her achieve some financial independence. The day after her divorce from Fisher became final, he married Taylor, and thanks in large part to public sympathy for her as an already-popular star and now "wronged wife" and mother of two small children, Debbie's next few pictures did exceedingly well at the box-office, despite their artistic short-comings. In 1959, Debbie became one of the top ten box-office stars of the year, placing fifth in the Quigley Exhibitor's Poll of Box-Office Champions behind Rock Hudson, Cary Grant, Jimmy Stewart and Doris Day, a position she held the following year despite the precipitously declining quality of her vehicles. In 1960, Debbie formed her own company, Harman Productions, and signed a three-year, $1 million deal with ABC to produce a series of yearly television specials, the first of which, "A Date with Debbie" aired on October 27.
In November 1960, Debbie married millionaire shoe store magnate Harry Karl and tried to establish a normal family life for herself and her two children in Beverly Hills, all the while doggedly pursuing her film career which, though inconsistently up and down, slowly began to decline as she outgrew her ingénue screen persona and was unable to replace it with a more-mature, sophisticated Doris Day-like image. Initially, buoyed by Debbie's enduring public popularity, even her less-worthy outings such as 20th Century-Fox's slapstick western romance THE SECOND TIME AROUND (1961) succeeded commercially, and there was no denying the incredible commercial and critical popularity of MGM/Cinerama's historical western epic HOW THE WEST WAS WON (1962), to which Debbie contributed an important human element. But as audience tastes began to change in the 1960s, Debbie's usual light comedies such as THE PLEASURE OF HIS COMPANY (1961) with Fred Astaire and MY SIX LOVES (1963) proved less and less successful. She managed to (temporarily) revive her career with a tour-de-force, Oscar-nominated performance in MGM's widescreen musical adaptation of THE UNSINKABLE MOLLY BROWN (1964), a critical triumph for Debbie and one of the year's biggest money-makers. But by the end of the 1960s, Debbie's film career had run its course and she began to appear more frequently on stage in Las Vegas, becoming a popular nightclub performer and finding a whole new outlet for her talents as an entertainer -- one that would sustain her off and on for most of the next thirty years.
Debbie next focused her attention on television, signing on with NBC to do a comedy series "The Debbie Reynolds Show" which debuted to little critical fanfare on September 16, 1969. After a contract dispute between Debbie and NBC over sponsorship of the show, the series was eventually cancelled in 1970, and Debbie briefly returned to film in the camp horror movie WHAT'S THE MATTER WITH HELEN? (1971) co-starring Shelley Winters. By the early 1970s, her marriage to Harry Karl (whose three children from his previous marriage to actress Marie McDonald had come to live with them upon their mother's death in 1965) was also faltering, as Debbie began to find out about Karl's infidelities and the couple's serious financial problems. In 1973, she filed for divorce from Karl and, finding herself in debt, signed a one-year contract to make her Broadway debut as the title character in a revival of the 1919 musical hit Irene. After a somewhat troubled beginning, Irene eventually became the toast of Broadway, and Debbie won the Outer Critics' Circle Award for Best Actress in a Musical in 1974.

"Ninth Avenue" from Irene (a .RM file).


"Ninth Avenue" from Irene (a .MP3 file).
(For help opening the above file, visit the plug-ins page.)
After Irene, Debbie returned to the boards in Las Vegas where she spent most of the remainder of the decade when she wasn't making television appearances, fundraising for The Thalians (a charity benefiting emotionally disturbed children), starring in a West Coast revival of Annie Get Your Gun (1977), or touring live in a series of special performances in London (at the Palladium in 1975) and Australia. In 1981, Debbie starred in another short-lived television comedy series, "Aloha Paradise," this time for ABC, and though it didn't last, she continued to play occasional guest roles on other network series including "Alice," "The Love Boat" and "Jennifer Slept Here." In 1982, she briefly returned to Broadway to replace Raquel Welch (who had replaced Lauren Bacall) in Woman of the Year, and the following year, Debbie produced a highly successful exercise video entitled "Do It Debbie's Way."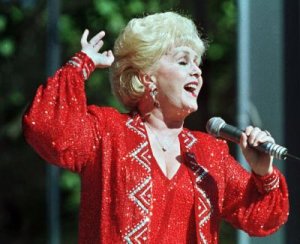 Performing at the New York State Fair on August 31, 1999.
In 1984, Debbie married her third husband, Virginia real estate developer Richard Hamlett, and in 1988 her autobiography Debbie: My Life was published, much of it written in response to Eddie Fisher's recollections of Debbie and their marriage in his own 1981 autobiography. The following year, Debbie and Harve Presnell toured the United States in a revival of The Unsinkable Molly Brown, and after years of performing in Las Vegas, Debbie finally purchased a casino of her own in 1991, where she displayed part of her extensive collection of vintage Hollywood props, sets and costumes (many bought from a giant MGM auction in 1970) and also continued to perform. Her marriage to Hamlett ended in divorce in 1994, and when the Debbie Reynolds Hotel and Casino fell on hard times, Debbie was forced to declare bankruptcy in 1997. (*2)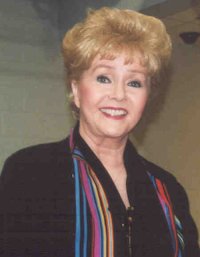 Reynolds backstage at the Civic Center in Oklahoma City on February 23, 2002.
Debbie revived her film career once more in the mid-1990s, earning a Golden Globe nomination for her performance in Albert Brooks' MOTHER (1996), and making subsequent appearances in IN & OUT (1997) and ZACK AND REBA (1998). In 2000, she voiced the character of "Lulu Pickles" in the animated children's film RUGRATS IN PARIS: THE MOVIE, and in 2001, starred with Shirley MacLaine, Joan Collins and Elizabeth Taylor in the made-for-TV movie "These Old Broads." She continues to make live stage appearances in Las Vegas and across the United States, and has played a recurring role on NBC's hit sitcom "Will and Grace" since 1999. Another of the many pursuits which keep Debbie busy is her Hollywood Motion Picture Collection which received a gift of 20,000 square feet of space in the new "Hollywood and Highland" economic development area near Grauman's Chinese Theatre in Hollywood which Debbie will use to display part of her extensive classic movie costume collection.