Margaret O'Brien
Biography | Filmography | Article | Awards | Bibliography | Downloads | News | Links | Image Credits | MEET ME IN ST. LOUIS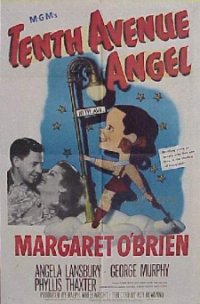 Margaret's career began to decline after 1945 as MGM struggled to find suitable roles for her. By the end of World War II, her stardom had out-grown supporting roles, but starring vehicles for an actress her age were still scarce. After a less-than-successful western with Wallace Beery (BAD BASCOMB (1946)), Margaret was cast in a series of tear-jerkers, among them TENTH AVENUE ANGEL co-starring Angela Lansbury, George Murphy, Phyllis Thaxter and Rhys Williams, which was originally filmed in 1946 but not released until 1948 because of various production problems. O'Brien plays an eight-year-old growing up in the Hell's Kitchen section of New York City who loses faith in everything when she discovers she's been lied to by her mother. Unfortunately for Margaret and the rest of the cast, the material didn't adequately respect their talents.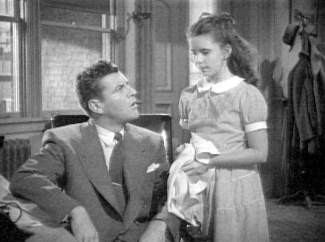 Now eleven years old, in BIG CITY (1948) Margaret plays an abandoned child who is raised by three men (Robert Preston (at right), Danny Thomas and George Murphy), each of whom want to adopt her legally when they marry and settle down. Margaret's challenge is to keep the "family" together -- another lackluster attempt to keep her in starring roles.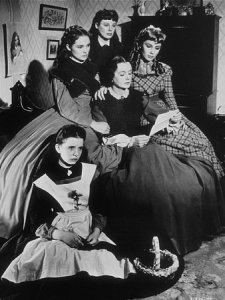 Margaret's fortunes improved in 1949 when she joined a host of young MGM actresses (including June Allyson, Janet Leigh and Elizabeth Taylor, with O'Brien and Mary Astor at left) in the studio's Technicolor film adaptation of Louisa May Alcott's LITTLE WOMEN (1949). Cast as Beth, the March family's painfully shy and emotionally idealistic youngest daughter, O'Brien quietly triumphed with her talent for melancholy and pathos. The film was a box-office success and helped to revive Margaret's fading star in the minds of post-war audiences and the studio bosses.

Also in 1949, Margaret starred opposite Dean Stockwell and Herbert Marshall in another successful literary adaptation, Frances Hodges Burnett's THE SECRET GARDEN. Replete with all the British supporting players the studio could pull together (including Elsa Lanchester, Gladys Cooper and Reginald Owen), the film made artistic use of both black-and-white and Technicolor sequences. As for her starring role of Mary Lennox, the orphan who arrives from India to take up residence with her reclusive uncle and begins to ferret out his secrets, O'Brien obviously enjoyed the opportunity to break out of her series of placid, mournful roles and scream and holler for a change. Her tantrums in this film are surprisingly forceful, credible and effective, even if her accent is not. (Incidentally, O'Brien's singing voice in this film was dubbed by vocalist Marni Nixon who went on to become the famous voice double behind such non-singing stars as Deborah Kerr, Natalie Wood and Audrey Hepburn in several noteworthy musicals of the 1950s and '60s.)
Unfortunately, Margaret's successful foray into adolescent roles proved to be brief, and after her contract with MGM was not renewed in 1950, Columbia attempted to drum up some box-office by casting Margaret in HER FIRST ROMANCE (1951). The film didn't take however, and after fulfilling her contractual obligation to Columbia with a starring role in GIRLS HAND IN HAND (1953) (filmed entirely on location in Japan under the title FUTARI NO HITOMI), Margaret retired from the big screen, focusing mostly on television work during the next several years.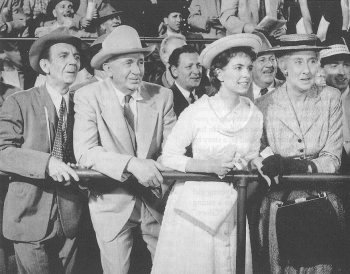 In 1956 Margaret returned to feature films in GLORY for RKO, a forgettable, girl-loves-horse story with a random musical element, also starring Gus Schilling, Walter Brennan and Charlotte Greenwood (with O'Brien at left). Her singing voice was dubbed and the plot was contrived, but O'Brien's performance is worthy despite the limited opportunities of the role. By this point however, her film career was essentially over.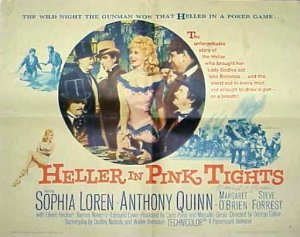 Ironically, in Margaret's last major Hollywood film, George Cukor's western romp HELLER IN PINK TIGHTS (1960) with Sophia Loren and Anthony Quinn, she plays a grown-up child star still pretending to be a juvenile so as not to reveal the true age of her actress mother (played by Eileen Heckart). As a movie, there is a lot wrong with everything, but for O'Brien fans, it is nevertheless interesting to see how much of her youthful mannerisms and demeanor she retains as an adult performer.
Page 1 | Page 2 | Page 3
Biography | Filmography | An article | Awards | Bibliography | Downloads
News | Links | Image Credits | MEET ME IN ST. LOUIS