Myrna Loy
Awards | Article | Downloads | Links | Image Credits | THE BEST YEARS OF OUR LIVES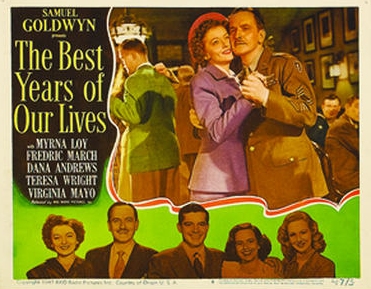 After more than fifteen years in the industry, Myrna Loy took a hiatus from Hollywood filmmaking during World War II and moved to New York where she devoted much of her time to war work, especially for the American Red Cross. After the war, she returned to Hollywood and reluctantly accepted a role she feared would permanently age her out of the romantic comedy roles her fans liked best -- that of a middle-aged married woman with grown children.
And yet, if any of Myrna Loy's performances deserved an Academy Award nomination (if not the Oscar itself), it would be her subtle, strong, sympathetic portrayal of Fredric March's wife in William Wyler's Oscar-winning Best Picture of 1946, THE BEST YEARS OF OUR LIVES. The story of three servicemen (March, Dana Andrews and Harold Russell) who return home from World War II and struggle to readjust to civilian life, THE BEST YEARS OF OUR LIVES was hailed by critics and audiences alike for its honest, heart-felt look at the lasting consequences that years of war-time separation had on American servicemen and their families, and it remains one of the greatest movies ever made.
While both Fredric March and Harold Russell earned Academy Awards for their performances in THE BEST YEARS OF OUR LIVES, not one of the inspirational contributions of the film's female stars -- especially Loy and Teresa Wright (who plays Loy's daughter) -- were recognized by the Academy with so much as a nomination. In Loy's case, this was most likely due to her subtle style, underplaying important moments by expressing emotion through a quiet look or twitch of the mouth, rather than broader, more attention-grabbing gestures. And yet, the film simply wouldn't be the same without her all-important ability to balance humor and pathos. At least her top billing reflected her essential role in the project.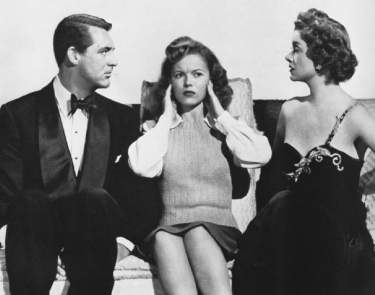 As hard as it may be to believe that two such popular film comedians as Cary Grant and Myrna Loy had never made a comedy together, such was the case in 1947 when the two finally teamed up for THE BACHELOR AND THE BOBBY-SOXER. Featuring Loy as a straight-laced judge whose younger sister (Shirley Temple) develops a crush on a local ladies' man (Grant), the outcome of this romantic comedy is a foregone conclusion, but the film has a lot of fun getting there. Winner of the Academy Award for the year's Best Original Screenplay (by Sidney Sheldon), THE BACHELOR AND THE BOBBY-SOXER seems most likely to have been written for a mother-daughter relationship rather than the sister-sister relationship between Loy and Temple that appears on screen, but any idea that it was changed to accommodate Loy's continued reluctance to appear old-before-her-time onscreen would be pure speculation.
Memorable Quotations:
"Waiter, will you serve the nuts? I mean, will you serve the guests the nuts?" --as Nora Charles in THE THIN MAN (1934).
"They say the movies should be more like life; I think life should be more like the movies." --as Mary Wallace in TO MARY -- WITH LOVE (1936).
"I'm mad about frogs." --as Connie Allenbury in LIBELED LADY (1936).
"This is love, not liquor." --as Connie Allenbury in LIBELED LADY (1936).
"I know you. You're the prince -- a nice charming prince right out of the sky; a young girl's dream. And I've been waiting for you all my life. That's why no other man ever touched the tip of my finger. I have lived for the prince." --as Anne Barton in TEST PILOT (1938).
"Isn't it unlucky for the groom to see the bride before the divorce?" --as Susan Ireland in LOVE CRAZY (1941).
"You know I'd die for you -- only it's very hard to live with you." --as Judge Margaret Turner in THE BACHELOR AND THE BOBBY-SOXER (1947).
"Susan's growing pains are rapidly becoming a major disease." --as Judge Margaret Turner in THE BACHELOR AND THE BOBBY-SOXER (1947).
"I've never been subjected to so much charm before." --as Judge Margaret Turner in THE BACHELOR AND THE BOBBY-SOXER (1947).
"I don't deal with emotions. I deal with facts. And the conclusions I've drawn from the facts I've seen are most depressing." --as Judge Margaret Turner in THE BACHELOR AND THE BOBBY-SOXER (1947).
"I refuse to endanger the health of my children in a house with less than four bathrooms." --as Muriel Blandings in MR. BLANDINGS BUILDS HIS DREAM HOUSE (1948).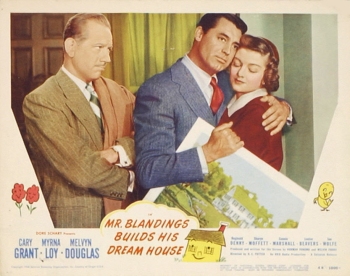 Shortly after their success together in THE BACHELOR AND THE BOBBY-SOXER (1947), Loy and Cary Grant joined forces for yet another post-war comedy, this time as a couple who discover that moving from a New York apartment to a home they're buying, building, and decorating themselves isn't as easy as it's cracked up to be -- MR. BLANDINGS BUILDS HIS DREAM HOUSE (1948). Co-starring Melvyn Douglas, with whom Loy had appeared in the 1940 comedy THIRD FINGER, LEFT HAND, MR. BLANDINGS proved yet-another box-office triumph, making the 1940s a remarkably successful, if markedly less productive, decade in Loy's more than 20-year, 100-film movie career.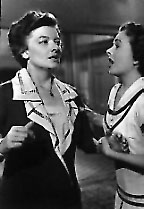 Having won release from her contractual obligations to MGM near the end of the war, Loy was free to choose her own projects, and did so with far less frequency in the coming decades. In 1950, she accepted the role of Clifton's Webb's harried wife and mother to his twelve children in 20th Century-Fox's family efficiency comedy CHEAPER BY THE DOZEN, adapted from the memoirs of Frank and Ernestine Gilbreth (and the most successful film comedy of 1950). Two years later, she returned to Fox for its sequel, BELLES ON THEIR TOES (1952), co-starring Jeanne Crain (at right) as her eldest daughter. Though Loy made a half-dozen more film appearances in the coming years, her performances as Mrs. Lillian Gilbreth in CHEAPER BY THE DOZEN and BELLES ON THEIR TOES would be the last film comedies of her career.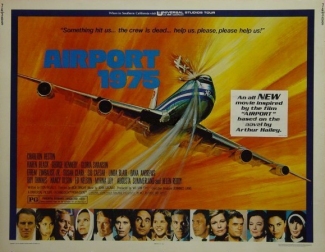 As the film industry struggled to compete with television during the second half of the 20th century, spectacular, big-budget disaster films became a movie staple in the 1970s, and the AIRPORT series was one of the most popular of the genre, thanks in large part to its planes-full of golden age film stars playing cameo character roles. Four years after the original AIRPORT (1970) (adapted from a best-selling novel) in which a both a snow storm and a bomber wreak havoc on a fully-loaded 707, Universal Pictures made AIRPORT 1975 (1974) featuring a mid-air collision that kills or disables everyone capable of landing a 747 and its precious cargo, including Gloria Swanson, Dana Andrews, Sid Caesar, Martha Scott and Myrna Loy (playing an alcoholic passenger).
Further Reading:
Myrna Loy: being and becoming by Myrna Loy and James Kotsilibas-Davis (New York: Knopf, c1987).
The films of Myrna Loy by Lawrence J. Quirk (Secaucus, N.J.: Citadel Press, c1980).
Myrna Loy by Karyn Kay (New York: Pyramid Publications, 1977).
Fast-talking dames by Maria DiBattista (New Haven, CT: Yale University Press, 2001).
Page 1 | Page 2 | Page 3
Awards | Article | Downloads | Links | Image Credits | THE BEST YEARS OF OUR LIVES