Agnes Moorehead
Awards | Downloads | Links | Image Credits | SHOW BOAT (1951)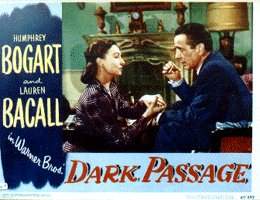 A lobby card from DARK PASSAGE (1947) which also featured Humphrey Bogart and Lauren Bacall. Moorehead played villainess Madge Rapf in this film-noir thriller, and had a famous exit through a plate glass window.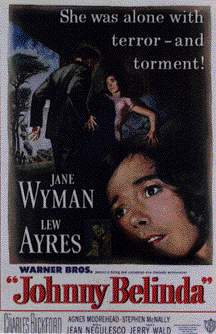 Moorehead played Aggie McDonald, aunt of Jane Wyman's Belinda in Warner Bros.' drama about a deaf-dumb girl who shoots her rapist and goes on trial for murder in JOHNNY BELINDA (1948). Moorehead's performance earned her a Best Supporting Actress nomination, one of twelve nominations the film received. Incidentally, this was the first of five films on which Moorehead and Wyman collaborated.

"Johnny Belinda" (clip) by Max Steiner from JOHNNY BELINDA (1948) (a .MP3 file).
(For help opening any of the multimedia files, visit the plug-ins page.)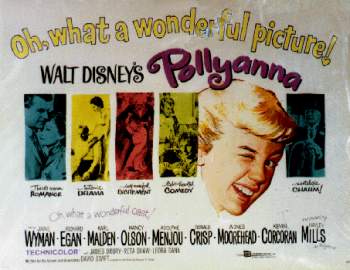 A poster from Walt Disney's film adaptation of the Eleanor Porter novel, POLLYANNA (1960) starring Hayley Mills as the title character and "glad girl" of Harringtontown. Moorehead played the cantankerous Mrs. Snow, one of many colorful supporting characters in the film won over by Pollyanna's smile.

POLLYANNA (1960) also features Jane Wyman as Aunt Polly, Adolphe Menjou as Mr. Pendergast, Karl Malden as Rev. Ford, Donald Crisp as Mayor Warren, and Nancy Olson as Nancy the maid.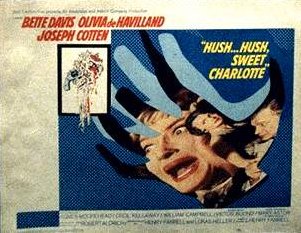 A poster from Robert Aldrich's murder-thriller, HUSH... HUSH, SWEET CHARLOTTE (1964) in which Moorehead earned her fourth and final Best Supporting Actress nomination for her role as Velma, suspected murderess Charlotte Hollis (Bette Davis)'s faithful servant. Also featuring Olivia de Havilland and Joseph Cotten, this movie received seven Oscar nominations in 1964, but did not take any statuettes home.
Further Reading:
I Love the Illusion: The Life and Career of Agnes Moorehead by Charles Tranberg (Boalsburg, PA: BearManor Media, 2005).
Agnes Moorehead: a bio-bibliography by Lynn Kear (Westport, Conn.: Greenwood Press, 1992).
Agnes Moorehead: a very private person by Warren Sherk (Philadelphia: Dorrance, c1976).
Femme Noir: The Bad Girls of Film by Karen Burroughs Hannsberry (Jefferson, NC: McFarland & Co., 1998).
Hollywood lesbians by Boze Hadleigh (New York: Barricade Books, c1994).
Page 1 | Page 2
Awards | Downloads | Links | Image Credits