Ingrid Bergman
Biography | Filmography | Awards | Downloads | Image Credits | CASABLANCA | A review of THE INN OF THE SIXTH HAPPINESS | A review of GOODBYE AGAIN
Page 2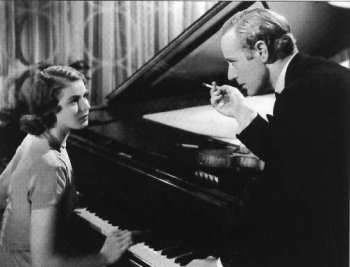 With Leslie Howard in her first American film, INTERMEZZO (1939). Ingrid, as Anita Hoffman, plays the enchanting pianist and music teacher with whom Howard, as concert violinist Holger Brandt, falls madly in love. They tour together and Brandt leaves his wife for Anita, but such an affair is never so simply resolved. Ingrid actually reprised the role of Anita in this film, a remake of a 1936 Swedish film of the same title in which she starred.
A publicity still of Ingrid as Ilsa Lund in the great Hollywood classic CASABLANCA (1942).
Memorable Quotations:
"He said I only sent for the doctor because I wanted him to get well." --as Joan Madou in ARCH OF TRIUMPH (1948).
"There's nothing like a love song to give you a good laugh." --as Alicia Huberman in NOTORIOUS (1946).
"This is a very strange love affair." --as Alicia Huberman in NOTORIOUS (1946).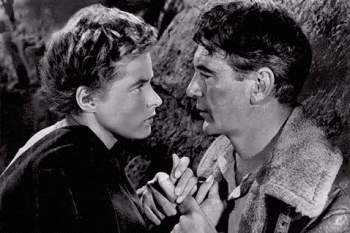 Ingrid with Gary Cooper in Hemingway's FOR WHOM THE BELL TOLLS (1943). Bergman received her first Academy Award nomination for this film. She would receive six more throughout her career.