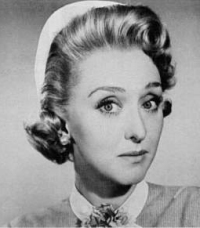 CELESTE HOLM was born on April 29, 1919 in New York City to Norwegian-born Theodor Holm, an insurance adjuster for Lloyds of London, and his wife, Jean Parke Holm, a portrait artist and author. Because of her parents professions, Celeste traveled frequently, attending a number of schools in France, Holland and the United States. Theatrically inclined from a very early age, Celeste also received training in singing, dancing and acting, both professionally and from family friends. Upon graduating from University High School for Girls in Chicago, Illinois where she appeared in a number of school plays, Celeste enrolled at the University of Chicago to study drama.
In the summer of 1936, Celeste accepted an offer to play ingénue leads for a stock company in Deer Lake, Pennsylvania, and during the winter of 1936-7, was offered the chance to understudy the part of Ophelia in a touring production of "Hamlet" (starring Leslie Howard). In 1937 she joined the road company of Clare Boothe's comedy "The Women" in the role of the home-wrecking shop girl "Crystal" (played by Joan Crawford in the 1939 film version), and in 1938 Celeste made her New York debut in "Gloriana," a costume drama starring Blanche Yurka.
It was her Broadway debut in the small part of Mary L. in "The Time of Your Life," William Saroyan's Pulitzer Prize-winning play, which finally brought Celeste to the attention of critics however. She left the role before the end of the first run (from October 1939 to April 1940) to play the lead in "Another Sun" which opened in February 1940, but despite positive personal reviews for her contribution, the anti-Nazi play didn't last. Celeste then embarked on a series of commended parts in other short-lived productions including "The Return of the Vagabond" (May 1940) with George M. Cohan, a brief second run of "The Time of Your Life" (September 1940), "Eight O'Clock Tuesday" (January 1941), "My Fair Ladies" (March 1941) and a series of summer stock productions. In 1942, Celeste had better luck, appearing in a well-received production of "Papa is All" as well as "The Damask Cheek" (October 1942) for which she received very complimentary notices.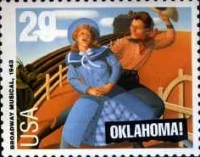 A stamp issued in 1993 commemorating the 50th anniversary of "Oklahoma!"
In early 1943, Celeste auditioned for a musical version of Lynn Riggs' play "Green Grow the Lilacs," written by composer Richard Rodgers and lyricist Oscar Hammerstein II, the pair's first musical collaboration. After demonstrating her ability to "sing bad," she was cast as the man-crazy Ado Annie in "Away We Go" (as the production was originally titled for its premiere at the Schubert Theatre in New Haven, Connecticut on March 11). Building steam and undergoing some revisions during brief opening runs in New Haven and Boston, the musical finally made its Broadway debut as "Oklahoma!" at the St. James Theatre on March 31, 1943. An instant smash, "Oklahoma!" enjoyed packed houses and rave reviews. Critics were especially enthusiastic about Celeste's rather naughty rendition of "I Cain't Say No."
A few months into the run of "Oklahoma!", Celeste began making between-performance appearances at New York supper clubs and the Persian Room of the Plaza Hotel for which she was also highly praised. In the summer of 1944, producer John C. Wilson decided to build a musical around her, and the show, "Bloomer Girl," opened in October of that year to good box office and positive reviews.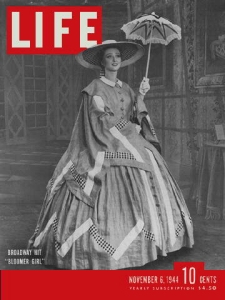 Holm in costume for "Bloomer Girl" on the cover of the November 6, 1944 issue of LIFE Magazine.
In July 1944, Celeste finally gave in to an offer from Hollywood and signed a long-term contract with 20th Century-Fox, effective later in 1945 in order to allow her time to tour Europe with the USO and entertain troops before reporting to California. In her film debut for Fox, THREE LITTLE GIRLS IN BLUE (1946), Celeste stole the show in a supporting role as a French visitor and was rewarded with star billing in her second film, the musical CARNIVAL IN COSTA RICA (1947). But her big break came when she won the role of fashion editor Anne Dettry in GENTLEMAN'S AGREEMENT (1947), taking home an Academy Award as the year's Best Supporting Actress for her performance -- one of the film's eight nominations and its only acting Oscar.
Having proved her talents in both comedy and drama, Celeste looked forward to more quality roles after GENTLEMAN'S AGREEMENT but found herself frequently at odds with the Fox management who had difficulty finding parts appropriate for this intelligent blonde who didn't fit their Betty Grable "pin-up girl" mold. In 1948 Celeste appeared as a second-fiddle cashier in the film-noir ROAD HOUSE, as Dan Dailey's long-suffering wife in CHICKEN EVERY SUNDAY, and as a friendly hospital inmate in THE SNAKE PIT with Olivia de Havilland. Though she received good notices for each of these films, only the latter could be considered a "quality" Fox production and her role in this film was quite small.
Celeste fared slightly better in 1949, making a memorable contribution to Joseph L. Mankiewicz's A LETTER TO THREE WIVES as the off-screen voice of Addie Ross and earning a second Oscar nomination for her role as a tennis-playing French nun in COME TO THE STABLE with Loretta Young. After another first rate comic performance in EVERYBODY DOES IT (1949) as a socialite and aspiring opera diva, Celeste was loaned to United Artists to appear alongside Ronald Colman and Vincent Price in the comedy CHAMPAGNE FOR CAESAR (1950). She soon found herself on suspension from Fox however, for refusing other roles she felt were beneath her.
At the insistence of director Joseph L. Mankiewicz, Fox brought Celeste back to the studio in the spring of 1950 to play the role of Karen Richards in Mankiewicz's all-star production of ALL ABOUT EVE

. The film was a box office smash and received more Oscar nominations (14) than any film in the history of the Academy Awards. Celeste herself was nominated in the Best Supporting Actress category, along with co-star Thelma Ritter, but both actresses lost to Josephine Hull for her performance in HARVEY (1950). Nevertheless, it appeared as if Celeste's film career was looking up. Shortly after ALL ABOUT EVE

debuted however, she shocked the Hollywood film community by buying out the rest of her Fox contract and heading back to New York.
In December 1949, Celeste returned to the stage in a revival of "She Stoops to Conquer" with Brian Aherne and Burl Ives, and shortly thereafter, starred in "Affairs of State" which was written especially for her by Louis Verneuil. That same year, she made her television debut in an episode of "The Chevy Show." In 1952 Celeste continued her stage work, playing the title role in a revival of "Anna Christie," and later that year, temporarily replacing Gertrude Lawrence as Mrs. Anna in "The King and I." After appearing with Robert Preston in "His and Hers," Celeste returned to Hollywood in 1954 to star in her own TV series, "Honestly, Celeste!" Although the series (in which Celeste played a journalism teacher) only lasted eight weeks, the exposure helped Celeste land starring roles in two MGM musical comedies, THE TENDER TRAP (1955) with Frank Sinatra, Debbie Reynolds and David Wayne, and HIGH SOCIETY (1956) with Sinatra, Grace Kelly and Bing Crosby.
After her brief return to film, Holm pursued several opportunities in television, appearing in episodes of "The U.S. Steel Hour," "Producer's Showcase," "Goodyear Television Playhouse," and "Zane Grey Theatre." In 1957 Celeste joined the touring company of "Back to Methuselah," and the following year she returned to Broadway in "Third Best Sport" and the psychological melodrama "Interlock" in which she played her entire performance from a wheelchair. During the 1960s she continued to concentrate her talents in the theatre, appearing in "Invitation to the March" (1960) on Broadway, "A Month in the Country" (1963) with husband Wesley Addy, and "Mame" (1968) for which she won Chicago's Sarah Siddons Society Award. She also scored a significant television success as the Fairy Godmother in Rodgers and Hammerstein's "Cinderella" (TV 1965), and earned an Emmy nomination in 1968 for her performance in an episode of "Insight." Her film work in the 1960s consisted of supporting roles in two comedies, BACHELOR FLAT (1961) and DOCTOR, YOU'VE GOT TO BE KIDDING (1967).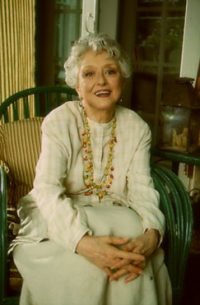 Holm in a publicity portrait for her most recent film, STILL BREATHING (1998).
During the 1970s and '80s, Celeste continued to appear on stage, on television and in movies. High points of this period include a production of "Candida" which opened on Broadway in 1970 with Celeste in the title role opposite her husband Wesley Addy, a tour of "Butterflies are Free," a lauded appearance as Aunt Polly in the film musical TOM SAWYER (1973), a one-woman off-Broadway show called "Paris Was Yesterday" (1980), a recurring role on TV's "Falcon Crest," and an appearance as Ted Danson's mother in the smash comedy THREE MEN AND A BABY (1987). It was during this time that Celeste also became actively involved in a variety of charitable causes. The organizations with which she has been involved include UNICEF (for whom she has raised over $20,000 by charging $.50 for her autograph), the Theatre Hall of Fame (as a member), Easter Seals, Arts Horizons (a nonprofit enrichment program for school children in New York and New Jersey), the Actor's Fund (as a board member), the National Health Association (as head), the Creative Arts Rehabilitation Center (as president), and the New Jersey Motion Picture and TV Commission (for which she has served as chairperson). In 1979, Celeste was knighted by King Olav of Norway, and in 1982, she was arrested for protesting the demolition of two classic Broadway theatres.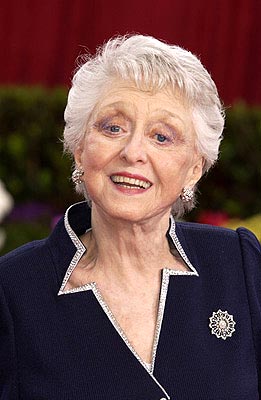 Holm on the Red Carpet at the 75th Annual Academy Awards in 2003.
As for her personal life, Celeste was first married in 1938 to director Ralph Nelson with whom she had a son, Ted. The couple divorced the following year however, and in 1940 Celeste converted to Catholicism and married Francis Davies, an English auditor. This union also ended in divorce. In 1946, Celeste married airline public relations executive A. Schuyler Dunning, and their son Daniel was born in November of that year. This marriage did not last either however, and in 1961 Celeste married for a fourth time -- to actor Wesley Addy whom she had met in 1960 during "Invitation to the March." The couple frequently appeared onstage together, and the marriage lasted until Addy's death in 1996 at age 83. In addition to her two sons, Celeste also has three grandchildren, and in 1997 was named "Grandparent of the Year" by the national Grandparents Day Committee.
Since her husband's death, Celeste has continued to make occasional appearances in both film and television. She has played recurring roles on the TV series "Promised Land" (1996-9) and the short-lived "The Beat" (2000). Her most recent big screen role was that of Brendan Fraser's grandmother in the romance STILL BREATHING (1998). Celeste currently resides in New York and is still actively involved with a number of charitable causes. In June 2001, she spoke to the National Press Club in Washington, DC about the importance of arts education in public schools, and in 2003, she appeared on the 75th Annual Academy Awards during a segment of the telecast honoring previous Oscar winners.