The Sound of Music (1965)
Cast | Crew | Awards | Articles | Dictionary | Bibliography | Downloads | Links | Image Credits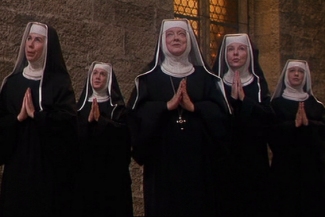 Back at Nonnberg Abbey, the mother abbess (Peggy Wood, center) notices Maria's absence from chapel and seeks advice about dealing with the chronically tardy postulant from some of the other sisters. Sister Berthe (Portia Nelson, far left) and Sister Margaretta (Anna Lee, second from right) have divergent opinions about Maria's future at the abbey but join the mother abbess in a song seeking musical guidance on the matter:
"How do you solve a problem like Maria? How do you catch a cloud and pin it down? How do you find a word that means Maria? A flibbertigibbet. A will-o'-the-wisp. A clown.
"Many-a-thing you know you'd like to tell her. Many-a-thing she ought to understand. But how do you make her stay and listen to all you say? How do you keep a wave upon the sand? Oh, how do you solve a problem like Maria? How do you hold a moonbeam in your hand?"
(Confused by some of the vocabulary in this song? See the Dictionary.)
Among the nuns, playing Sister Sophia (second from left), is Marni Nixon, a Hollywood voice-over artist who provided the singing voice for such non-musical movie musical stars as Deborah Kerr in THE KING AND I (1956), Natalie Wood in WEST SIDE STORY (1961) and Audrey Hepburn in MY FAIR LADY (1964). Though a veteran of movie musicals since the late 1940s, THE SOUND OF MUSIC marked Nixon's first on-screen appearance in one.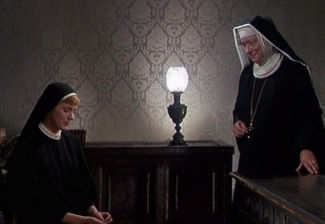 When Maria arrives back at the abbey, she apologizes profusely and confesses the obvious to the mother abbess -- that she is having trouble conforming to the ways of the convent:
"I can't seem to stop singing wherever I am. And what's worse, I can't seem to stop saying things -- everything and anything I think and feel." --Maria.
"Some people would call that honesty." --Rev. Mother.
"Oh, but it's terrible, Reverend Mother!" --Maria.
The mother abbess informs Maria that it seems to be the will of God that she leave the abbey for a time so she can reevaluate her commitment to the order and its way of life. Reluctantly, Maria accepts a position as governess in the household of a retired sea captain with seven children and sets out for the captain's villa outside Salzburg, pondering her future. As she exits the gates, she reminds herself of Reverend Mother's words: "When the Lord closes a door, somewhere He opens a window."
THE SOUND OF MUSIC is based on the true story of Maria Augusta Kutschera, a young novice in Salzburg who arrived at the home of World War I submarine captain and widower Georg von Trapp in 1926 to tutor the third of his seven children. Within a year, Maria had married the captain and the couple eventually had three more children, but the family lost its fortunes during the Great Depression of the 1930s and began singing to alleviate their financial hardships, winning a prize at the Salzburg Music Festival in 1936. Shortly after the Nazi German annexation of Austria in March 1938, the Trapp Family Singers were invited to sing on the radio in honor of Adolph Hitler's birthday, and Captain von Trapp received his summons to command a submarine base for the German navy. Rather than risk the consequences of refusing such prestigious requests, the family fled Austria by train through Italy, eventually arriving in the United States where they continued touring and singing and spearheaded a post-war relief effort for their war-torn countrymen.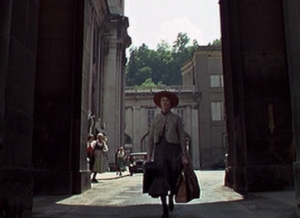 In 1949, Maria Augusta Trapp published The Story of the Trapp Family Singers, which was made into a popular German film, DIE TRAPP FAMILIE, in 1956. Although Rodgers and Hammerstein's stage musical and the subsequent film version of THE SOUND OF MUSIC took numerous dramatic liberties with the details of her life story, Maria Trapp expressed approval of the productions and can even be seen in the film as an extra, crossing (with her granddaughter) behind Julie Andrews as she passes, luggage in hand, through a giant archway in Salzburg on her way to the Trapp home.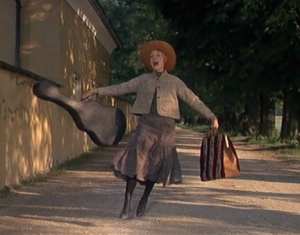 Troubled by the unexpected turn of events in her life and unsure of her future, Maria sings away her anxieties:
"I have confidence in sunshine! I have confidence in rain! I have confidence that spring will come again! Besides which you see, I have confidence in me. Strength doesn't lie in numbers. Strength doesn't lie in wealth. Strength lies in nights of peaceful slumbers. When you wake up -- wake up! --, it's healthy. All I trust I give my heart to. All I trust becomes my own. I have confidence in confidence alone. Besides which you see, I have confidence in me."
"I Have Confidence" is one of two songs in THE SOUND OF MUSIC (1965) that did not appear in the original stage production. It was written for the film, along with "Something Good," by composer Richard Rodgers whose longtime musical partner and lyricist, Oscar Hammerstein II, had died of cancer in 1960.
Go to the next page.
Main Page | Page 2 | Page 3 | Page 4 | Page 5 | Page 6 | Page 7 | Page 8