Trivia Contest #72
August 28, 2005:
The results of Reel Classics' seventy-second Trivia Contest are now official. The winners were chosen randomly from over 1200 correct entries and will be receiving their prize in the mail shortly. Congratulations to the following Reel Classics patrons (and if you didn't win this time, keep visiting Reel Classics so you don't miss the next giveaway):
Trivia Question:
Nick and Nora Charles' dog Asta also appeared in several non-THIN MAN movies. Name one.
Most Popular Answers:
THE AWFUL TRUTH (1937)
BRINGING UP BABY (1938)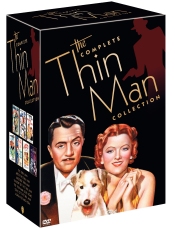 Answer location:
Answers to this question could be found on page 1 of the Cary Grant section, page 2 of the Cary Grant section or on page 2 of the Katharine Hepburn section at Reel Classics.
Winners:
Paul Yee
Chandler, Arizona
Amy Richard
Metamora, Illinois
Lynn Repka
Valrico, Florida
Gregg Mitchell
Austin, Texas
Lynn O'Malley
Princeton, New Jersey
Prize:
A 7-DVD boxed set of The Complete THIN MAN Collection courtesy Warner Bros. Home Video.
The winners will be notified by email, and prizes will be sent out shortly thereafter, following confirmation of delivery information.
Special thanks to Warner Bros. Home Video for their sponsorship of this contest.
Congratulations!
Elizabeth