Trivia Contest #68
July 31, 2005:
The results of Reel Classics' sixty-eighth Trivia Contest are now official. The winners were chosen randomly from over 1700 correct entries and will be receiving their prize in the mail shortly. Congratulations to the following Reel Classics patrons (and if you didn't win this time, keep visiting Reel Classics so you don't miss the next giveaway):
Trivia Question:
For which one of his three starring films was James Dean known to American audiences when his fatal car accident made headlines in the fall of 1955?
Answer:
EAST OF EDEN (1955).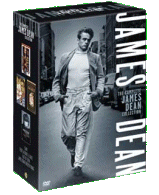 Answer location:
The answer to this question could be found on the James Dean page at Reel Classics.
Winners:
Edward Schomer
Georgetown, Kentucky
Bradley King
Hartland, Michigan
Thomas Albert
Enid, Oklahoma
Margaret Teravainen
Hooksett, New Hampshire
Susanna Pugh
Snohomish, Washington
Prize:
A 6-DVD boxed set of The Complete James Dean Collection courtesy Warner Bros. Home Video.
The winners will be notified by email, and prizes will be sent out shortly thereafter, following confirmation of delivery information.
Special thanks to Warner Bros. Home Video for their sponsorship of this contest.
Congratulations!
Elizabeth