James Dean
Filmography | Awards | Downloads | Links | Image Credits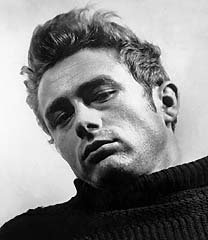 Because his career was ended prematurely by his September 1955 death in an automobile accident, James Dean appeared in only seven films (playing uncredited roles in four of them). Despite the brevity of his career however, Dean received two Academy Award nominations as Best Actor and became an icon of rebellion for American teens, not only of the 1950s, but for generations since as well.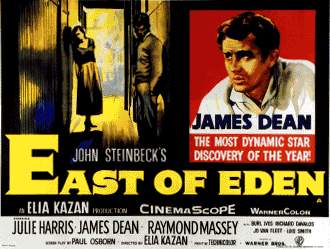 After playing a series of bit parts, Dean landed his first major film role in EAST OF EDEN (1955) opposite Julie Harris, Raymond Massey and Burl Ives. Directed by Elia Kazan, this film adaptation of John Steinbeck's novel features Dean as Cal Trask, a son competing with his brother Aron for the love of their father Adam. Dean's performance in EAST OF EDEN would eventually earn him an Academy Award nomination as Best Actor, one of the record two posthumous Oscar nominations he received. And because EAST OF EDEN was the only one of Dean's three starring films released before his death, it was really the only film by which American audiences knew him when his fatal car accident made headlines in early October 1955.
Music Clip from EAST OF EDEN:
"Main Theme" (clip) by Leonard Rosenman (a .MP3 file).
(For help opening the above file, visit the plug-ins page.)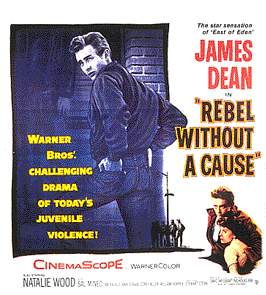 Released less than a month after his death, Dean's second major film, REBEL WITHOUT A CAUSE (1955), is the story of Jim Stark, a new kid in town who hopes to find the love he doesn't get at home among new friends but seems to find only trouble. Co-starring maturing child star Natalie Wood, REBEL WITHOUT A CAUSE was a daring statement about the realities of day-to-day teenage existence in an era when the baby-boom generation was just reaching adolescence and post-war society had not yet come to terms with the cultural changes brought about by the ever-increasing number of American youth.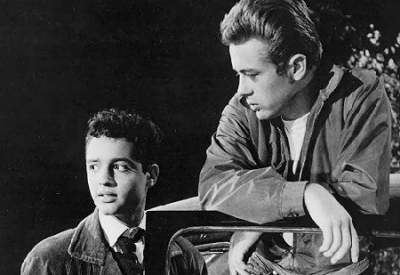 Dean as Jim Stark with Plato (Sal Mineo) preparing for the "chickie" race in REBEL WITHOUT A CAUSE (1955). Though this was the one of his three major performances for which he did not receive an Oscar nomination, it is probably the film for which he is most famous.
Memorable Quotations:
"You're tearing me apart!" --as Jim Stark in REBEL WITHOUT A CAUSE (a .WAV file).
"Are you kiddin' me?" --as Jim Stark in REBEL WITHOUT A CAUSE (a .WAV file).
"Hey they forgot to wind the sundial!" --as Jim Stark in REBEL WITHOUT A CAUSE.
"Nobody talks to children." --as Jim Stark in REBEL WITHOUT A CAUSE.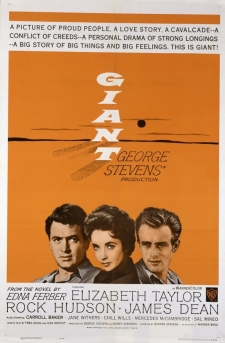 In his final film, George Stevens' GIANT (1956), Dean starred alongside two of Hollywood's biggest stars of the 1950s, Rock Hudson and Elizabeth Taylor. Having finished shooting his part only days before his fatal car accident, Dean received his Best Actor nomination posthumously for his role as cowboy-turned-Texas-oil-tycoon Jett Rink in GIANT. After his death, with only a few days left in production, actor Nick Adams provided Jet Rink's voice for a few of Dean's remaining lines.

"Theme - Giant" (clip) by Dmitri Tiomkin (a .MP3 file).
(For help opening the multimedia files, visit the plug-ins page.)
Further Reading:
James Dean: a bio-bibliography by David Hofstede (Westport, CT: Greenwood Press, 1996).
Rebel males: Clift, Brando, and Dean by Graham McCann (New Brunswick, N.J.: Rutgers University Press, 1993).
The films of James Dean by Mark Whitman (Bembridge, England: Barnden Castell Williams Ltd., 1975).
Too young to die by Patricia Fox-Sheinwold (Baltimore: Ottenheimer Publishers, 1979).
Five for Hollywood by John Parker (Secaucus, NJ : Carol Pub. Group, 1991).
Filmography | Awards | Downloads | Links | Image Credits