Trivia Contest #41
November 1, 2004:
The results of Reel Classics' forty first Trivia Contest are now official. The winners were chosen randomly from over 80 correct entries and will be receiving their prize in the mail shortly. Congratulations to the following Reel Classics patrons (and if you didn't win this time, keep visiting Reel Classics so you don't miss the next giveaway):
Trivia Question:
Janet Leigh made her feature film debut opposite which famous movie heartthrob of the 1940s?
Answer:
Van Johnson.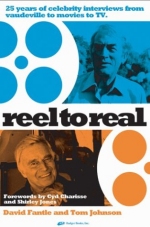 Answer location:
The answer to this question could be found on page 1 of the Janet Leigh section at Reel Classics.
Winners:
J. Beultmann
Oklahoma City, Oklahoma
Joy Isley
Mesa, Arizona
Mike Mackow
Cleveland, Ohio
Benjamin Oliva
Park Ridge, Illinois
Denice Sleevi
Hernando, Mississippi
Prize:
A paperback copy of reeltoreal: 25 years of celebrity interviews from vaudeville to movies to TV courtesy ReeltoReal.
The winner will be notified by email, and prizes will be sent out shortly thereafter, following confirmation of delivery information.
Special thanks to ReeltoReal for their sponsorship of this contest.
Congratulations!
Elizabeth