Trivia Contest #39
May 30, 2004:
The results of Reel Classics' thirty-ninth Trivia Contest are now official. The winners were chosen randomly from over 150 correct entries and will be receiving their prize in the mail shortly. Congratulations to the following Reel Classics patrons (and if you didn't win this time, keep visiting Reel Classics so you don't miss the next giveaway):
Trivia Question:
What classic movie became the first picture ever to win the "Big 5" Academy Awards -- Best Picture, Actor, Actress, Director, and Screenplay?
Answer:
IT HAPPENED ONE NIGHT (1934).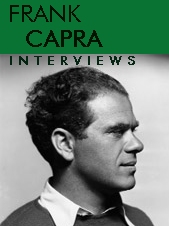 Answer location:
The answer to this question could be found on page 1 of the Clark Gable section, page 1 of the Frank Capra section or on the Columbia Pictures main page at Reel Classics.
Winners:
Norma McDonald
Folsom, Pennsylvania
Sharon Costanza
Chicago, Illinois
Dean Jennings
Council Bluffs, Iowa
Steve Hurlbut
Littleton, Colorado
Jenny Baker
Cincinnati, Ohio
Prize:
A copy of "Frank Capra Interviews" edited by Leland Poague and courtesy The University Press of Mississippi.
The winner will be notified by email, and prizes will be sent out shortly thereafter, following confirmation of delivery information.
Special thanks to The University Press of Mississippi for their sponsorship of this contest.
Congratulations!
Elizabeth