Trivia Contest #36
March 24, 2004:
The results of Reel Classics' thirty-sixth Trivia Contest are now official. The winners were chosen randomly from over 700 correct entries and will be receiving their prize in the mail shortly. Congratulations to the following Reel Classics patrons (and if you didn't win this time, keep visiting Reel Classics so you don't miss the next giveaway):
Trivia Question:
Over the course of his 76 feature films, who was Cary Grant's most frequent leading lady?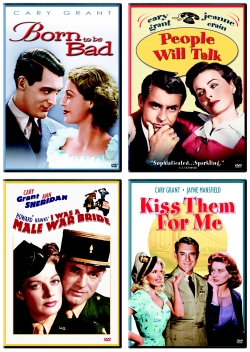 Answer:
Katharine Hepburn.
Answer location:
The answer to this question could be found on the Cary Grant Biography page at Reel Classics.
Winners:
Jorge Munoz
Santa Ana, California
Joyce S. Kellerian
Van Nuys, California
Kristoffer Infante
Orlando, Florida
J. P. Brown
Babylon, New York
Johnson Stewart
Wheeling, West Virginia
Prize:
Four Cary Grant DVDs courtesy 20th Century-Fox.
The winner will be notified by email, and prizes will be sent out shortly thereafter, following confirmation of delivery information.
Special thanks to 20th Century-Fox for their sponsorship of this contest.
Congratulations!
Elizabeth