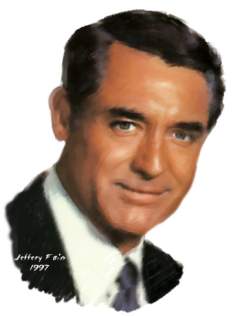 This portrait of Cary was done by Jeffery Fain and appears here with his permission.
ARCHIBALD ALEXANDER LEACH was born to a poor family on January 18, 1904 in Bristol, England. Having hung around theaters and music halls most of his life, he joined a comedy troupe at age fourteen which in 1920 toured the United States. After leaving the troupe, he played a few on-stage roles before going to California in 1931 for a screen test at Paramount, and adopting a new name, Cary Grant.
Though Grant made his debut appearance in THIS IS THE NIGHT (1932) and was quickly chosen by Mae West to be on the receiving end of her sultry double-entendre in I'M NO ANGEL and SHE DONE HIM WRONG (both 1933), it wasn't until his cockney role in SYLVIA SCARLETT (1935) with Katharine Hepburn that he began to find his niche. When his Paramount contract ended in 1937, Grant decided to remain independent and freelance, choosing his own scripts for what eventually became the series of highly successful screwball comedies that were to make him famous. Several of these included BRINGING UP BABY and HOLIDAY, both in 1938 with Katharine Hepburn (his most frequent leading lady), THE AWFUL TRUTH (1937) and MY FAVORITE WIFE (1940), both with Irene Dunne, GUNGA DIN (1939) with Victor McLaglen and Douglas Fairbanks Jr., HIS GIRL FRIDAY (1940) with Rosalind Russell, and THE PHILADELPHIA STORY (1940) with Jimmy Stewart and Hepburn.
Grant was nominated for an Academy Award as Best Actor in 1941 for his performance as a struggling newspaper publisher forced to give up his adopted daughter in PENNY SERENADE, and again in 1944 for NONE BUT THE LONELY HEART. Though he was overlooked both times, Grant received an honorary Oscar in 1969.
Although he suffered through an occasional lackluster vehicle over the course of his four-decade career, Grant managed to keep his body of work varied. Interspersed among such popular comedies as ARSENIC AND OLD LACE (1944), I WAS A MALE WAR BRIDE (1949) with Ann Sheridan, THE BACHELOR AND THE BOBBY-SOXER (1947) with Myrna Loy, OPERATION PETTICOAT (1959) with Tony Curtis, and THAT TOUCH OF MINK (1962) with Doris Day, Grant also appeared in romances such as AN AFFAIR TO REMEMBER (1957) with Deborah Kerr and INDISCREET (1958) with Ingrid Bergman, as well as notable suspense films. In addition to his four thrillers for Alfred Hitchcock (SUSPICION (1941), NOTORIOUS (1946), TO CATCH A THIEF (1955) and NORTH BY NORTHWEST (1959)), Grant also made the thriller-spoof CHARADE (1963) with Audrey Hepburn.
Married five times, Grant had a daughter, Jennifer, in 1966 by his fourth wife, actress Dyan Cannon, whereupon he retired from the filmmaking to become a full-time father. During the 1980s, Grant toured the United States with a one-man show entitled "An Evening with Cary Grant" and was in Davenport, Iowa when he suffered a stroke and died on November 29, 1986.
Biographical information from Cinemania '95.