Trivia Contest #17
December 1, 2002:
The results of Reel Classics' Seventeenth Trivia Contest are now official. The winners were chosen randomly from over 250 correct entries and will be receiving their prize in the mail shortly. Congratulations to the following Reel Classics patrons (and if you didn't win this time, keep visiting Reel Classics so you don't miss the next giveaway):
Trivia Question:
What Oscar-winning actress was knighted by the King of Norway in 1979, arrested in 1982, and named Grandparent of the Year in 1997?
Answer:
Celeste Holm.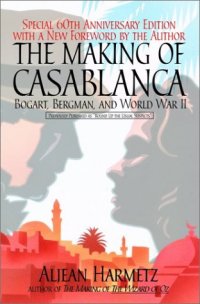 Answer location:
The answer to this question could be found on the Celeste Holm Biography page at Reel Classics.
Winners:
Cynthia Tinkey
Graniteville, South Carolina
Juanita Motika
Phoenix, Arizona
Melissa Tokarczyk
Erie, Pennsylvania
Kelly Martineau
Georgetown, Massachusetts
Ric Marchi
Garden Grove, California
Jeff Smalley
New York, New York
Prize:
"The Making of Casablanca: Bogart, Bergman and World War II"
by Aljean Harmetz courtesy Hyperion Books.
The winner will be notified by email, and prizes will be sent out shortly thereafter, following confirmation of delivery information.
Special thanks to Hyperion Books for their sponsorship of this contest.
Congratulations!
Elizabeth