Cathy O'Donnell
Biography | Filmography | Articles | Bibliography | Downloads | Links | Image Credits | THE BEST YEARS OF OUR LIVES | BEN-HUR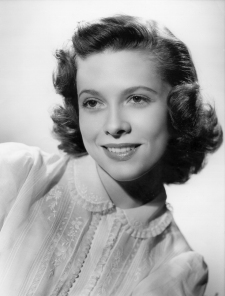 Cathy O'Donnell radiated the charm of the girl-next-door in a number of first-rate films, but she never quite ingratiated herself into the studio system and as a result, her career slowed to a halt by the end of the 1950s.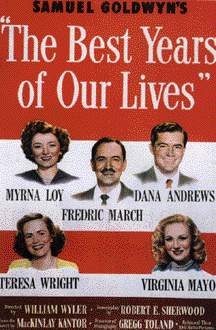 O'Donnell made her screen debut as the young fiancée of a disabled returning veteran in the Best Picture of 1946, THE BEST YEARS OF OUR LIVES. Directed by William Wyler and starring such notables as Myrna Loy, Fredric March, Dana Andrews and Teresa Wright, BEST YEARS classes as one of the finest pictures ever made. O'Donnell's role was not an easy one, and her scenes with Harold Russell (the disabled veteran) are some of the film's most memorable.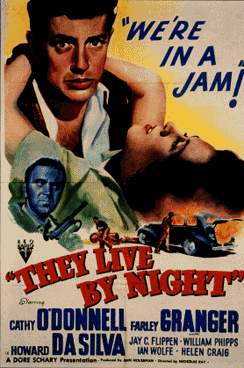 Nicholas Ray's directorial debut, THEY LIVE BY NIGHT, is a hardboiled, film-noir version of Edward Anderson's 1937 novel Thieves Like Us, the story of two young lovers who are fugitives from the law. Although ready for release in 1948 under the title "The Twisted Road," RKO shelved the film for a while, finally releasing it in England where it became a critical and box-office success. In 1949 RKO finally released the film in the United States where it did modest business. Over the years however, growing critical appreciation of Ray's stylistic approach to THEY LIVE BY NIGHT has increased the film's critical reputation.
Read a brief article about THEY LIVE BY NIGHT by Michael Wilmington.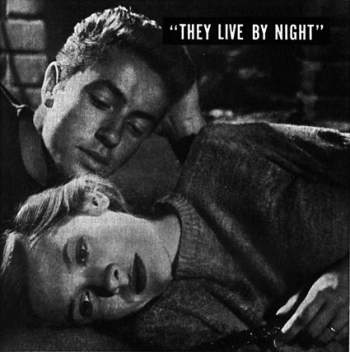 RKO's Picture of the Month: "Hunted by Police, yet they dream of love. Cathy O'Donnell and Farley Granger in a scene from THEY LIVE BY NIGHT, the RKO picture you've heard so much about, sometimes referred to as 'Your Red Wagon' or 'The Twisted Road.' Howard Da Silva co-stars." --Collier's Magazine, October 30, 1948 (page 77).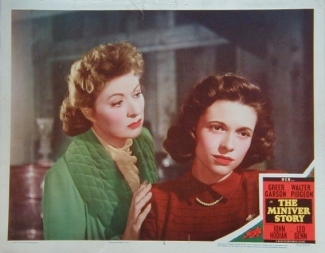 THE MINIVER STORY (1950) was a sequel to the blockbuster home-front drama and Best Picture of 1942, MRS. MINIVER, and featured O'Donnell as Judy Miniver (who had been played by Clare Sandars in the original). Although several cast members carried over from the first film, including Greer Garson, Walter Pidgeon, Henry Wilcoxon and Reginald Owen, it failed miserably at the box-office, not really because it's such a terrible film, but because it didn't live up to the the standard set by the original.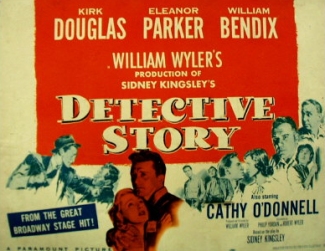 A sometimes-overlooked, yet nonetheless taut and engaging drama, William Wyler's DETECTIVE STORY (1951) stars Kirk Douglas as a police detective who lets his zealousness for his work wreak havoc on his marriage to Eleanor Parker. O'Donnell has a supporting role as the friend of a young man being held on a theft charge, and in my opinion, this performance is the best of her career -- youthful, innocent, down-to-earth and completely credible.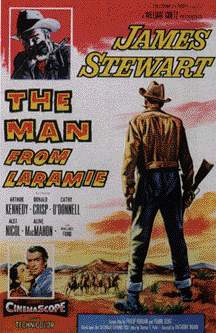 Often considered the best of the Jimmy Stewart / Anthony Mann westerns, THE MAN FROM LARAMIE (1955) is the dark story of one man's quest for revenge in Apache country and the local cattle baron who gets in his way (played by Donald Crisp). O'Donnell had a mid-sized role as Barbara Waggoman, Stewart's love interest, and although effective in some moments, at other times her puppy-dog eyes seem out of place amid the intensity of much of the rest of the film.
O'Donnell's final film before retiring from the screen was another of classic Hollywood's greatest, William Wyler's BEN-HUR, the Best Picture of 1959 and winner of eleven total Oscars. O'Donnell played Charlton Heston's sister Tirzah in the film, which also featured Stephen Boyd, Hugh Griffith and Martha Scott.
Special thanks to Dick Carpenter for his help with this page.
Biography | Filmography | Articles | Bibliography | Downloads | Links | Image Credits | THE BEST YEARS OF OUR LIVES | BEN-HUR