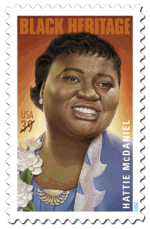 HATTIE MCDANIEL was born on June 10, 1895 in Wichita, Kansas, the thirteenth child of Henry McDaniel, a Baptist minister and sometime minstrel performer, and his wife Susan Holbert, both former slaves. When she was still very young, her parents moved the family to Denver, Colorado, a primarily white community, where Hattie grew up and demonstrated talents for singing and drama at school. After two years of high school, Hattie abandoned her education for a career in show business, joining her father and brother Otis on the road as part of a touring minstrel company. By 1925 Hattie was singing on the radio with "Professor George Morrison and his Melody Hounds," one of Denver's most respected black musical groups, and touring vaudeville circuits throughout the West.
The stock market crash of 1929 left Hattie stranded in Chicago, unemployed, and on the advice of a friend, she traveled to Milwaukee, Wisconsin and Sam Pick's Club Madrid. The only position available to her there however was that of the ladies' washroom attendant, a job she accepted until she was finally given a chance to perform on the club's main stage. Hattie's rendition of "St. Louis Blues" ended her career as a ladies' room attendant and she continued as a regular attraction at the club for almost two years.
In 1931, on the advice of family members living in Los Angeles, Hattie moved to Hollywood and supported herself with radio work and by taking in washing while attempting to establish herself in films. "Hi-Hat Hattie," as she became known on the radio, eventually began to win bit parts in movies. In 1934, she received her first onscreen credit for the Will Rogers movie JUDGE PRIEST, and Rogers' praise of both Hattie's talents and professionalism helped her win other credited comic roles in ALICE ADAMS (1935), SHOW BOAT (1936) and THE MAD MISS MANTON (1938) in which she doused Henry Fonda with a pitcher of water. By the late 1930s, Hattie had proven her mettle in dozens of films playing primarily loyal maids and domestic servant who were nevertheless unafraid to point out the shortcomings of their white employers.
All of her other film roles aside however, it was Hattie's Oscar-winning performance as Mammy in David O. Selznick's legendary Civil War epic GONE WITH THE WIND (1939) that made her career and guaranteed her place in movie history. Her ability to project moral authority over her white charges with endearing comedic sass, as well as near-maternal concern and heartbreak, earned her an Academy Award as the year's Best Supporting Actress, and at the 12th Annual Academy Awards ceremony at the Coconut Grove on January 29, 1940, Hattie became not only the first black performer to win an Academy Award, but also the first to attend an Academy Awards banquet. Her success in GONE WITH THE WIND immediately established Hattie as Hollywood's foremost black actress, a position in which she enjoyed enormous critical plaudits as well as intense scrutiny and criticism from members of the black press.
Trapped between a shortage of quality dramatic roles for black actresses and increasing criticism from members of her own community (especially the National Association for the Advancement of Colored People) for her willingness to continue playing maids and cooks, Hattie found her increasing success strangely limiting, and the pace of her film work dropped off considerably after she won her Academy Award. Her most significant film roles of the early 1940s were as devoted domestics in such Warner Bros. classics as THEY DIED WITH THEIR BOOTS ON (1941), THE GREAT LIE (1941), THE MALE ANIMAL (1942) and IN THIS OUR LIFE (1942), all of which offered her co-star billing below the title as well as showcased comic or dramatic scenes.
As her film career began to wane due to the political pressures under which both Hattie and Hollywood found themselves in the post-war years, she focused more and more on her radio work. From 1947 to 1951, Hattie starred as the title character in CBS's popular radio show "Beulah," playing a straight-talking servant in a white household with her usual flair for comic timing. When CBS decided to move the series to television, Hattie filmed the early episodes, but was diagnosed with breast cancer in 1951 and eventually became too ill to work.
Though most frequently happy and easy-going on screen, Hattie's personal life was often anything but. Her four marriages were all short, the first ended by the tragic shooting death of her husband in 1922, and the next three ending in divorce. She had no children and suffered from a variety of health problems, including diabetes and heart disease, before the breast cancer that finally killed her on October 2, 1952.
For all the dramatic highs and lows of Hattie McDaniel's life, she lived it as she chose. Surrounded by friends, she enjoyed the pleasures of the privileged life in Hollywood that her high film and radio salaries afforded her for as long as they lasted, and her many career accomplishments demonstrated that hard work and determination, more than race, affected how high a performer could progress up the Hollywood ladder in the 1930s and '40s.