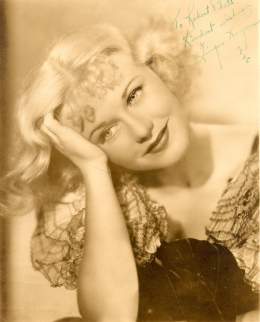 Throughout her career, Ginger was happy to grant autograph requests. This scan featuring "To Robert Platt, Kindest Wishes --Ginger Rogers, 1935" was contributed by Ken Bledsoe.
VIRGINIA KATHERINE MCMATH was born on July 16, 1911 in Independence, Missouri. Her mother, Lela Owens McMath had recently separated from Virginia's father, Eddins McMath, and brought Virginia up with the help of her parents, Walter and Saphrona Owens of Kansas City. The separation was not a pleasant one, and Virginia's father twice kidnapped her (once when she was less than a year old and again two years later) during a custody dispute with Lela. Finally the two divorced and young Virginia went to live with her grandparents in Kansas City while her mother worked for two years in Hollywood writing screenplays, and later in New York City where Virginia joined her for a time. Also living with her grandparents in Kansas City were several of Virginia's cousins, one of whom couldn't pronounce her name and called her "Jinja." Needless to say, it stuck.
In 1920, Ginger's mother married insurance salesman John Logan Rogers and the family of three moved to Fort Worth, Texas. Though she was never formally adopted, Ginger took her step-father's name. While the freckle-faced young tomboy went to school, her mother took a job as a theatre critic for the Fort Worth Record. Ginger's early career aspirations included being a school teacher, but the exposure to the theatre which resulted from her mother's work altered this path. She began to learn songs and dances from the performers as she hung around backstage at the Majestic Theater, waiting for her mother.
Though Ginger had acted in school plays, her professional career began one night when the famous vaudeville dancing team of Eddie Foy and his children needed a substitute, and Ginger, who had learned the Charleston backstage from Eddie Foy, Jr., filled in. The Charleston became Ginger's key to stardom. In 1925 at the age of 14, she entered and won a Texas state Charleston contest. The prize was a contract for a four-week vaudeville tour. With her mother at her side, Ginger and her Redheads (as the act was called) turned four weeks into twenty-one, and even after the act broke up and the Rogers returned to Fort Worth, they weren't out of the business for long. Ginger spent the next four years with her mother, touring vaudeville circuits.
On March 29, 1929 at the age of seventeen, Ginger married a fellow vaudeville hoofer named Jack Culpepper whom she had known in Texas. Although their divorce was not finalized until 1931, the marriage lasted only a few months and Ginger was soon back on the road with her mother. Later that year she hit New York City, continuing her vaudeville performances but also making some radio appearances and a few "short" films for various New York studios. She made her Broadway musical debut on December 25, 1929 in an show called Top Speed, and less than ten weeks later was starring in George and Ira Gershwin's Girl Crazy, singing soon-to-be standards "(They're Writing Songs of Love) But Not For Me" and "Embraceable You" (which was written especially for her). Ginger was a hit and signed a seven-year contract with Paramount Pictures' New York office in 1930, making movies in the morning and hitting the Broadway boards at night.
After Girl Crazy closed, Ginger managed to get herself released from her contract with Paramount and signed a three-picture deal with Pathé to make films in California. Thus in 1930, Ginger and her mother (who had divorced John Rogers) moved to Hollywood. Her movie career didn't take off like her Broadway career had however, and after three forgettable films, Pathé didn't renew her contract and Ginger returned to vaudeville for a time. She didn't give up on movie-making however, and spent most of 1932 free-lancing wherever she could find work.
The following year, Ginger made her first big Hollywood impression in Warner Bros.' 42ND STREET singing "Shuffle Off to Buffalo" with Una Merkel, and after opening the film GOLD DIGGERS OF 1933 with a pig-Latin version of "We're In the Money," she was signed by RKO. Her natural red hair having been dyed blonde early in her movie career, Ginger tended to be type-cast as young starlets or molls. After playing a singing (although her voice was dubbed) radio star known as "The Purity Girl" in RKO's romantic comedy PROFESSIONAL SWEETHEART (1933), her talents were farmed out to other studios. When RKO found themselves with an unexpected hole in the cast of a Dolores Del Rio musical vehicle called FLYING DOWN TO RIO however, Ginger was called in to substitute as the second female lead. As it turned out, the cast also featured a dancer named Fred Astaire who had helped Ginger and the cast of Girl Crazy with some choreography on Broadway a few years previous, and the most famous dance team in the history of movies was born.
Ginger Rogers and Fred Astaire made ten musical films together, nine for RKO between 1933 and 1939, and the last, THE BARKLEYS OF BROADWAY, for MGM ten years later. They were box-office champions during the Great Depression, and the series raised both Ginger and Fred to stardom. As a testimony to the power of their dancing, though Ginger and Fred never "clinched" on screen until their seventh film, CAREFREE (1938), much of America believed there was an off-screen romance between the two. Fred was married however, and in 1934 Ginger wed actor Lew Ayres upon whom she had harbored a school-girl crush since seeing him in ALL QUIET ON THE WESTERN FRONT (1930). Though this union lasted longer than her first, she and Ayres separated and were formally divorced in 1941. In 1936 after splitting with Ayres, Ginger built the house of her dreams on a hill in Coldwater Canyon, complete with a swimming pool and tennis court to support her athletic lifestyle, as well as a small art studio where she spent free time painting, sketching and sculpting. Most important to Ginger however, was the working soda fountain where she could indulge a life-long love of ice cream.
Although Astaire made only one Ginger-less film during that early period, RKO kept Ginger busy all the time. When she wasn't dancing with Fred she was making anywhere from one to six pictures a year away from him -- mostly romantic comedies. Most indications are that Fred and Ginger enjoyed working together but that both were wary of being known only as part of a pair. Besides being a dancer, Ginger was anxious to prove herself a capable dramatic actress.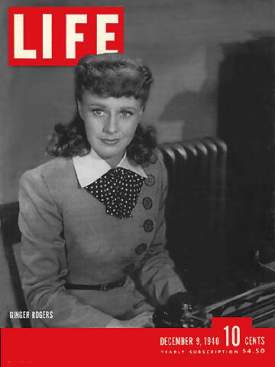 Ginger as Kitty Foyle on the cover of the December 9, 1940 issue of LIFE Magazine-- before she earned her Best Actress Oscar for the film.
After honing her comedic talents in seven films with Fred, Ginger stole the show as a cynical, wise-cracking, aspiring actress in Gregory La Cava's STAGE DOOR (1937) which also featured Katharine Hepburn (recovering from her "Box-Office Poison" label) as well as Eve Arden, Ann Miller and Lucille Ball. VIVACIOUS LADY (1938) with Jimmy Stewart, Charles Coburn and Beulah Bondi was also well received. Ginger made her last two RKO musicals with Astaire -- CAREFREE (1938) and THE STORY OF VERNON AND IRENE CASTLE (1939), both of which were stronger plot-wise than many of the others had been, although somewhat less successful at the box-office -- and then continued to impress with a series of successful light comedies including BACHELOR MOTHER with David Niven, and FIFTH AVENUE GIRL (both 1939).
In 1940 she dyed her hair dark and finally began to get more serious parts. THE PRIMROSE PATH (1940) featured her in the unglamorous role of a prostitute's daughter, and she won a Best Actress Oscar the same year for her portrayal of a white-collar working girl who falls in love with a Philadelphia socialite in KITTY FOYLE. (The Academy Awards banquet for the 1940 Oscars was the first at which the winners were not announced ahead of time, and Ginger's competition included Joan Fontaine (for REBECCA), Bette Davis (for THE LETTER) and Katharine Hepburn (for THE PHILADELPHIA STORY).) Ginger originally refused the role of Kitty Foyle after reading the novel by Christopher Morley, complaining about some of the lurid love scenes. They were cut to appease the Hays Office however, and producer David Hempstead eventually convinced her to take the part. Accepting her statuette, Ginger thanked her mother and others, confessing that it was the happiest moment of her life.
Back to blonde, several successful comedies followed, not the least of which were TOM, DICK AND HARRY (1941), Billy Wilder's American directorial debut THE MAJOR AND THE MINOR (1942) in which Lela Rogers had a small role as Ginger's mother, and ONCE UPON A HONEYMOON (1942) with Cary Grant. Ginger also contributed to the war effort, performing for the USO and selling war bonds at rallies around the country. Her more serious war-time films of the period included TENDER COMRADE (1943) with Patricia Collinge and Ruth Hussey, as well as I'LL BE SEEING YOU (1944) with Joseph Cotten and a teenaged Shirley Temple. While on the screen she played all-American girls sticking it out on the homefront, in real life during World War II, Ginger married serviceman and part-time actor Jack Briggs, whom she had met at a bond rally, on January 16, 1943. In 1949 however, it would become her third marriage to end in divorce.
By 1945 Ginger was the highest-paid performer in all Hollywood (with an income of almost $300,000) and was listed as the eighth biggest money-earner in the United States. Soon afterward however, her movie career began to decline. In 1945 she starred with Walter Pidgeon in a remake of GRAND HOTEL (1932) called WEEKEND AT THE WALDORF, but didn't succeed in escaping the memory of Greta Garbo as the glamorous actress who wants "to be alone." Sam Wood's HEARTBEAT (1946) and the historical drama MAGNIFICENT DOLL (1946) in which Ginger played First Lady Dolly Madison, were not well received either. Her string of disappointments was temporarily reprised in 1949 however, when she was called in to replace Judy Garland opposite Fred Astaire in their final film together, THE BARKLEYS OF BROADWAY. The only one of the ten featuring Fred and Ginger in color, the ten years which had passed showed a bit in this one, but everyone -- critics and the public alike -- seemed happy to have them back. At the Academy Awards ceremony in March 1950, Ginger was chosen to present Fred with an honorary Oscar "for his unique artistry and his contributions to the technique of musical pictures."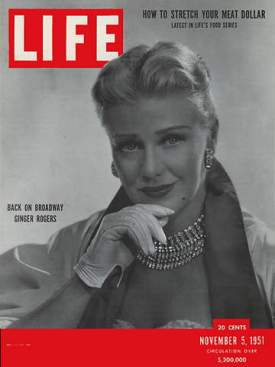 LIFE heralding her return to Broadway on the cover of its November 5, 1951 issue, Ginger's fourth and final cover appearance.
After completing BARKLEYS, Ginger made a few other semi-to-non successful films including STORM WARNING (1951) with Ronald Reagan and Doris Day, and THE GROOM WORE SPURS (1951) with Jack Carson. In 1951 after more than twenty years absence, she decided to return to Broadway in Louis Verneuil's comedy Love and Let Love. The play turned out to be a disaster however, and the highest accolades it received were those for its costumes. They were enough to earn Ginger a fourth LIFE Magazine cover appearance however.
Back in Hollywood, though Ginger's film pace slowed through the 1950s, she continued to work regularly. A few of her notable films of this period included MONKEY BUSINESS (1952) with Cary Grant, DREAMBOAT (1952) with Clifton Webb, and TIGHT SPOT (1955) with Edward G. Robinson and Brian Keith, all of which were well received by the critics even if they weren't big money-makers. In 1952 on a trip to France, Ginger met a young (sixteen years her junior) French lawyer named Jacques Bergerac. He returned to the United States with her and they married on February 7, 1953. Though she tried to help him make his way as an actor and even starred with him in a British film called BEAUTIFUL STRANGER (1954) which was released in the United States as TWIST OF FATE, this marriage also ended in divorce.
In 1957 Ginger took an eight year break from the screen, but never one to retire, put together a night-club act with The Toppers which toured the country and was especially successful in Las Vegas. She also did quite a bit of work with television, including several musical spectaculars and appearances on variety shows. In 1959 Ginger took on another play, The Pink Jungle, but this one never even reached Broadway. Once again the costumes ended up with the majority of the accolades. Her other stage musical tours of the early sixties proved more successful however, among them Annie Get Your Gun and The Unsinkable Molly Brown. The same could not be said for her final marriage. Having tied the knot with her fifth husband, soon-to-be director/producer William Marshall, in March 1961, Ginger was not divorced until 1969 although the marriage deteriorated after only a few weeks.
In 1965 Ginger played the mother of another glamorous blonde of the 1930s, in a film called simply HARLOW. This version of the actress' life was filmed like a live television show however, in Electronovision (designed to convert easily to television) and on a low budget. It was easily eclipsed by a second biopic released the same year (under the same name) by Paramount which featured Angela Lansbury as Jean Harlow's mother. Though even up to the end of her life Ginger always remained open to the possibility she would make more movies, it was not to be; with the exception of an appearance in a 1984 documentary about the life and career of director George Stevens, HARLOW was her final big screen appearance.
Throughout the 1960s and '70s however, television and the live stage kept Ginger busy. In 1965 she successfully took over for Carol Channing in Broadway's Hello, Dolly! and continued with the show for eighteen months in New York and later for another year on the road. In 1969 she made her London West End debut in a somewhat less successful production of Mame. Then in the late 1970s, she took her own musical stage show, The Ginger Rogers Show, on the road for four years. She spent much of the 1980s making public appearances and accepting honorary awards.
In 1991, Ginger published her autobiography, Ginger: My Story, in which she recounted anecdotes about her life and career and discussed the importance of her religious affiliation with Christian Science. While she also lightly lamented that it seemed she would always be remembered as Fred Astaire's dance partner instead of an actress in her own right, Ginger did however, accede to being pleased that at least she would always be remembered as young and beautiful. On April 25, 1995 at the age of 83, Ginger Rogers died of natural causes at her home in Rancho Mirage, California. She was buried next to her mother Lela, who died in 1977.