Trivia Contest #85
February 5, 2006:
The results of Reel Classics' eighty-fifth Trivia Contest are now official. The winners were chosen randomly from over 800 correct entries and will be receiving their prize in the mail shortly. Congratulations to the following Reel Classics patrons (and if you didn't win this time, keep visiting Reel Classics so you don't miss the next giveaway):
Trivia Question:
Walt Disney received four honorary awards from the Academy of Motion Picture Arts and Sciences for his innovative animation of SNOW WHITE AND THE SEVEN DWARFS (1937), FANTASIA (1940) and what recurring short-subject character?
Answer:
Mickey Mouse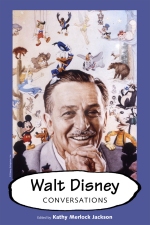 Answer location:
The answer to this question could be found on the Walt Disney Awards page at Reel Classics.
Winners:
Chris McCann
Wappingers Falls, New York
N.J. Greeley
Hershey, Nebraska
Michelle Rosborough
Riverside, California
Nicky O'Brien
Fort Worth, Texas
Lyle Johannson
Portland, Oregon
Prize:
A copy of "Walt Disney Conversations" edited by Kathy Merlock Jackson (2006) courtesy The University Press of Mississippi.
The winners will be notified by email, and prizes will be sent out shortly thereafter, following confirmation of delivery information.
Special thanks to The University Press of Mississippi for their sponsorship of this contest.
Congratulations!
Elizabeth