Trivia Contest #110
October 15, 2006: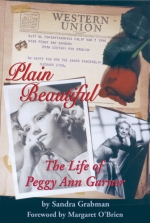 The results of Reel Classics' one hundred-tenth Trivia Contest are now official. The winners were chosen randomly from over 900 correct entries and will be receiving their prize in the mail shortly. Congratulations to the following Reel Classics patrons (and if you didn't win this time, keep visiting Reel Classics so you don't miss the next giveaway):
Trivia Question:
Who was the second child actress (after Shirley Temple) ever to rank among the top ten box-office champions, according to Quigley's Annual MoneyMakers Poll?
Answer:
Jane Withers.
Answer location:
The answer to this question could be found in the Quigley's Annual List of Box-Office Champions, 1932-1970 article at Reel Classics.
Winners:
Joseph Kershenbaum
Lowell, Massachusetts
Sandy Okstad
Ely, Minnesota
Roxanne Gean
Addison, Texas
Prize:
Paperback copies of "My Fifteen Minutes" by Sybil Jason (2005) and "Plain Beautiful: The Life of Peggy Ann Garner" by Sandra Grabman (2005) courtesy Bear Manor Media.
The winners will be notified by email, and prizes will be sent out shortly thereafter, following confirmation of delivery information.
Special thanks to Bear Manor Media for their sponsorship of this contest.
Congratulations!
Elizabeth