Trivia Contest #79
November 13, 2005:
The results of Reel Classics' seventy-ninth Trivia Contest are now official. The winners were chosen randomly from over 2100 correct entries and will be receiving their prize in the mail shortly. Congratulations to the following Reel Classics patrons (and if you didn't win this time, keep visiting Reel Classics so you don't miss the next giveaway):
Trivia Question:
After THE WIZARD OF OZ (1939), Judy Garland only re-teamed on the big screen with one of the three co-stars who had traveled with her on the yellow brick road to Oz. Who was it?
Answer:
Ray Bolger in THE HARVEY GIRLS (1946).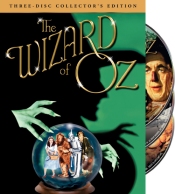 Answer location:
The answer to this question could be found on the Ray Bolger page at Reel Classics.
Winners:
Arlen King
Dallas, Texas
Susan Lawrence
Peabody, Massachusetts
Carol Lambert
Cincinnati, Ohio
Prize:
A Collector's Edition 3-DVD boxed set of THE WIZARD OF OZ (1939) courtesy Warner Bros. Home Video.
The winners will be notified by email, and prizes will be sent out shortly thereafter, following confirmation of delivery information.
Special thanks to Warner Bros. Home Video for their sponsorship of this contest.
Congratulations!
Elizabeth