Trivia Contest #71
August 21, 2005:
The results of Reel Classics' seventy-first Trivia Contest are now official. The winners were chosen randomly from over 400 correct entries and will be receiving their prize in the mail shortly. Congratulations to the following Reel Classics patrons (and if you didn't win this time, keep visiting Reel Classics so you don't miss the next giveaway):
Trivia Question:
Although best known for the movies he made in his homeland, what was French director Jean Renoir's first American feature film?
Answer:
SWAMP WATER (1941)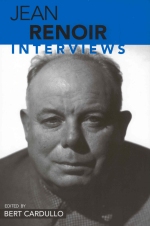 Answer location:
The answer to this question could be found on page 1 of the Anne Baxter section at Reel Classics.
Winners:
Benjamin Oliva
Park Ridge, Illinois
Travis Kaneyuki
Kaneohe, Hawaii
Monica Cross
Wilmer, Alabama
Tim Brown
South Shore, Kentucky
Marsha Buxton
Missoula, Montana
Prize:
A copy of "Jean Renoir Interviews" edited by Bert Cardullo (2005) courtesy The University Press of Mississippi.
The winners will be notified by email, and prizes will be sent out shortly thereafter, following confirmation of delivery information.
Special thanks to The University Press of Mississippi for their sponsorship of this contest.
Congratulations!
Elizabeth