Trivia Contest #58
May 2, 2005:
The results of Reel Classics' fifty-eighth Trivia Contest are now official. The winners were chosen randomly from over 400 correct entries and will be receiving their prize in the mail shortly. Congratulations to the following Reel Classics patrons (and if you didn't win this time, keep visiting Reel Classics so you don't miss the next giveaway):
Trivia Question:
Ginger Rogers is frequently credited with having done everything Fred Astaire did, only "backwards and ..." what? (Fill in the ...)
Answer:
"... in high heels."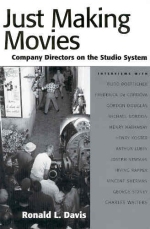 Answer location:
The answer to this question could be found on the Ginger Rogers Article 2: "Backwards and In High Heels" page at Reel Classics.
Winners:
Mary Miller
Alvarado, Texas
Michael Johnson
Seattle, Washington
Isabella D.
Brighton, Michigan
Michael Carter
Federal Way, Washington
Leslie Spelling
Salt Lake City, Utah
Prize:
A copy of "Just Making Movies: Company Directors on the Studio System" by Ronald L. Davis (2004) courtesy The University Press of Mississippi.
The winners will be notified by email, and prizes will be sent out shortly thereafter, following confirmation of delivery information.
Special thanks to The University Press of Mississippi for their sponsorship of this contest.
Congratulations!
Elizabeth