Trivia Contest #56
April 4, 2005:
The results of Reel Classics' fifty-sixth Trivia Contest are now official. The winners were chosen randomly from over 500 correct entries and will be receiving their prize in the mail shortly. Congratulations to the following Reel Classics patrons (and if you didn't win this time, keep visiting Reel Classics so you don't miss the next giveaway):
Trivia Question:
For his work on what film did Charlie Chaplin receive his first Academy Award?
Answer:
THE CIRCUS (1928).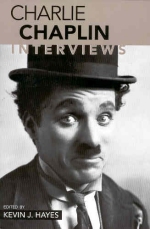 Answer location:
The answer to this question could be found on the Charlie Chaplin Awards page at Reel Classics.
Winners:
David Bodell
La Grange, Illinois
Mayumi Ishikawa
Denver, Colorado
Jim Stewart
Butler, Pennsylvania
Carole Dando
Saint Petersburg, Florida
Danielle Liersten
Trenton, New Jersey
Prize:
A copy of "Charlie Chaplin Interviews" edited by Kevin J. Hayes (2005) courtesy The University Press of Mississippi.
The winners will be notified by email, and prizes will be sent out shortly thereafter, following confirmation of delivery information.
Special thanks to The University Press of Mississippi for their sponsorship of this contest.
Congratulations!
Elizabeth