Trivia Contest #52
March 6, 2005:
The results of Reel Classics' fifty-second Trivia Contest are now official. The winners were chosen randomly from over 250 correct entries and will be receiving their prize in the mail shortly. Congratulations to the following Reel Classics patrons (and if you didn't win this time, keep visiting Reel Classics so you don't miss the next giveaway):
Trivia Question:
Name three real-life historical figures portrayed by Charlton Heston in feature films.
Answer(s):
Moses
Rodrigo Diaz de Bivar (a.k.a. 'El Cid')
John the Baptist
Michelangelo
Gen. Charles George Gordon
Marc Antony
Andrew Jackson
William F. 'Buffalo Bill' Cody
William Clark
King Henry VIII
Cardinal Richelieu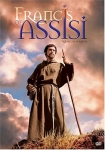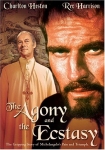 Answer location:
The answer to this question could be found in the Charlton Heston section at Reel Classics.
Winners:
Michele Ichey
Fayetteville, Arkansas
Marilouise Kamppi
Chester, West Virginia
Liza Barnes
Smiths Station, Alabama
Thomas Ryan
Boston, Massachusetts
Niki Moyer
Altoona, Pennsylvania
Prize:
DVDs of FRANCIS OF ASSISI (1961) and THE AGONY AND THE ECSTASY (1965) courtesy Fox Home Entertainment.
The winners will be notified by email, and prizes will be sent out shortly thereafter, following confirmation of delivery information.
Special thanks to Fox Home Entertainment for their sponsorship of this contest.
Congratulations!
Elizabeth