Trivia Contest #51
February 20, 2005:
The results of Reel Classics' fifty-first Trivia Contest are now official. The winners were chosen randomly from over 350 correct entries and will be receiving their prize in the mail shortly. Congratulations to the following Reel Classics patrons (and if you didn't win this time, keep visiting Reel Classics so you don't miss the next giveaway):
Trivia Question:
What classic movie director has directed the most Oscar-winning Best Pictures?
Answer:
William Wyler (3).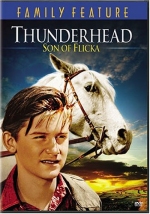 Answer location:
The answer to this question could be found in the All About Oscar article or on page 1 of the William Wyler section at Reel Classics.
Winners:
Mark Marion
Dover, Delaware
Cindy Gutierrez
Atwater, California
Brian Metzger
Albany, Oregon
Kathryn Ann Deardorff
Hemet, California
Sandra Slack
Medford, Oregon
Prize:
A DVD of THUNDERHEAD - SON OF FLICKA (1945) courtesy Fox Home Entertainment.
The winners will be notified by email, and prizes will be sent out shortly thereafter, following confirmation of delivery information.
Special thanks to Fox Home Entertainment for their sponsorship of this contest.
Congratulations!
Elizabeth