Trivia Contest #47
January 2, 2005:
The results of Reel Classics' forty-seventh Trivia Contest are now official. The winners were chosen randomly from over 100 correct entries and will be receiving their prize in the mail shortly. Congratulations to the following Reel Classics patrons (and if you didn't win this time, keep visiting Reel Classics so you don't miss the next giveaway):
Trivia Question:
For how many of the films that he both produced and directed did George Stevens earn Best Picture and Best Director Academy Award nominations?
Answer:
Five.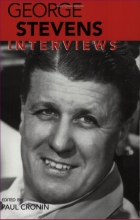 Answer location:
The answer to this question could be found on page 2 of the George Stevens section or on the George Stevens Awards page at Reel Classics.
Winners:
Sue Smith
Belle Isle, Virginia
Katherine Frazier
Springfield, Ohio
Sara Lien
Cedar Rapids, Iowa
Brandon Chan
New York, New York
Marilee Dodd
Carson City, Nevada
Doug Bentin
Oklahoma City, Oklahoma
Prize:
A copy of "George Stevens Interviews" edited by Paul Cronin (2004) courtesy The University Press of Mississippi.
The winners will be notified by email, and prizes will be sent out shortly thereafter, following confirmation of delivery information.
Special thanks to The University Press of Mississippi for their sponsorship of this contest.
Congratulations!
Elizabeth