Giveaways & Trivia Contests
Current Contest | Past Contests & Winners
Great Christmas Giveaway
December 31, 2005:
The results of Reel Classics' Great Christmas Giveaway are now official. The winners were chosen randomly from over 700 correct entries and will be receiving their prize in the mail shortly. Congratulations to the following Reel Classics patrons (and if you didn't win this time, keep visiting Reel Classics so you don't miss the next giveaway):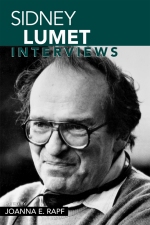 Winners:
Jaime Gard
Fredonia, New York
Hannah Beck
Ridgefield, Connecticut
Cynthia Smith
Buford, Georgia
Jennifer Jozwiak
Clarksville, Tennessee
Lewis Oliver
Arcadia, California
Prize:
A copy of "Sidney Lumet Interviews" edited by Joanna E. Rapf (2005) courtesy The University Press of Mississippi.
The winners will be notified by email, and prizes will be sent out shortly thereafter, following confirmation of delivery information.
Special thanks to The University Press of Mississippi for their sponsorship of this contest.
Congratulations!
Elizabeth